The Toronto Maple Leafs are looking like a pretty decent team right now, especially compared to the way they looked a couple seasons ago. It was only in 2015-16 when they finished dead last in the overall standings, with a mere 69 points. But, since the arrival of Head Coach Mike Babcock, General Manager Lou Lamoriello, the 2016 first overall draft pick Auston Matthews, a myriad of other first-round picks and a diamond in the rough found in the KHL — Nikita Zaitsev — things started to change very quickly. Having made it to game six of the first round of playoffs last year and now nine games into the 2017-18 season, they're already ranking fourth overall.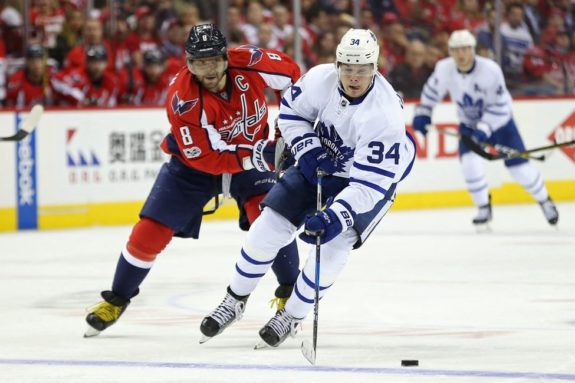 For fans in one of the biggest hockey markets in the world, this news can be very exciting. These fans know better than anyone, though, that good things don't last forever. So, when it comes to this team's enticing roster, that too is no exception. Looking forward, next year's roster is going to look different due to the poor position they're in regarding the salary cap.
In 2018-19, there are some key contracts ending:
William Nylander, RW/C
James van Riemsdyk, LW
Tyler Bozak, C
Leo Komarov, LW
Dominic Moore, C/LW
and in 2019-20, other key contracts ending include:
Auston Matthews, C
Mitch Marner, RW
Jake Gardiner, D
The Maple Leafs will have $37.6 million available in projected cap space for the 2019-20 season. If we look at the projected market value of the four first-round picks listed above, the Leafs will be left with $11.1 million, assuming they keep and pay each of these guys what they're projected to be worth.
William Nylander: $6.5 million per year
Nylander was drafted eighth overall in the 2014 Draft and if we look back at all the players drafted in this spot between 2013 and 2003, we'll notice that Nylander's P/GP rate in his rookie year, as well as in his second year are both higher than any other eighth overall drafted player throughout each of their first, second and third years. In their defence, though, three were defensemen.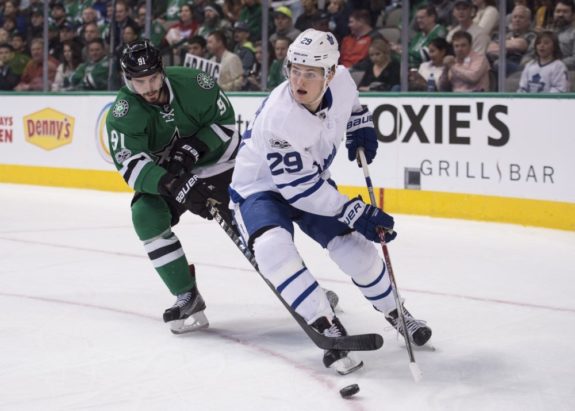 If Nylander continues to increase his point production this year, he could be worth a contract valued at the same amount as Nathan MacKinnon's first standard contract, which was a seven-year deal worth $44.1 million.
If Nylander does end up getting more points this year, his points per games played (P/GP) rate would be slightly better than Mackinnon's during his first three years playing in the NHL, and so his average annual value (AAV) would be slightly more than MacKinnon's AAV of $6.3 million. Although many suggest his contract could be valued at $7 to $8 million per season, $6.5 is certainly more of a team-friendly number.
Auston Matthews: $10 million per year
Matthews could get an eight-year deal worth $80 million, which is the same contract that Jack Eichel, the no. 2 pick from the 2015 Draft, just signed prior to the 2017-18 season. If Matthews had been born a few days sooner, he would have been drafted in 2015 as well and many had projected him to go in at no. 2 if that were the case.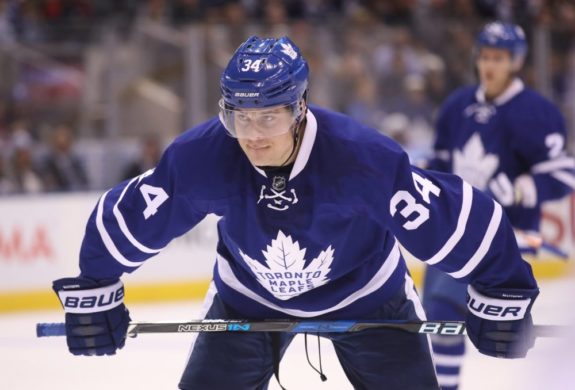 If Matthews incrementally improves his point production this year and next year, he could end up with similar stats to Patrick Kane, the first overall pick from the 2007 draft. Kane's point-per-game-played rate in his rookie year was 0.88 and Matthews' was 0.84 and Kane's first standard player's contract was eight years in length and worth $84 million.
Mitch Marner: $5.5 million per year
Mitch Marner has been having a tough season so far so it's more challenging to predict what he could be worth by 2019-20. After being moved to the fourth line, it will undoubtedly be harder for him to score as many points as he did last year, which is when he scored 61 points in 77 games.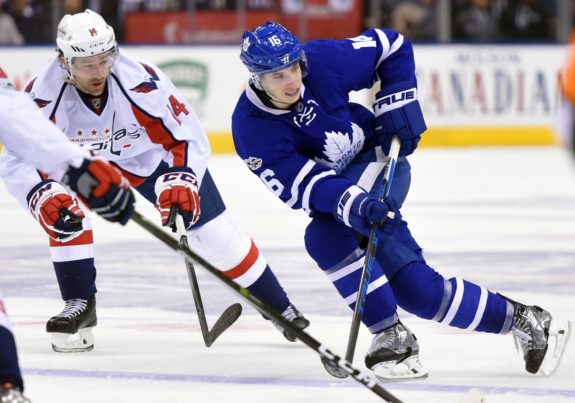 Marner was drafted in 2015 at no. 4 and if we look back at all the players drafted in this position between 2014 and 2004, there are only two players who've been able to either come close or exceed this level of point production; Evander Kane (from the 2009 Draft) and Nicklas Backstrom (from the 2006 Draft). In Backstrom's rookie year, he achieved a P/GP rate of 0.84. In his second year, it was 0.80 and in his third year it went up to 1.23. His first standard contract was a 10-year deal with an AAV of $6.7 million.
At this rate, though, it's unlikely that Marner will achieve these kinds of numbers, especially if he stays on the fourth line for a long enough period of time. So if he were to maintain the same level of point production as he did last year (which still seems like a stretch if playing on the fourth line), than Marner could sign a contract like Evander Kane's. Kane signed a six-year deal with an AAV of 5.25 – but it took him until his third year to reach a P/GP rate of 0.77.
Jake Gardiner: $4.5 million per year
Right now, Gardiner is already making $4.05 million a year and that's pretty good considering he's a defenseman playing for the Maple Leafs — a team with a reputation for being weak defensively. But of course, the blame cannot be placed on him entirely.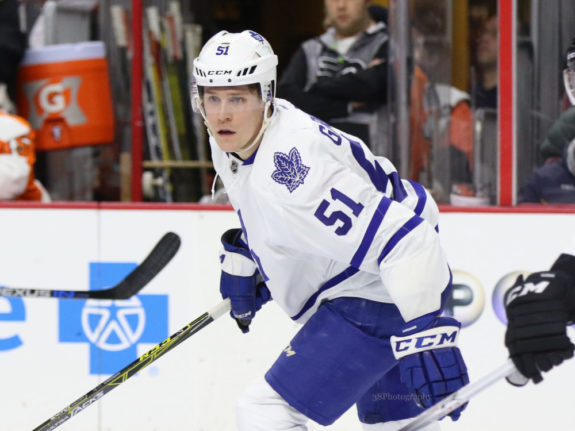 For the last three seasons, actually, Gardiner's point production has increased and since Babcock's arrival, it's been skyrocketing. Like Nylander, Marner, and Matthews, Gardiner is also a first round pick – although drafted at no. 17 but unlike them, he's a defenseman and becoming an effective defenseman in today's game takes more time than it does for forwards.
The Remaining Nine
After Nylander, Matthews, Marner and Gardiner are paid for, there's still the issue of van Riemsdyk, Bozak, Komarov and Moore. And don't forget about Josh Leivo, Roman Polak, Ron Hainsey, Andreas Borgman and Connor Carrick. Then there's the possibility of prospects cracking the roster — although they'll each get a maximum of $925,000 per year. There's still another nine Leafs to take into consideration and offer contracts to and assuming these first-round picks aren't traded, there could be about $10-$12 million remaining in the salary cap for everyone else.
For Toronto, building through the draft will play an even bigger role in the upcoming seasons than it ever has before. In 2018-19, they'll really need to find some late round gem no one saw coming, or some other Zaitsev if they have any chance at becoming defensively sound and staying that way over the next few years. The Maple Leafs need their own Henrik Zetterberg, or Radim Vrbata, or Joe Pavelski or Ondrej Palat – so if their scouting department doesn't come through, they could find themselves in trouble soon.
I'm a Hockey Journalist based out of Barrie, Ontario, a Contributing Writer for The Hockey Writers covering OHL, and NHL prospects with an insatiable thirst for all things LA Kings, and PR gal for Abel Sports Management.