Going into the 2017-18 season, a lot of talk surrounding the Toronto Maple Leafs was if they were going to go for it this season. With their big three of Auston Matthews, William Nylander and Mitch Marner needing new contracts in the next two seasons, the Leafs will have to make some roster decisions. Some players will not be returning.
The Leafs have six unrestricted free agents that have played for them this season. They technically have seven, but the seventh one is Joffrey Lupul and he is sitting on long-term injured reserve. If anything, his contract ending makes the cap situation a little tighter for the Leafs.
With Nylander, Nikita Soshnikov and Connor Carrick as restricted free agents this offseason, the Leafs are going to lose some of their UFAs. Since they're trying to get farther than they did last season, they probably won't be trading these guys at the deadline either.
Let's take a look at those six UFAs and the potential of them staying with the Leafs.
James van Riemsdyk
JVR wants to stick around with the Leafs past this season. You can't blame him. Who wouldn't want to keep playing with the young talent the Leafs are compiling? Well, here's the thing, it's not going to happen.
He's been one of the biggest bargains in the NHL, carrying a cap hit of only $4.25 million. Obviously he is worth a lot more than that and will get $6-7 million on the open market. The Leafs are not going to have enough cap space to pay him that. So unless JVR wants to take a tremendous hometown discount, this will be his final season with the Leafs.
Tyler Bozak
It's been an interesting ride with the Leafs when it comes to Bozak. From being miscast as a No. 1 center to taking a secondary role behind Matthews, Bozak is now where he should be in the lineup.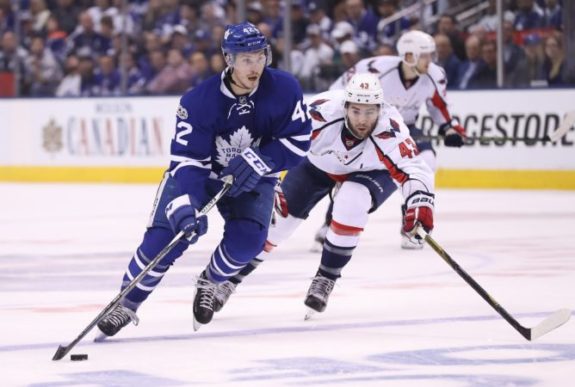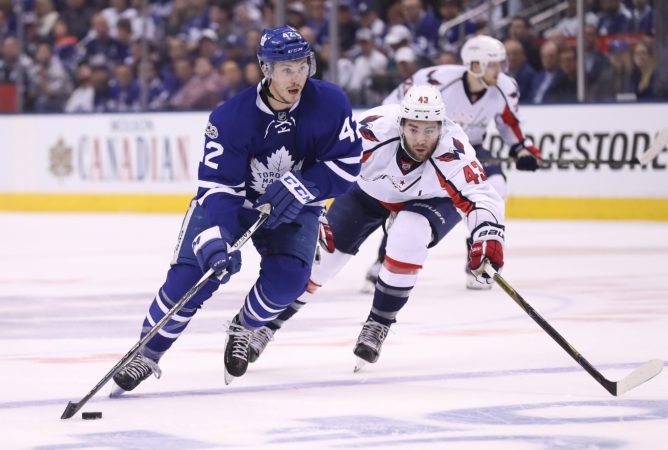 He comes in a little cheaper than van Riemsdyk at $4.2 million. The chances of him sticking with the Leafs are a little higher just based on the fact that he is a center. With the Leafs depth at the position still not where it should be and their prospects at the position not ready for the NHL, keeping Bozak might be a necessity. A short-term deal at around the same cap hit could work.
Leo Komarov
Komarov has come a long way from being drafted in the sixth round in the 2006 draft. The last player on the Leafs to be drafted in the John Ferguson Jr. era, Komarov's time with the Leafs is coming to an end. It doesn't even have anything to do with what he's done for the team. He has been a fan favorite for much of his time with the Leafs.
Komarov is simply going to be pushed out of the lineup by younger players. Kasperi Kapanen deserves a full-time spot on the team. They then have Josh Leivo and Soshnikov on top of that. It might be sad for some to see him go, but at least it's been a fun ride.
Dominic Moore
Now this one is really a coin flip. As a fourth-line center who has come in and out of the lineup, Moore has played well for the role he has been handed. He's even been putting some points on the board, scoring three goals and adding three assists for six points. Depending on what the Leafs want to do with younger centers such as Frederik Gauthier or even Adam Brooks, they could bring Moore back on another cheap, one-year deal.
Roman Polak
No. Just… no. It's over. Let him go.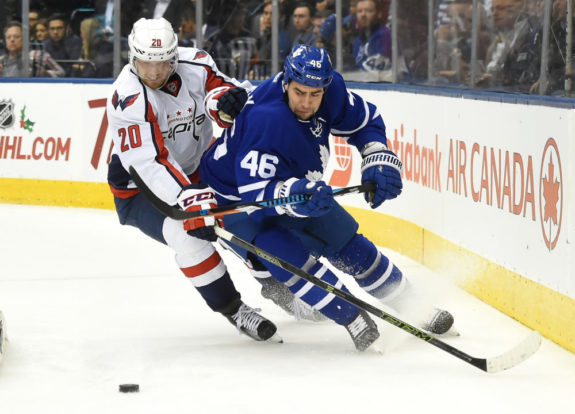 Eric Fehr
Fehr came over to the Leafs in a salary dump for the Pittsburgh Penguins in which the Leafs didn't really get anything of value along with Fehr. After playing one game last season, he surprisingly made the team out of training camp. He found his way into four games before being sent down to the AHL. Seeing that he is on loan to the San Diego Gulls, Anaheim's farm team, he is more than likely as good as gone following this season.