This date in National Hockey League history has memories that extend over nearly a century. There were some great old school moments in Detroit, the 1970s provided us with some stellar performances, and there were plenty of franchise firsts and records set. Let's take our daily trip back in time to look at all the best March 7 has given us over the years.
Early Detroit Red Wings Memories
Syd Howe picked up an assist, on March 8, 1945, in the Red Wings' 7-3 win over the New York Rangers. This gave him 516 career points, putting him ahead of Nels Stewart for the most in NHL history. He remained the league's all-time leading scorer for nearly two years before Bill Cowley of the Boston Bruins passed him up on Feb. 12, 1947.
The Red Wings became the first team in league history to win five straight regular-season championships, on March 8, 1953, by beating the Toronto Maple Leafs 3-1. Marcel Bonin was the offensive hero with a goal and assist.
Gordie Howe, no relation to Syd, became the first player in history to play in 1,000 NHL games (including playoffs) on March 8, 1960, as the Red Wings beat the Montreal Canadiens 3-0. He was held without a point, while Terry Sawchuk recorded his 81st career shutout.
The Super 70s
Rod Gilbert scored his 40th goal of the season, on March 8, 1972, in the Rangers' 3-3 tie with the visiting Chicago Blackhawks. This was the first time in NHL history where a line featured three 40-goal scorers as Vic Hadfield and Jean Ratelle had already scored 40 times. The trio combined for 139 goals and 212 points during the 1971-72 season.  
That same evening, Derek Sanderson picked up three assists as the Bruins set an NHL record with their eighth straight road victory, a 5-4 win at the Minnesota North Stars.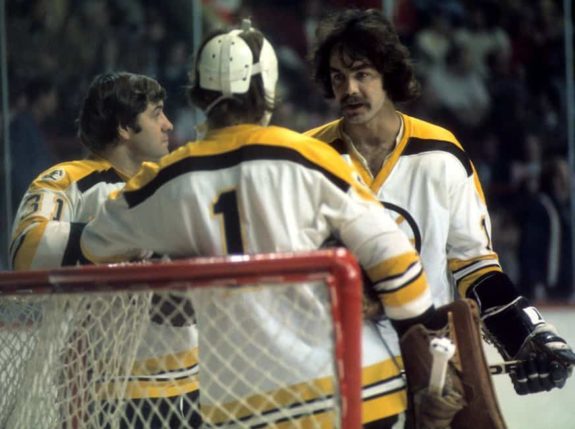 Rob Stackhouse joined Babe Pratt, Pat Stapleton and Bobby Orr as the only defensemen to get six assists in a game on March 8, 1975, as the Pittsburgh Penguins beat the Philadelphia Flyers 8-2.
Two years later, on March 8, 1977, Orr announced he would miss the rest of the season for the Blackhawks with a knee injury, but he stressed he was not retiring. The knee problems caused him to sit out the entire 1977-78 season. He returned
Guy Lafleur scored twice in the third period for the Canadiens on March 8, 1978, to give him 50 goals for the fourth straight season. He tied the game then scored the game-winning goal in a 4-3 victory over the Washington Capitals, who still hadn't beat Montreal since entering the league in 1974.
A year later, Lafleur's teammate, Jacques Lemaire, scored his sixth career hat trick and added two assists to lead the Canadiens to an 11-1 win against the visiting Vancouver Canucks.
On that same night, Dan Bouchard became the first goaltender in Atlanta Flames history to win 30 games in one season in a 7-5 win against the visiting Bruins.
Franchise Firsts & Records
Turk Broda became the first goaltender in Maple Leafs franchise history to record 200 career victories, on March 8, 1947, with a 12-4 win against the visiting Blackhawks.
Stan Mikita set the club mark for most points in one season with his 85th of the year, on March 8, 1965, in a 4-3 win over Toronto. He broke Bobby Hull's record of 84 points set two seasons earlier.
Darryl Sittler picked up two assists to become the Maple Leafs' all-time leading scorer, on March 8, 1981, in a 7-3 loss at the Capitals. He broke Dave Keon's old record of 858 career points. His 916 points are still second in franchise history after being passed up by Mats Sundin.
Dino Ciccarelli became the first North Stars' player to score 50 goals in a season on March 8, 1982, as they extended their team-record undefeated streak to nine straight games (7-0-2), with an 8-1 win over the visiting St. Louis Blues.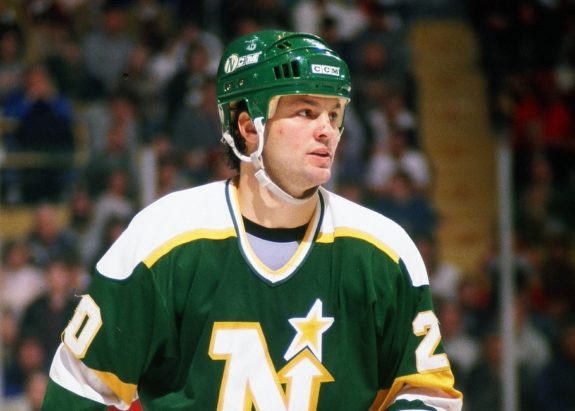 On that same night, Steve Larmer broke Denis Savard's team rookie-scoring record by getting his 35th goal and 41st assist of the season, as the Blackhawks won 4-1 at the Flyers. A dozen years later, on March 8, 1995, Larmer became the 43rd player to score 1,000 NHL points with a goal and three assists in the Rangers' 6-4 win over the New Jersey Devils.
Owen Nolan had the first 40-goal season in San Jose Sharks history, on March 8, 2000, when he scored the one goal in a 1-1 tie with the Red Wings. Since then, Patrick Marleau, Joe Pavelski and Jonathan Cheechoo all have had a 40-goal season. Cheechoo is the only 50-goal scorer as he had 56 during the 2005-06 season.
Kevin Stevens became the first player to accumulate 1,000 career penalty minutes in Penguins' team history, on March 8, 2001, during a 5-3 win over the Atlanta Thrashers.
Trevor Linden passed Stan Smyl to become the Canucks all-time leading scorer on March 8, 2004, when he picked up his 674th point in a 9-2 loss to the visiting Colorado Avalanche.
Aleksander Barkov had the first five-assist game in Florida Panthers' team history, on March 8, 2019, during a 6-2 victory over the Minnesota Wild. This was the first five-point game of his career and the fifth overall in club history.
Odds & Ends
Canadiens legend Howie Morenz died, on March 8, 1937, at the age of 35. He passed away from untreated blood clots in his leg six weeks after suffering a severely fractured leg in a game against the Blackhawks. An estimated crowd of 200,000 fans lined the streets of Montreal to catch a glimpse of his funeral procession.
Ray Bourque joined Orr as the only defensemen in Bruins' history to score a hat trick, on March 8, 1983, in an 11-5 win at the Quebec Nordiques. All three of his goals came in a span of 9:58 of the second period.
On this same date, the Flyers signed free-agent Dave Poulin after his career at Notre Dame and one season in Sweden. He went on to play nearly seven seasons in Philadelphia, scoring 161 goals and 394 points.
Three years later, The Flyers' Tim Kerr set an NHL record with his 29th power-play goal of the season in a 7-3 loss at the Devils. He finished the season with 34 goals on the power play, still the NHL single-season record.
Mike Bossy scored the 39th and final hat trick of his career on March 8, 1987, to lead the New York Islanders past the Blackhawks 6-5. This was the 100th hat trick in team history. Bossy retired at the end of the season.
Dale Hawerchuk became the 31st player in league history to score 1,000 career points, on March 8, 1981, with a power-play goal in the Sabres' 5-3 loss to the Blackhawks. A rookie goaltender named Dominik Hasek earned his first NHL win for Chicago.
Montreal's Mark Recchi became the first NHL player to take penalty shots for two different NHL teams in one season, on March 8, 1995, when he missed against Hasek in a 2-2 tie against the Sabres.  A month earlier, he missed on a penalty-shot attempt against the Ottawa Senators when he was a member of the Flyers. Alexander Mogilny became the ninth player in Buffalo franchise history to score 200 goals and he also added an assist.
Brett Hull scored to reach the 20-goal mark for the 13th straight season, on March 8, 2000, as the Dallas Stars tied 3-3 with the visiting Canucks.
Martin Brodeur became the first goaltender to have at least 35 wins in seven straight seasons on March 8, 2003, when he led the Devils past the Islanders 4-2. No other goaltender had ever had more than three 35-win seasons at the time.
On March 8, 2004, Todd Bertuzzi became infamous for all the wrong reasons. Late in the game between the Canucks and Avalanche, he skated behind Colorado's Steve Moore, grabbed his jersey, and punched him in the back of the head. To make matters worse, he fell forward on top of him before two of Moore's teammates piled on. The combination of the punch, fall and pile on resulted in a broken neck and concussion. After lying motionless on the ice for a long period, Moore was carried off on a stretcher. He never played in the NHL again. Eventually, this incident led to criminal charges against Bertuzzi and a civil lawsuit against him and the Canucks. All parties settled out of court in 2014.
Happy Birthday to You
Hall of Fame defenseman Larry Murphy turns 60 today. He headlines a group of 21 NHLers born on this date including Tracy Pratt (78), Mike Lalor (58), Brent Fedyk (54), Rob Zettler (53), Bob Boughner (50) and Chris Clark (45).
---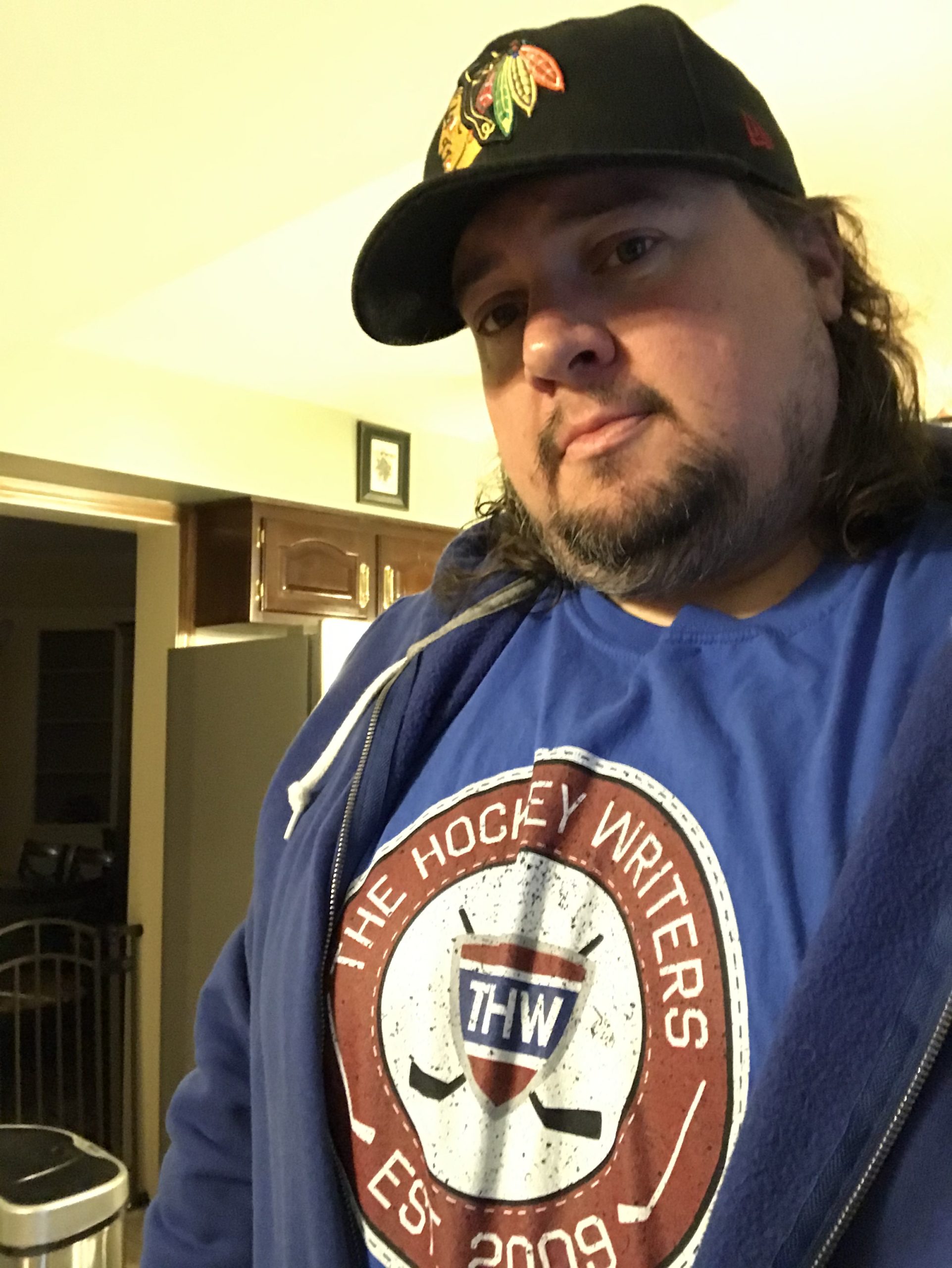 Greg Boysen has been writing about the Chicago Blackhawks since 2010 and has been a site manager for both FanSided and SB Nation. He has been published in The Hockey News and was fully credentialed for the 2013 Stanley Cup Final. Among his various roles with The Hockey Writers are covering the Blackhawks, the AHL, writing the daily "Today in Hockey History" column, serving as a copy editor, and appearing and hosting multiple YouTube shows, including Blackhawks Banter. He is credentialed with the Chicago Wolves, Rockford IceHogs, and Milwaukee Admirals, while also being a regional scout for the NAHL. And, just because his plate isn't full enough, Greg hosts trivia in the Chicago area two nights a week. For interview requests or to provide topic suggestions, follow Greg on Twitter and reach out.