Marian Hossa will not play hockey anymore. Hossa spoke to Slovakian media publication Novy Cos this past Saturday and told them he has decided to retire after 19 seasons in the NHL. Hossa has had a stellar career, accumulating 1,134 points, which includes 525 goals and 609 assists, in 1,309 regular-season games played. He's also notched 149 points in 205 playoff appearances and won three Stanley Cups. Now the question is, is that enough for induction into the Hockey Hall of Fame?
Reasons Why Hossa Belongs in the Hall of Fame
Other than the blistering point total mentioned above, which ranks him 35th all-time in regular season goals scored, 82nd all-time in regular-season assists and 54th all-time in total regular-season points, Hossa also has the hardware to back his individual numbers. Hossa won three Stanley Cups as a member of the Chicago Blackhawks, winning the Cup in 2010, 2013 and 2015 while scoring a total of 48 points in those three championship runs. Hossa scored 15 playoff points in 2010, 16 in 2013 and 17 in 2015, showing he was indeed an integral part of those Stanley Cup wins.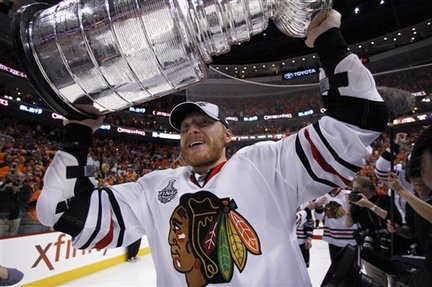 In terms of individual honors, Hossa was a five-time NHL All-Star between 2001 and 2012 and finished runner-up for the Calder Trophy in 1999, his first full season with the Ottawa Senators. Interestingly, though, when discussing Hossa's Hall-of-Fame credentials, the lack of individual awards does dent his case.
Reasons Against Hossa Being in the Hall of Fame
As mentioned, Hossa never won an individual award in his time in the NHL. The closest he came was losing that Calder Trophy as runner-up to Chris Drury in 1999 and finishing fifth in voting for the Selke Trophy in 2013-14. The Selke nomination is somewhat notable, as wingers like Hossa are hardly ever nominated for that award, although, again, he did finish well behind in fifth place.
That seems to be the recurring issue when discussing Marian Hossa and his Hall-of-Fame credentials. He is a really good player and he's scored a lot of points, but has he ever been an elite player in the league? His best season came in 2006-07 when he scored 100 points, finishing tied for sixth in scoring with Joe Sakic. But even then, he was still 20 points behind Art Ross winner Sidney Crosby and four others, and he wasn't even the best player on his dismal Atlanta Thrashers team. That dubious honor was usually bestowed on Ilya Kovalchuk, who might be coming back to the NHL next season.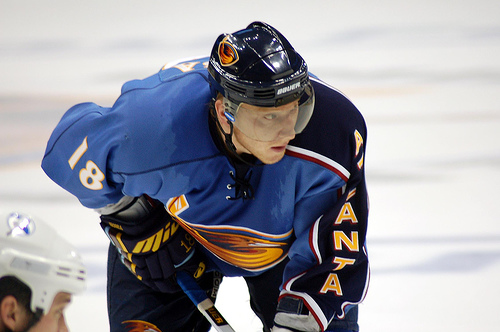 Kovalchuk, Daniel Alfredsson, Jonathan Toews and Patrick Kane. These are all teammates at one point of Hossa's who could indeed have been called leaders of their respective NHL franchises. Hossa was definitely a key player on these teams and maybe even one of the best, but Hossa was never one to galvanize a team on his own or grab a team by the scruff of the neck and lead by example. He was one of many necessary cogs, and some of these cogs, when all brought together, resulted in deep playoff runs and three Cup wins, so indeed being just another brick in the wall wasn't all bad for Hossa after all. But what about the Hall of Fame?
Hossa Hockey Hall of Fame Verdict
We've established, Hossa had a lot of goals and points throughout his NHL career. He didn't win any individual awards and he wasn't often the best player or MVP on any of his five NHL teams. But what might just push him over the edge and into Hall-of-Fame contention and eventual recognition is those three Stanley Cups with Chicago. As we showed, he was no slouch in those three runs, and really, when thinking about a player's NHL career, a Cup has to be factored in as a big determiner. And it might just be what propels Hossa, best player or not, into hockey immortality.
Sports media writer from Toronto, Canada. Also a novelist, screenwriter and aspiring academic.