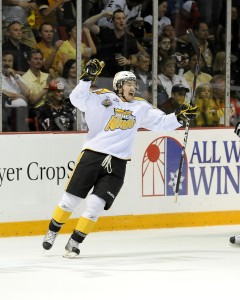 When Mark Stone was drafted by the Ottawa Senators in the 6th round 178th overall in 2010, the hockey world barely acknowledged it passing it off as just another routine late draft pick. Mark Stone apparently did not feel the same way, coming off a 28 point season in 39 games with the Brandon Wheat Kings, increased offensive production from Stone was expected, but no one could have gathered what would come next.
Heading into the 2010-11 season Mark Stone dominated the WHL scoring 37 goals and putting up 106 points.  He was 3rd in league scoring and was on the first all star team, producing more than every other WHL forward who was taken 5 rounds ahead of him in the 2010 draft.  After the 2010-11 season ended Stone was invited to the Team Canada Summer Development Camp.  The following season (2011-12) Stone picked up where he left off the year before, being named captain of Brandon and dominating the WHL once again putting up 41 goals 123 points in 66 games for Brandon to place second in league scoring.
| | | | | | |
| --- | --- | --- | --- | --- | --- |
| Season | Games Played | Goals | Assists | Points | Team |
| 2009-10 | 39 | 11 | 17 | 28 | Brandon Wheat Kings |
| 2010-11 | 71 | 37 | 69 | 106 | Brandon Wheat Kings |
| 2011-12 | 66 | 41 | 82 | 123 | Brandon Wheat Kings |
*Bold statistics indicate draft year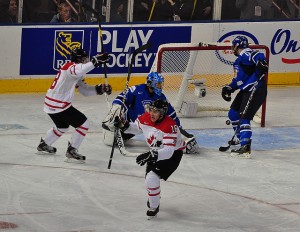 Stone went on to not only make the 2012 Canadian World Junior team, but he led the team in goals with 7 as he helped Canada secure a bronze medal.  Stone had demonstrated a new found maturity in his game and developed an already impressive hockey IQ. His final two seasons in Brandon he showcased that he has the hands and the awareness to not only be a lethal playmaker but he can also finish plays with his accurate shot.
The whirlwind season didn't end there, as after Brandon was eliminated from the WHL playoffs he was asked to join the Ottawa Senators. The Senators were in the middle of their first round playoff match up against the New York Rangers. Inserted into the NHL playoffs to make your pro debut is a scary thing for any prospect but Stone did what he does best.
Heading into this season the NHL labour dispute has prevented Stone from competing for a spot with the Ottawa Senators, but he has taken advantage of his ice time in Binghamton putting up 4 points in 4 games before going down with an injury. The Binghamton Senators could really use Stone's offensive touch as they have struggled to find the back of the net early on this season. With added bulk he should be even tougher to compete against and his size should make for a easier transition to the pro game
Stone projects to be a capable top 9 NHL forward and all signs point to success with him early on his career. Projecting the transition from prospect to being a pro player is never a sure thing, but one thing is for sure no one will be surprised to see Stone succeed now.