The five points may very well be the second-most impressive thing to happen to Montreal Canadiens defenseman Andrei Markov on Friday against the Buffalo Sabres.
As it happens, with his 854th game played, Markov moved into sole possession of 15th on the team's list of all-time games played, passing great Jacques Lemaire (853). In the previous game against the St. Louis Blues he passed Mario Tremblay (852). And, by the time this season is over, he could potentially move into the top 10, by passing another all-time great offensive defenseman in Serge Savard (No. 9; 917).
Granted, for that to happen, Markov would have to play another 64 games at least, and, ironically, the reason that might not happen is also one of the biggest why this latest accomplishment is so great.
Injury Concerns
Consider that Markov came into the league in 2000-01. That was 14 full seasons ago. Simple math would indicate a potential for approximately 1,150 games played up to now (which would put him close to Bob Gainey's third spot on the list), had he stayed healthy.
Admittedly, it's probably unrealistic to expect any players to suit up for every single game in their careers, unless they're iron men… or literally men made of iron. But Markov is neither.
While the 854 games played is a testament to his longevity, his durability has taken a significant hit with countless knee and lower-body injuries and consecutive seasons of just 45, 7 and 13 games played from 2009-2012 as a result. To put that number in perspective: 65 games in one season would be a cause for concern. Markov played that much over three.
Thankfully, since the last lockout, he has missed just two regular-season ones, instilling Habs fans with confidence that maybe the worst is over and the Habs lifer can maybe put together a few more performances like his on Friday.
Sure, a lot had to align for him to get his five points (one goal, four assists), including running into a goaltender of Chad Johnson's… uh, caliber. However, if the early going is any indication, anything is possible with this particular team, such as a record eighth-straight victory to open the season.
A Career-High for Markov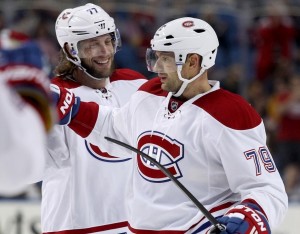 Of note, the five points is a career-high. He's twice had four-point nights, which is a mild surprise… both coming during the 2005-06 season (two goals and two assists against the San Jose Sharks on January 14 and one goal, three assists against the Toronto Maple Leafs on March 25) when he was still just 27 and in his prime.
However, if the last few years Markov has been healthy have taught Habs fans anything, it's that he's more than capable of still playing at a high level, especially in the offensive zone. In 218 games since the start of 2012-13, he has 132 points… an average of 0.61 per game.
Now tied with Gainey for 23rd in terms of points on the team's all-time list (501, like Tomas Plekanec was just recently), Markov, if he does end up staying healthy this season, will be within reach of Guy Carbonneau's 547 at No. 18.
Beyond that, who knows? Markov has made an impressive career of defying the odds and exceeding expectations, especially now with nine points so far to lead the team. On the verge of turning 37 and in the second year of a three-year, $17.25-million deal that will bring him to the cusp of 39 years of age, he may not have that many left. Based on recent history, chances are they'll all be good ones, though.