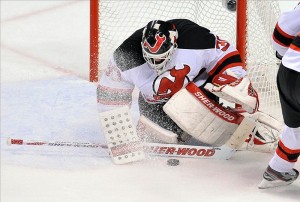 Despite recently turning 40, legendary New Jersey Devils stopper Martin Brodeur has to be feeling like a kid again. He looks calm and poised in net as the Devils are headed to the Eastern Conference final for the first time since 2003 when they won their last Stanley Cup.
Since the lockout, the Devils revolved around getting Martin Brodeur his records while forgoing any playoff success. He has set numerous records including career wins (656), shutouts (119), games played (1,191), most 30-win seasons (14), most 40-win seasons (eight) and wins in one season (48, 2006-07). But the playoffs have been a different story as the once mighty Devils have struggled to achieve any measurable amount of success.
Prior to these playoffs, Brodeur was 15-22 in the post season since the lockout on with a .913 save percentage and 2.56 goals-against average. Those are decent numbers, but for someone with a career .921 save percentage and 1.87 goals-against average prior to the work stoppage, it was hard to watch a dominant player become average.
Hockey analyst Barry Melrose doesn't like to see top players become average either:
I will say this from my perspective. I don't want to watch Marty Brodeur be a good goaltender. I want to watch him be a great goaltender. I don't want to watch Marty being OK. I don't want to see great players hang on to be OK. It's OK for guys like me to hang on and play as long as they can, but I don't want to see great players hanging on just to be average. I don't think that's right. No one wants to see the greats of our game look like Willie Mays falling down in the outfield. I would have loved to play until I was 40, too, but I just think players like Marty are too special to see them play beyond when they're great anymore.
Fortunately for Melrose and hockey fans across the world, Brodeur is not just OK. He has played great, at times downright magnificent in these playoffs. He has had a few off games, most notably Game 3 against Florida when he allowed three goals in 6:07 as the Devils blew a 3-0 lead, but has made the stops when he absolutely needed to. He won back-to-back overtime games with the season on the line in the first round and sucked up everything headed his way as the Flyers tried to extend the series in Game 5 of the semifinal. Overall, he is 3-1 in overtime this spring after a career 12-21 mark headed into this postseason, so in that regard he's playing better than ever before.
There are just some game where it seems near impossible to get the puck past him He's put behind him the past few years of playoff failures, the no-name (albeit underrated) defense in front of him and the Marty Marty taunts raining down on him from Flyers fans, coming before the series even started, to help a rebuilt Devils team get back into familiar territory. (As an aside, no Flyers fan has the right to taunt another team's goaltender after all the failed experiments in net over the past two decades, especially Brodeur.) He even set another record with his 24th career playoff shutout.
He has quietly become one of the greatest athletes of all time, not just in hockey either. He has shown he can still hang with the much younger players. Each one of his remaining counterparts is at least a decade younger than Brodeur; Henrik Lundqvist and Mike Smith are 30, Jonathan Quick is 26 and Braden Holtby is 22. They all continue to rise while Brodeur reconfirms his place among the best ever.
Brodeur has spent his entire career outside the limelight. That comes with the territory of playing in the NHL, the least popular of the four major U.S. sports leagues, and playing for the Devils, who lack the following of their rivals across the Hudson River, the New York Rangers. The Devils, despite their continued success, are rarely picked for national TV games.

That doesn't diminish what he could accomplish this spring. When Brodeur won his first Stanley Cup, he was just 23. Now, if the Devils continue their hot streak through the playoffs, he could win his fourth at 40.

That would be a 17-year gap between his first title and his last one. There aren't many athletes who can match that, but two who did — Kareem Abdul-Jabbar and Babe Ruth — are recognized amongst the greatest in sports history.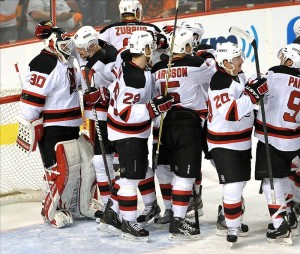 He is playing for more than just himself, too. He is playing for a Devils future he won't be part of much longer. But for now, each game played gives them experience going forward in their careers. Each win teaches a new generation of Devils what it's like to be a winner at the highest level of competition in hockey. And, perhaps most importantly, each series they advance beings captain Zach Parise closer to believing the Devils can win the Stanley Cup, as championship capability is one of the main factors in deciding where he signs over the summer.
This is Brodeur's last year on a six-year contract. It is likely he will be back next season, but beyond that, the future is wide open. There are no guarantees in sports, so this could very well be his last chance at a Cup, his last hurrah, and he will enjoy every minute of it. And when Brodeur is having fun, he usually comes out winning.
A native of Monroe Township, NJ, Tim received his Bachelor's Degree in Contemporary Journalism from Endicott College in Beverly, MA. A Flyers fan growing up, he has gone to numerous events including each installment of the Winter Classic, the Stanley Cup final and the 2010 Olympics.
In addition to The Hockey Writers, Tim also writes for The Good Point and interned with The Hockey News from Jan. to May 2011, contributing to their book Hockey's Most Amazing Records. Outside of hockey, Tim enjoys reading and watching movies and extreme sports such as snowboarding and skydiving.