On Friday, Matt Carle, maybe the most polarizing player in recent Philadelphia Flyers history, retired from the game after clearing unconditional waivers with the Nashville Predators. At just 32-years-old, the defenseman felt that it was his time to call it quits.
After leaving the Flyers in 2012, Carle signed with the Tampa Bay Lightning as a free agent on a huge six-year, $33 million deal. Four years later, in a cap crunch, the Bolts bought out his contract and Carle signed with the Predators.
Most thought it was a great opportunity for Carle's game to get back on track. He had former Philly coach Peter Laviolette behind the bench in Nashville, but like in Tampa, Carle's offensive game dried up and an always weak-defensive game wasn't strong enough for the NHL.
While in Philadelphia, former general manager Paul Holmgren has been crucified for some of the long-term deals he handed out during his time, his decision to walk away from Carle can be chalked up to a win.
Carle's Time in Philly
Carle was a Hobey Baker winner at the University of Denver as a San Jose Sharks prospect, which may be his biggest claim to fame. That success led to a maximum entry-level deal with the team and the Alaska native spent three years in California.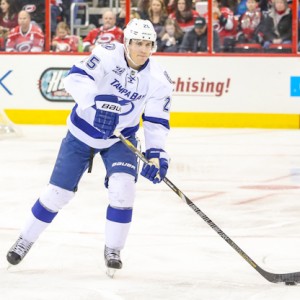 In the summer of 2008, the Sharks sent Carle to Tampa Bay in return for Dan Boyle, who ironically, the Flyers were also rumored to be interested in. But Carle only spent 12 games with the Lightning in his first stint there.
Philadelphia was interested in adding defensive depth behind Kimmo Timonen. The team acquired Steve Eminger that summer, but like Carle, wasn't working out in his new city.
Along with Steve Downie, Eminger was dealt to Tampa in an attempt to right both player's disappointing starts. It worked out for Carle, who had his second-best offensive season up to that point with 24 points in 64 games with the orange and black.
However, that doesn't mean it was all sunshine in Philly. Fans lamented Carle for his frequent defensive mistakes and weak wrist shot. He moved the puck well, but wasn't an asset on the power play and wasn't a regular penalty killer.
The Flyers weren't done upgrading the defense though. At the 2009 NHL Entry Draft, they acquired star defenseman Chris Pronger from the Anaheim Ducks.
Over the next two seasons, Carle and Pronger were paired together almost exclusively. Not incidentally, Carle had two of the best years of his career recording 35 and 40 points, respectively, in 2009-10 and 2010-11.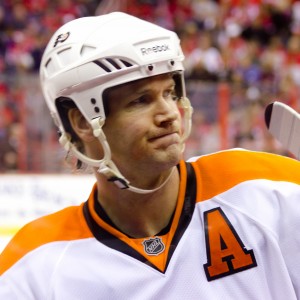 With the future Hall of Famer paired with him, Carle had an eraser for any mistakes he made. But Pronger also allowed him to play a calmer, more effective game with the puck.
The 2011-12 season changed everything for Carle, Pronger and the Flyers though. Pronger suffered two eye injuries weeks between each other that ended his career and left Carle without his partner and the Flyers without their number one defenseman.
Despite that, Carle scored 38 points that year in a number-three role behind Timonen and Braydon Coburn. It also helped that it came in a contact year for Carle.
As an upcoming unrestricted free agent, the Flyers had to decide whether they would pay Carle and keep some defensive depth or move on from a player with very little fan support.
After Carle's Time in Philly
With Luke Schenn and Nicklas Grossmann making over $3 million a year in depth roles, the Flyers decided to not pay Carle and attempted to hold their ground with Timonen, Coburn, Schenn and Andrej Meszaros in their top four during the lockout-shortened 2012-13 season. The team did not make the playoffs and finished 20th overall.
With an obvious need for offense from the back-end, Philadelphia signed then-35-year-old Mark Streit to a four-year deal worth $5.25 million annually. The deal brought some criticism as Streit was seen as a comparable to Carle, but six years his elder.
Newsday says Streit, 35, wants $5.5M per yr. #Flyers could have signed Carle, then 27, for that figure last year.Carle got 6 yrs with TB.

— Sam Carchidi (@BroadStBull) June 12, 2013
Mark Streit is old Matt Carle. #Flyers

— 🗣 Bill Matz (@BILLadelphia1) November 20, 2013
Richards. Bryz. Bobrovsky. Jagr. Carle. Now Streit. How does Paul Homgren still have a job?

— Eric Marmon (@DrMarmon) June 26, 2013
After a slow start in Philly, Streit started contributing. He finished the year with 44 points, 13 higher than Carle in Tampa Bay. His defensive game also improved from his time with the New York Islanders.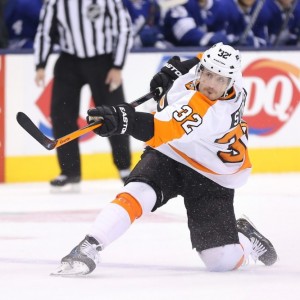 But it was the next two seasons that proved Streit was more valuable than Carle. The Swiss defenseman scored 52 points and finished in the top 10 of defensemen scoring in 2014-15, while Carle struggled for 18. He followed that up with just nine points last season.
Today, Streit is overpaid and eats up a large chunk of the Flyers' salary cap, but his contract ends this June and he's still an NHL player. If Philly had re-signed Carle at the same length as Tampa, he'd still have a year left. Or if the team had bought him out, he'd be costing the Flyers money until 2019-20.
Like most players who are criticized in Philadelphia, Carle probably took more heat than he deserved from fans. But the same can be said about Holmgren. This is one decision that management can look back on and smile.