David Poile and the Nashville Predators have had a rather eventful offseason so far. The events started when Jimmy Vesey, a Predators draft pick, and Harvard graduate, decided he would not sign with the Predators. The events continued with the signing of Filip Forsberg to a big contract and Poile pulling off the blockbuster trade of the year when he acquired P.K. Subban. After the Predators signed Yannick Weber, it seemed as though they were done making moves and had their team set. We recently learned that Poile was not in fact done when he signed defenseman Matt Carle last week. This is a move that has not generated a lot of buzz, but Carle could end up having a big impact on the Predators this season.
Who is Matt Carle?
According to Eliteprospects.com, Carle is a left-handed defenseman who most recently played for the Tampa Bay Lightning. He also had stints with the San Jose Sharks and the Philadelphia Flyers. Carle is currently 31 years old and was a second round draft pick in 2003. At this point in his career, Carle has played in 724 regular season NHL games and is credited with 282 total points. He ended up signing with the Predators after the Lightning bought out the remaining years on his contract that carried a 5.5 million dollar cap hit. Poile was able to sign Carle for one year at 700,000 dollars, a major decrease from his previous contract.
How He Fits In
Carle will slide in nicely on the left side of the Predators third defensive pairing, with Weber on the right side. This will most likely result in Anthony Bitetto being the seventh defenseman and Granberg being sent down to the AHL due to his two-way contract. The Predators could also carry all eight defensemen if they choose to. Coach Laviolette will also have the option to slide Carle up on the first or second pair if he needs to change things up or if there is an injury to one of the top four defensemen. While the third pairing is where he will spend most of his time, it is always good to have someone the coach can move around a bit.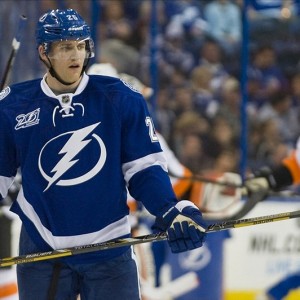 Potential Impact
Carle has the chance to have a big impact on the Predators defensive unit due to his experience. He is a veteran defenseman and has played for coach Laviolette before. While it is true his play has declined in recent years, he still possesses the puck moving skill the Predators are searching for out of their defensemen this season. On top of that, his 724 NHL games rank way above the other five defensemen and as well all know, there is no substitute for experience, especially on defense. In fact, if the Predators choose to pair their defenseman as Josi-Subban, Ekholm-Ellis, Carle-Weber, then the third pair has more combined NHL games played by a large margin. That experience on the back end should be a big positive for the Predators and add some security to their defensive game.
Area of Concern
One small area of concern I have about Carle is that he has not played a full 82 game schedule the last two seasons. Based on that trend, you have to expect Carle to miss some games this season. While missing a few games here and there is not a big concern, it is something that the Predators need to keep in mind. If he does end up missing some games, the Predators will have to rely on Bitetto to step up and play well.
Low-Risk Potential High Reward
Carle's contract is easily the best part about this signing. As stated earlier, Carle is signed for just one year at 700,000 dollars. If he does not work out then it basically cost the Predators nothing. If Carle ends up playing well, then the Predators will be getting a lot of bang for their buck. I believe signing Carle was an excellent move by Poile and it will be very interesting to see if it works in the Predators favor this season.