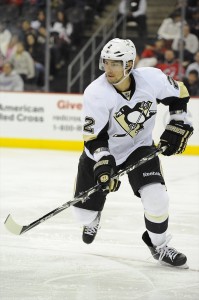 Though he joined the team as an afterthought in the James Neal trade, Matt Niskanen has become an integral part of the Pittsburgh Penguins blueline. And while his ankle injury is reportedly, "not serious," if he does miss any significant time, the Penguins will struggle to replace him.
After spending last year as a third-pair defenseman, mostly taking shifts with Deryk Engelland, Niskanen earned a promotion to the second unit alongside Kris Letang. The promotion may be partially a result of necessity – thanks to the departure of Zbynek Michalek and Ray Shero's decision not to add any more NHL-ready defensemen to the roster – but Niskanen's stats show he's more than just a warm body in the right place at the right time. He definitely adds value, especially on the powerplay.
But before we look at special teams, let's dive into even strength numbers.
Niskanen got off to a hot start this year putting up three points in the first four games – two of which came at even strength. And advanced stats, as reported by Behind the Net, show he has been exceptional at generating offense, even more so than his highly-regarded linemate Letang. Though the sample size is extremely small (only five games, one of which was mostly lost to injury) Niskanen currently leads all regular Penguins defensemen with a relative Corsi number of 28.4.
For those unfamiliar with the metric, Corsi measures offensive production by calculating the difference between shots generated by a team and its opponent (including goals, saves, missed shots and blocked shots). Relative Corsi is the difference between a player's on-ice Corsi and off-ice Corsi.  So in plain English, the Penguins have generated 28.4 more shots than their opponents per 60 minutes when Niskanen was on the ice versus when he was on the bench. Letang's relative Corsi number, for comparison, is 11.1. Niskanen and Letang, as per Left Wing Lock, have been on the same line nearly 30% of the time this year.
It may not be wise to read too much into this, mostly because of the sample size. A lot of strange things can happen in a single game, and a set of only five games is not nearly enough to smooth out any outliers. Niskanen has also not been asked to play too many hard minutes. He has started his shift in the offensive zone 56.8% of the time and faced easy competition. His opponents' average relative Corsi this year is -1.612.
But those caveats are not to imply that Niskanen's Corsi numbers should be dismissed out of hand, either.
Last season, believe it or not, Niskanen actually led the Penguins in on-ice and relative Corsi at even-strength. Behind the Net shows Niskanen had an on-ice Corsi number of 15.51 and an even-strength relative Corsi of 7.7 in 2011-2012. He faced a relatively easy road over that stretch as well, starting more shifts in the offensive zone (57.3%) than any of his teammates and facing the easiest competition. But in comparison to his peer group – other third pair defensemen – his numbers were still spectacular, and his competition doesn't look quite as weak.
Niskanen averaged just over 14 even-strength minutes per game last year, good for 159th overall in the league. So by sorting all NHL defensemen by average time-on-ice and separating the top 120 – as described in this article – it gives us a much better standard by which to measure his performance.
Out of all third-pair defensemen that played more than 30 games, Niskanen's 15.51 on-ice Corsi was the highest of the group and his 7.7 relative Corsi – which ranked 8th overall – was also superb. Additionally, by focusing only on third pair guys, it shows that Niskanen did not face significantly easier competition than his peers. His competition's relative Corsi (-0.064) was square in the middle of the pack at 27th overall. Offensive zone starts were still strongly in his favor, as he placed 6th overall.
Even strength is only one part of Niskanen's game, however. He almost never sets foot on the ice shorthanded, but he is a crucial element of the Pittsburgh power play, and would be even more difficult to replace there if he's gone for any length of time.
His power play time-on-ice numbers are skewed by the injury in the Ottawa game, placing him third behind Letang and Martin. But even after Niskanen left that game in the first period, he, Letang and Martin are still the only Penguin defensemen to see any significant ice time this year. Orpik logged a few seconds, but that was certainly an aberration.
Niskanen logged the second-most power play minutes on the team last year as well, again trailing only Letang. His 2.22 power play minutes per game in 2011-2012 placed him 64th overall in the league and solidly within the second tier of all defensemen. Amongst second-pair power play defensemen his advanced stats were sensational, as well. He had the third best Corsi of the group with 105.08 and the 7th highest relative Corsi of 6.6.
So what does this tell us?
Well, first of all, Niskanen's not a superstar, or a shut down defenseman. And the penalty kill will not be affected at all by his absence, should the "lower-body injury" turn out to be more serious than originally thought.
But he's certainly earning his keep at even strength. And he is critical to the success of the power play. The promotion to Letang's line was well deserved, and early indicators this year are that he is not in over his head. Even if he will never be a Norris Trophy candidate, I would venture to say he's blown away any expectations he was facing coming in.
His numbers are good and he often starts in a favorable position, and there are plenty of players around the league that could probably thrive in his position. But unfortunately, none of those hypothetical players are on the Penguins' roster.
If Niskanen is out, it's hard to see who could slot in next to Letang and be any sort of positive contributor. Deryk Engelland, who took the most comparable even-strength shifts last year, just does not have the wheels to move into that role – despite his amazing efforts back-checking against Ottawa – and most certainly would not take his place with the man advantage. The most likely candidate in my eyes to directly replace Niskanen would be Simon Despres, but he has been playing poorly enough to be scratched twice – and possibly shipped out of town, if Rob Rossi's report is accurate. In fact, Despres is the only defenseman left on the team other than Letang, Martin and Niskanen that played any significant power play minutes last year (1.11 TOI/60), which should be extremely worrisome for Penguin fans.
The Penguins usually only run one defender on the ice at a time during a power play, which could lessen the blow a bit, but only having two defensemen capable of manning the point is not a recipe for success.
The Penguins may have dodged a bullet with Niskanen's injury being minor, but the defensive corps is perilously thin and could be very troublesome down the road.
UPDATE:
Niskanen is now officially listed as out for 2-4 weeks.
Niskanen officially out 2 to 4 weeks. Was wearing walking cast today. Nothing season threatening, obviously.

— Josh Yohe (@JoshYohe_Trib) January 29, 2013