Connor McDavid or Artemi Panarin for top NHL rookie honors? There are differing opinions as to which player is more deserving of the Calder Memorial Trophy. A case can be made for both who have each had outstanding rookie seasons.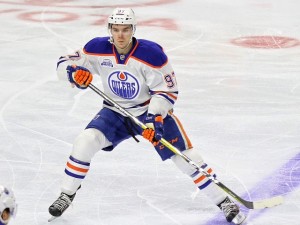 Connor McDavid
Last season's overall number one draft pick was McDavid. He was hyped for months prior to the draft and has lived up to the hype in every respect. Even having missed nearly half of the season due to a broken clavicle, McDavid has performed consistently when he has been on the ice.
A look at his numbers thus far shows that he is a +1 with 15 goals and 30 assists in 42 games. That's not too shabby for a guy who is 19 years old. Although McDavid's stats put him at fourth on the list of other rookies, his numbers are for only 42 games, not 74 or 75.
Connor McDavid has to be the Rookie of the Year. He continues to impress night after night … beautiful setup tonight. #Oilers #NHL

— Mark Bent (@bebento) March 27, 2016
A compelling argument for McDavid is the fact that he has only played in 42 games and is averaging over a point per game. Not to play the "what if" card, but what if McDavid had been healthy all season? Would he be sitting on 80+ points by now? Of course we will never know, but McDavid is obviously very worthy of serious consideration for the Calder, unless you ask Craig Morgan of Today's Slapshot:
https://twitter.com/TodaysSlapshot/status/712517258313080834
Morgan wrote,
"Has McDavid been the best rookie when he's been on the ice? Yes, but the rookie of the year award is based on the entire season, not just the games in which a player competes."
Morgan also pointed out that,
"Since 1967, nobody has won the Calder Trophy by playing fewer than 61 games, except Peter Forsberg (1995) and Jonathan Huberdeau (2013), who both won during lockout-shortened seasons."
The most compelling part of Morgan's argument centers around the "what if" card we're not supposed to play. Morgan wonders what if McDavid would have hit the rookie wall if he had been able to play in all or most of the season's 82 games. Again the answer is that we will never know.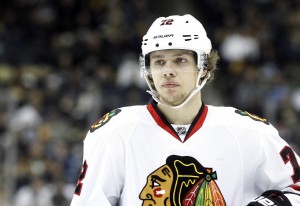 Artemi Panarin
The reigning Stanley Cup champion Chicago Blackhawks are primed to make yet another playoff run. Their success in part due to the play of their own Calder candidate. Panarin has been outstanding this season, his first in the NHL.
A look at his numbers show that in 74 games Panarin has 25 goals and 39 assists for 64 points. There are more than a few NHL veteran players that would love to have those numbers this season. (Eric Staal comes to mind).
Check Out @LastWordOnSport @Zakkthebear Latest on the #NHLBlackhawks & Artemi Panarin! #NHL https://t.co/gkDcPumMrP

— NL KING (@TheNLKing) March 18, 2016
Zachary Devine at Last Word on Sports makes the argument for Panarin by saying that the Calder Trophy is given to the rookie player that has been the most proficient. That certainly describes Panarin, whose first shot in the NHL, as Devine pointed out, was a goal against none other than Henrik Lundqvist.
However, those who are not quite ready to give the trophy to Panarin point to his age, 24, and his previous experience in the KHL where he played 263 games. Does that prior experience mean that he is not really a rookie in the truest sense?
It has also been argued that consideration should be given to McDavid because he plays on a really bad team. Or that Panarin's playing on a really good team should be a detriment in appraisals of his season. Not only that, but Panarin has been paired with Patrick Kane who is having a crazy good season. I think these points are really non-starters. Why boost or demote either player because of the team they are on or who they are paired with on the ice? Again, it leads to playing the "what if" card which we've already done enough of in this article.
Bottom Line, neither?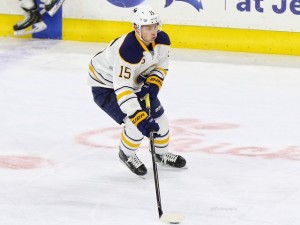 The Professional Hockey Writers Association will vote on who will win the Calder Trophy. It will likely be either McDavid or Panarin, unless they go with the other rookie phenom of this season, Jack Eichel of the Buffalo Sabres, or third-leading in rookie points Max Domi of the Arizona Coyotes.
A strong argument can be made for Eichel, who was drafted second overall last summer, with hype that was equal to McDavid's. Eichel has also lived up to that hype, and is currently second in points with 50.
VIDEO: Sabres' Jack Eichel RIPS home game-winner vs. Jets for his 50th point of the season! https://t.co/dONXsHP9EY pic.twitter.com/WynsNdQHSz

— theScore (@theScore) March 26, 2016
If Panarin gets snubbed it may very well be in large part to the voters viewing him as not being a true rookie at his age and with his prior KHL experience. If McDavid does not win it will probably be because he is viewed as not having played in enough games. If those two cancel each other out, look for Eichel to be left holding the Calder Trophy.
Mark lives in the Raleigh, NC area and covers the Carolina Hurricanes.