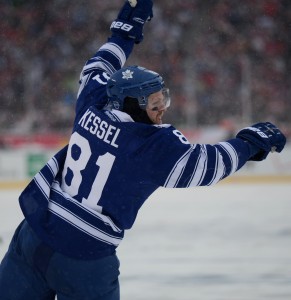 It's something that comes with being a fan of the Toronto Maple Leafs. You hear it on the radio each morning, on SportsCentre every night and in water-cooler discussion at work. You may be told otherwise, but the reality is that you're constantly surrounded by it.
The truth.
If you're a fan of the Maple Leafs, chances are that you have let a hockey personality hear it at one point. And by "let a hockey personality hear it," we're talking really tearing into them. Not always is this because you share a different opinion than the person behind the column, on the radio or appearing on television; you've probably found yourself complaining about all the negative talk coming from those who cover the team.
Why are you always trying to look down on the team?
Why do you always feel the need to write negative things?
I can't even follow you any more because you do nothing but try to bash the Leafs — never anything good to say.
These are just three lines heard by Leafs writers, including yours truly, on a daily basis. To clear the air, let's take a little dive into the 2013-14 Maple Leafs season and see if the media really is being deliberately negative or just reporting the truth.
Sustainable success
It was a question that was asked through and through all season long: could the Toronto Maple Leafs maintain the success they had been having and hold on to a playoff spot?
This hasn't been an issue for one season; it was ongoing in 2013 and just continued into the following campaign. An outstandingly terrible shot differential that certainly has not favoured the Leafs, awful possession numbers and play that the word "shaky" just wouldn't describe. The Leafs have been headed for the gutter since their questionable play began.
So who actually believed the Leafs would sustain the success they had been seeing? Well just about every Leaf-loving, overreacting fan out there and, believe it or not, the odd hockey columnist.
Truth or deliberate negativity? Saying "I told you so" is never the right thing to do. That said, we all know what most Leaf writers predicted and we all know what actually happened — two things that turned out to be the exact same. All the talk of the Leafs' inability to maintain their success just so happened to turn from exactly that, talk, into truth.
Randy Carlyle
The most polarizing person is Toronto this season has been Randy Carlyle. No matter what he says or does, controversy strikes. It's certainly understandable; the Leafs weren't having a good season even when it looked like it and the coach almost always takes the brunt of the criticism no matter what city a team calls home.
One of the biggest questions the Leafs must ask as an internal review begins following the hiring of Brendan Shanahan as team president and alternate governor is has Randy Carlyle gotten the most out of the Leafs' current roster and would he be able to maximize their potential if kept around for next season?
Let's take a quick look.
James Reimer has struggled to really get his feet wet this season. Everyone knows he is a capable number one but how does a starting goalie go off a cliff like he has? Try the coaching staff.
What about Jake Gardiner? Is it a coincidence his play went off the rails as soon as Randy Carlyle took over? Can a young, promising offensive defenceman thrive under a coach who seems to want nothing to do with that style of play? No.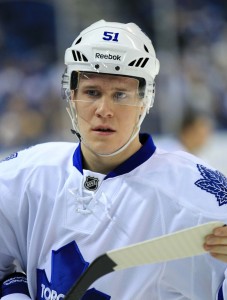 James Reimer and Jake Gardiner are just two examples of players who haven't been able to get it going under Randy Carlyle, whether it be this season or last.
Truth or deliberate negativity? Randy Carlyle is not the right coach for the Toronto Maple Leafs and that is the truth. He has lost the room, something that is clear to even those who are not in it. His system is one that simply hasn't worked and has created a stigma around the team. There's nothing false about that.
The future of the Toronto Maple Leafs
Maybe even bigger than determining who the right guy to coach the Leafs is would be taking a long, hard look at the team's future and answering this: With the current make-up of the franchise, are the Toronto Maple Leafs a force to be reckoned with in the future?
The only way to positively answer yes to this question would be if the Maple Leafs showed promise this season. It was already determined above that their weak possession numbers and the massive differential they allowed in shots is not sustainable. With that, no matter how much you win, no promise is being shown.
The Leafs may have a core piece or two in place at each position — James van Riemsdyk and Phil Kessel up front, Dion Phaneuf on defence and Jonathan Bernier in net — but none of that matters if you cannot build beyond the core.
Truth or deliberate negativity? With poor play even when winning, their is simply no hope for the future being shown by the Toronto Maple Leafs. What it will take to correct this issue remains to be seen, but we do know the truth is that the team has a bleak future if they continue to produce like they have.
Are those who cover the Toronto Maple Leafs, whether mainstream or not, negative? Yes, especially during the team's recent season-ending collapse. But here's a better question: is the negativity coming from the Toronto media deliberate? No.
When a team has qualified for the playoffs once in nine seasons, negativity becomes the truth. That's exactly what has happened in Toronto.
Twitter: @LukasHardonk | Email: lukas.hardonk@gmail.com | Lukas' archive