There were few positives about Marc Methot's gruesome injury against the Pittsburgh Penguins.
It left him without a fingertip – and, on a related note, left many fans running for the toilet. It put the Ottawa Senators down a top-pairing defenceman and, as Eugene Melnyk so eloquently noted, Sidney Crosby went unpunished for the slash that ultimately caused the injury (Crosby has since offered a short and sweet response to Melnyk's remarks).
But amidst the controversy and initial shock at the injury, the faintest of silver linings emerged in the aftermath of the ordeal. With Methot forced to sit out indefinitely, the Sens would have no choice but to insert 24-year-old Fredrik Claesson – who has been the victim of a deep Ottawa blue line – into the lineup.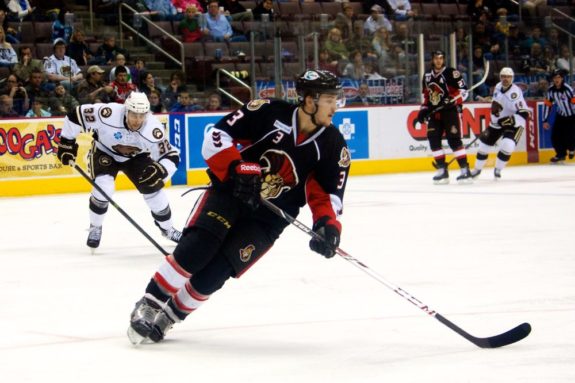 Finding a Home
For the first time in his five years with the franchise, Claesson will play more games at the NHL level than with the AHL's Binghamton Senators when the season wraps up. That's largely thanks to the departure of Patrick Wiercioch in free agency last summer, which opened up a hole on Ottawa's blue line (albeit as a seventh defenceman, after Chris Wideman grabbed a spot on the final pairing).
But even as a seventh defenceman Claesson's play has warranted inclusion in the lineup, all while playing an irregular role in head coach Guy Boucher's system. In many of his 25 games this season Claesson has been the literal seventh defenceman in an 11-forward, seven-defenceman lineup that Boucher has shown no hesitation in using.
That fact has reflected as much in his ice time – six times this season he has played fewer than 10 minutes, and only three times has he surpassed the 14-minute mark (just twice in the last two-plus weeks, with his busiest night coming last November). Despite being used ultra selectively, Claesson has made the most of his time on the score sheet.
While his nine points aren't awe-inspiring in their own right, in the aforementioned 25 games that gives him a modest 0.36 points per game. That figure puts him ahead of many regulars in the lineup, including Tom Pyatt and Chris Kelly and, among Ottawa's back end, ranks behind only Dion Phaneuf and Erik Karlsson.
When he has gotten on the score sheet, he has done so in bunches – he has two separate three-game point streaks, during which time he played a critical role in helping the Senators to success. The Sens went 4-1-1 in those games, and Claesson played a hand in his team tying the game or was involved in the eventual game-winning-goal four times.
The Door Opens
Whether it was out of fear of disrupting the existing chemistry on his other lines or simply a recognition of Claesson's contributions, Boucher had Claesson paired with his countryman Karlsson for most of Saturday's game against the Montreal Canadiens. The move wasn't an overwhelming success or failure as Claesson finished with 14:56 of ice time and an even rating (though he did have four PIMs).
Claesson hit on Gallagher. pic.twitter.com/vf2YowQKeJ

— Marc Dumont (@MarcPDumont) March 26, 2017
But the game served as a good initial test for Claesson, whose playing time is guaranteed to see a jump in Methot's absence. He may not find himself on Karlsson's left side by the time the Sens play their next game Tuesday against the Philadelphia Flyers, but the remaining eight games will be no less important in determining his fate going into the playoffs.
With a spot in the dance all but wrapped up – the Sens are eight points clear of the Islanders, who presently occupy ninth place in the Eastern Conference – and still no timetable for Methot's return, Boucher can use the remainder of the season to play with his pairings and matchups to find a more suitable role Claesson.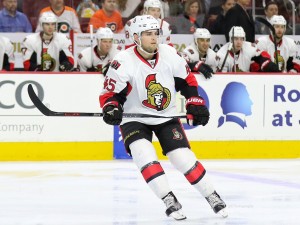 There's no guarantee that strong performance will give Claesson a spot in the lineup when Methot eventually makes his comeback, but it could make Boucher's job a whole lot tougher. Depending on Ottawa's first-round opponent in the postseason, Boucher could, for example, opt for the finesse of Claesson's game over the grit of Mark Borowiecki if the swap projects as beneficial.
Thinking Expansion
Looking beyond 2016-17, Claesson could be showcasing himself for next season given the upcoming expansion draft. As a result of his failure to meet the 40/70 requirement, Claesson won't have to worry about being picked, but the same can't be said of Methot and Wideman who headline the likely list of available Senators defencemen.
Should either of the aforementioned duo be selected, that would leave a vacancy in Ottawa's top-six. And though it wouldn't be a guarantee – he would still have to compete with the likes of Thomas Chabot and Jyrki Jokipakka – a strong finish to the season would set Claesson up well for the 2017-18 campaign and give him an early leg up in the competition.