In her first start of the season for the Metropolitan Riveters, Kimberly Sass made 33 saves and then stopped all three Connecticut Whale shooters during the shootout to secure her team's first home win of the season. The Rivs won 4-3 but had to rally from a 3-2 deficit entering the third period, and it was rookie Audra Richards who completed her first NWHL hat trick to force overtime with a goal past the midway point of the third. Amanda Kessel netted the lone shootout goal and Sass stopped Katerina Mrázová, Michelle Löwenhielm, and Jordan Brickner in succession to pick up her second win in the league in just her second career start. 
"The first two shooters coach Randy reminded us of those two players specifically before the game. To be ready and watch out for them," Sass told The Hockey Writers about how prepared she was for the shootout. "I actually played with Jordan Brickner at Colgate for a few years, so I kind of had an idea of her tendencies. It was really just watching the puck, and being patient."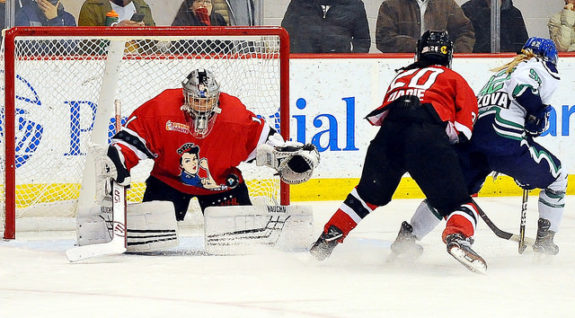 "I think the strongest part of my game, I've worked for many years on skating and challenging the shooter, taking away the angle," said a smiling Sass. "I actually enjoy (facing) breakaways. You have the make the most of your opportunities and I'm just glad I could give the team an opportunity to win today."
The Riveters were boosted by the return of forwards Kessel and Miye D'Oench, and defender Courtney Burke and for the first time had all hands on deck for a game in their eighth contest of the season. This was D'Oench's first game of the season after being away from the team for a work commitment and Burke had missed five straight with an upper-body injury; Kessel only missed the previous game with a minor injury.
The D'Oench Factor
"I hope it's going to be comparable to my first season (2016-17) where we struggled a little bit in the beginning (of the season) and built, built, built, and peaked at the right time," said D'Oench following the win. "We, unfortunately, had a couple of bad bounces against Buffalo but I thought we really were among the better teams in the league by the end of that season, even though we definitely didn't start that way."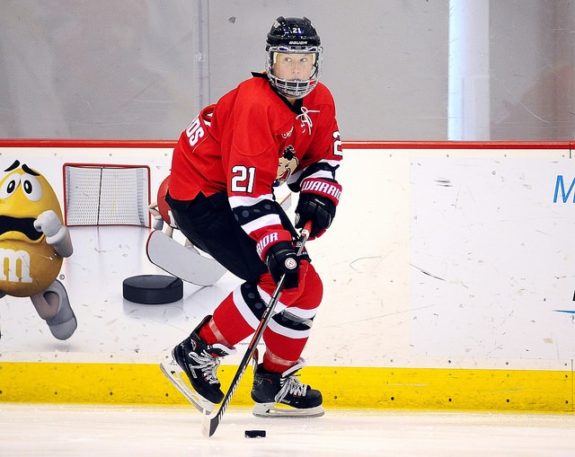 In the first period, Richards scored two goals sandwiched around Mrázová's power-play goal, and it was D'Oench who assisted on both of them. "Audra plays a really gritty game. She's really great at battling in corners, forechecking, protecting the puck and I thought, particularly on the third goal that it's the type of thing where you create your own luck," D'Oench said of her new linemate. The trio of Richards-Alexa Gruschow-D'Oench combined for seven points (3g-4a) on the afternoon.
"I think our line is still getting used to each other. I'm still getting used to the game itself," D'Oench said with a laugh. "Obviously I played with Alexa a lot last season, so that's been fun to get back into. I'm looking forward to (us) gelling even more and building more chemistry."
Close Contest
The Rivs maintained their 2-1 lead until a five minute span in the second half of the second period when Kayla Meneghin scored her first NWHL goal, poking the puck over the goal line after a goalmouth scramble, and then Mrázová potted a shorthanded goal on a 2-on-1 with Löwenhielm with 2:05 left in the period.
Mrazova's shorthanded goal gives the @CTWhale_NWHL a 3-2 lead after two! #METvsCTW pic.twitter.com/YGopNQuCes

— NWHL (@NWHL) November 25, 2018
Richards' hat-trick goal in the third period gave her a share of the league lead (Buffalo's Maddie Elia also has 6) and gave the Rivs a much-needed boost as they were staring at a second straight loss to the Whale that would have left them at the bottom of the NWHL standings. Connecticut had their chances in overtime but squandered a crucial power play when Gruschow (who picked up her first two points/assists of the season) forced last week's hero for the Whale – Shannon Doyle – into taking a penalty to negate it.
"When the pucks don't bounce your way it stinks to lose," said Connecticut captain Emily Fluke. "But we're proud of the way we played, we battled really hard, we think we won the majority of the battles. That's something we're proud of. We stayed with them the whole game. We had the lead, they get a late one and end up winning in a shootout. We were able to get a win (against the Rivs) last week, we got a point today. We just talked about it in the locker room that now we're a team that is not just satisfied with getting a point, and that's a good thing."
Stay Sassy
"I've had the entire off-season to prepare and work on my game, and during the season I had practices to work on my game, preparing mentally and getting my confidence up," Sass said after her second NWHL win. "I came into today pretty confident. We all knew what we had to do today, we knew it was going to be a battle. Connecticut is definitely a strong team and we knew that they were going to come in ready to go."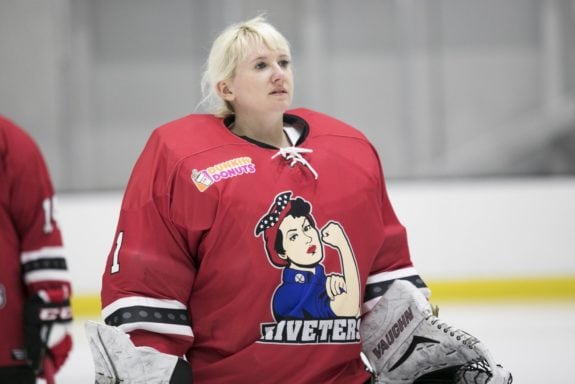 Sass made the most of her first start this season and proved that if she is called upon again, she's more than capable of tending goal for the Riveters. Her ability to shut down all three Whale shooters in the shootout gave the defending champs a crucial win as they head into their final two games of the calendar year (Dec. 2 vs. the Whale in Pittsburgh and Dec. 9 against the Boston Pride). 
"She stole the show in many ways and made big saves when she had to, certainly in the third period," said Riveters head coach Randy Velischek of his team's goaltender, "and certainly in the overtime. She made two toe saves that I can recall offhand that stand out in my mind. She was a big part of this win, a huge part."
.@AmandaKessel28 scores the shootout winner but @_thedailysass comes up with 3 big saves. @Riveters win at home for the first time this season! #NWHL pic.twitter.com/IAy5xTLWQr

— Women's Sports Highlights (@WSportHilites) November 25, 2018
Game Notes: Dating back to last season the Riveters are undefeated with D'Oench in the lineup (12-0-0). Richards led all players with eight shots on goal and Hanna Beattie led Connecticut with six. Whale goaltender Meeri Räisänen finished with 35 saves. Mrázová now has a three-game goal scoring streak and three of her four goals this season have come against the Riveters. Löwenhielm has a three-game assist streak. Kessel tied a season-high with five shots on goal and also had two shots ring off the post.
3 Stars of the Game:
1) Audra Richards (Rivs): 3 goals
2) Katerina Mrazova (CT): 2 goals
3) Kimberly Sass (Rivs): 33 saves, win
Dan Rice is in his 9th year of reporting for THW & has covered NJ Devils home games for 15+ years at various websites. He began his journey working for legendary broadcaster/writer Stan Fischler from 2002-04 & completed an internship at the ECHL; he also has been writing features for the NWHL (nwhl.zone) website since 2016.