At 28, my historical knowledge surrounding the game of hockey is still budding. Even having covered the game in different capacities for the past several years, there are instances from the game's earlier days that don't always ring a bell with me.
But that's the beauty of this beloved game – and other sports like it. Records are kept. Games are monitored. And moments are caught on tape. People, like myself, have the ability to look back on highlights from careers we never had the opportunity to watch and enjoy.
A while back, I was fortunate enough to join a group of hockey enthusiasts for – what I like to call – an insiders gathering. Journalists, historians and on-ice personnel gathered to relive the careers of three former NHL officials. But it wasn't your average media gathering. In fact, it was relaxed, humbling and a chance to allow the professionals to enjoy a night of hockey.
Mike Wilson – Capturing History at Home
There's something special about walking into someone's home – walls plastered with the glory days of their favourite professional sports franchise – even if it's just posters and news clippings. But walking into the home of Mike Wilson, was something much different.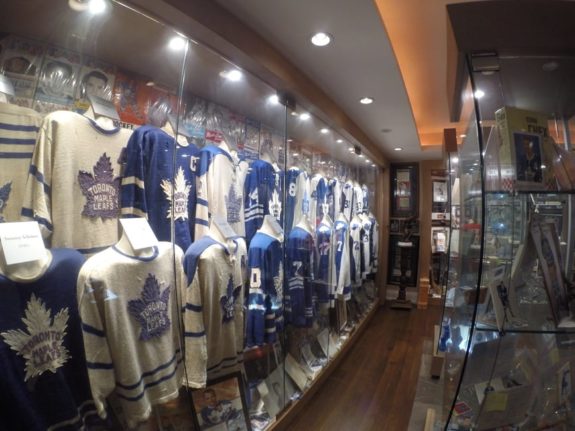 He's referred to as the Ultimate Leafs Fan. His walls built to resemble his own Hall-of-Fame-type displays. Behind the glass, memories of Leafs' greats and hockey lore sit awaiting the wandering eyes of his guests.
From Gretzky gear to Bower's pads and right onto the Leafs dressing room door from Maple Leaf Gardens, it's the definition of hockey haven for Toronto fans. But there's something more to the collection than just the items that fill these basement walls. There's a pride within this collection – a historical aspect that rivals only that of the Hockey Hall of Fame.
 "..key ingredient to any piece Mike Wilson collects is that the piece has to have a story."- According to his website
Mike Wilson's collection brings some of the greatest hockey people together – players, members of front offices and those who grew up fans now covering the game they all love. There's something in the personal tellings of each item, that can't be experienced anywhere else.
Wilson, who acquired his first item over 50 years ago, is able to remember the stories that come with every item he's collected. By being able to share these moments – engaging with his guests – he's demonstrated how important fans and collectors are in maintaining the historical richness of hockey.
Engaging in Hockey's History
But for Wilson, the acclamation of hockey's history doesn't begin and end with his rare collection. Along with sharing his memories and Leafs moments on his blog and podcast, Wilson hosts exclusive events – like the one I mentioned earlier – to engage and inform others of stories that once took place on the ice.
While I can't speak of previous events, having just been to my first, the level of interest is staggering. The questions raised, the quiet that fills the air while his panel of guests speak simply set the tone to how important these kinds of events are.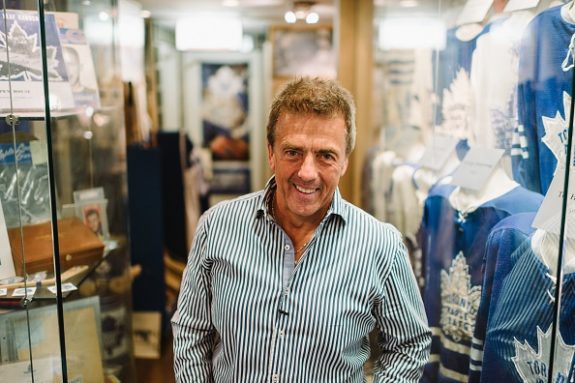 The event, which I had the privilege of attending, was Wilson's Ref Night. Gathered in the historical museum of hockey artifacts were writers from the Toronto Star, The Hockey Writers as well as authors of other hockey related material. They were joined by historians of the sport. All were gathered to listen as three former referees took to the front of the room to share their journey to the NHL, their experiences on and off the ice, as well as their thoughts on the state of today's game.
And isn't that what history is all about? Aren't we supposed to learn from past experiences and mistakes to solidify a brighter future – learning so that we don't make the same mistakes down the road?
As Rick Cole points out in his piece for The Hockey Writers, there was something professional about the three men that sat in front of this room of hockey insiders discussing their careers and controversies. They exuded a sense of pride as they opened up the doors to questions about their role in the game of hockey.
Bruce Hood, Ron Wicks and Bryan Lewis all appeared in over 1,000 career NHL regular season games. All of them were involved in some of hockey's greatest, worst and most controversial moments. Yet, they were able to sit among hockey fans – historians and journalists by profession – and discuss what was going on inside their heads in these particular moments.
Questions thrown at them like darts, they didn't dodge anything. Instead they understood the importance that comes along with being a part of the game's past.
It's easy to sit and relish in the stories printed in the news about historical numbers and plays and match-ups from the NHL's earlier days. But there's something special about hearing first-hand what it was like to be involved in some of these moments.
Ron Wicks was the youngest individual to ever officiate an NHL game. He worked as a linesman in Chicago when Montreal's coach Toe Blake punched former referee Dalton MacArthur.
"Ref's Night" was a huge success. Take a look http://t.co/D91LIGE5sJ

— Ultimate Leafs Fan (@ULeafsFan) May 20, 2015
Bruce Hood was involved in the Good Friday Massacre game between the Montreal Canadiens and Quebec Nordiques – which included two all-out brawls. How did he control that situation? What was going through his mind?
These personal anecdotes are important in maintaining the history of the game and while some today might question what the Good Friday Massacre is, Hood is able to remind us that it wasn't just another hockey game in his career.
These three men have been around for a long time. They've witnessed the changes that've taken place around the game. Wilson's ability to unite this sort of panel and create the discussion at his events is more than just a chance to reminisce. It's a chance for the journalists and historians (and fans even) to gain a better understanding of the game from within the minds of those who experience the on-ice product.
The Ultimate Fan and the Ultimate Keeper of Hockey History
It was easy to walk into that museum-like basement and become slightly overwhelmed with the presence of hockey artifacts and the great minds gathered to discuss the history of the game – especially for a 28-year-old poised to miss out on some references.
But there's a second after you get over the initial shock that you realize just how important this house, this collector and these exclusive events are to the game itself. We all have our hobbies and our pastimes, but there's something more in the way that Wilson has taken on the role of the Ultimate Leafs Fan.
Even those who have captured moments on film, or in photographs, have to understand the importance of what they hold. Sure, it might be just a picture. It might be just a stick or a poster from a Dominion store with the likeness of Frank Mahovlich, but it's something that embodies the heroes we grow up with. Even the greatest players in hockey history have had a hero at some point in their life – a person or another player to look up to. Some have been fortunate enough to lace them up with that person or face-off against them.
But what Wilson's been able to capture in his collection, his podcasts and his events is the importance of average fans and individuals in playing a role in maintaining this rich history. A role in which they remind the players and fans of tomorrow of the times they missed yesterday.
While Wilson is surely not the only collector of historical hockey artifacts, it's what he stands for and his devotion to sharing the game with others that sets him apart from the rest. He stands for something more than just the displays on his walls. He stands for the game he loves. He stands for hockey and the role of the fan in the history of the game.
Follow the Ultimate Leafs Fan on Twitter, Facebook or Instagram to see more of his collection.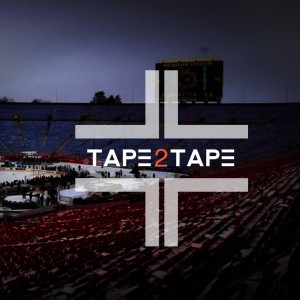 Have some thoughts about this week's column, let me know at @AndrewGForbes or @Tape2TapeTHW on Twitter.
Tape2Tape is a column looking at some of the biggest stories from around the world of hockey. Discussing different topics, it focuses on one major story each week. Agree or disagree, writer – Andrew Forbes – would love to hear what you have to say.