The 2015-16 regular season is not over yet, but it's safe to say this year hasn't been the Minnesota Wild's greatest season.
While the Wild still has a chance to secure a playoff spot, and is technically among the better teams in the league, this team has dealt with inconsistency, lengthy losing streaks and a lack of passion all season long. Yet despite Minnesota's mostly sub par season, there is still a silver lining to be found: this team's young core players like Erik Haula, Nino Niederreiter and Charlie Coyle.
Move Over, Veterans
Former coach Mike Yeo lived and died by veteran players like Jason Pominville, Thomas Vanek and Ryan Suter, even when these players were clearly not what the Wild needed at the time. However, since John Torchetti took over as Minnesota's head coach, things have been a little different.
The coaching change may not have fixed all of Minnesota's problems, and this team is, for the most part, still in need of major changes, but the change did one great thing for the Wild: it allowed the team's young players to shine.
Since the middle of February, Minnesota's core young players like Haula, Niederreiter and Coyle have been performing like never before.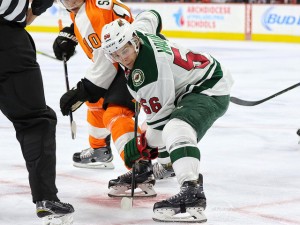 Erik Haula
Prior to this season, Erik Haula never seemed like the Wild's next superstar. Even throughout the first four months of this season, the 24-year-old former Golden Gopher didn't seem like he was playing any better than he had in the past. That all changed once Torchetti took over.
Now, Haula has scored a career-high 11 goals – six of those coming in just the past 18 games. Haula also leads the team with a plus-18. Even without stats, however, it's easy to see Haula is a different player than he has been in the past. Before this season, Haula was forgettable. This season, he's easily been one of the Wild's most influential players.
Jones: 81.5% CF% – Niederreiter: 80.8% CF% – Haula: 72.4% CF%

— Dustin Nelson (@dlukenelson) March 19, 2016
Haula is riding a five-game point streak heading into Tuesday's game.
Nino Niederreiter
For some unknown reason, Nino Niederreiter always seemed to be in Yeo's doghouse. I could never understand why, and now after seeing the way Niederreiter has played with a little more freedom under Torchetti, I understand Yeo's thought process even less.
Niederreiter has arguably been one of the best players on this team night after night over the past month. The native of Switzerland clearly has a knack for scoring goals – he's tied for third-most on the team with 18 so far this season. That offense is something the Minnesota Wild desperately need. If Niederreiter can continue to improve and build off of this season, the Wild would be more than fortunate to have him on the roster.
Niederreiter not only brings offense, but speed and a big, physical presence, as well. The 23-year-old's large 6'2″ 209-lbs frame paired with his goal scoring ability make him a huge asset for this team. The Wild would be wise to continue to give Niederreiter room to grow.
Niederreiter also has a five-game point streak going into Tuesday's game.
Charlie Coyle
Much like Niederreiter and Haula, Charlie Coyle had been a decent hockey player prior to this season, but Coyle has taken his talent to a new level this season.
While the rest of the team has struggled, Coyle has grown stronger, faster and smarter with the puck. Coyle's potential is incredible, and it's been easy to see throughout the second half of the season. Coyle clearly has the ability to become a superstar for Minnesota if he can continue to build off of his current progress.
Minnesota hasn't had a spectacular season, but these three players can't say the same. As veterans like Pominville, Parise and Vanek have struggled to keep pace, Haula, Niederreiter and Coyle have demonstrated that they are very clearly the future of this team.
This team has a lot of work to do this offseason, but one thing Chuck Fletcher doesn't have to figure out is whether these young players should stay or go. These three have a bright future, and if the Wild can find a solid team to surround them, Minnesota could become a force to be reckoned with in the near future.
Alli covers the Minnesota Wild and has been a contributing writer with THW since August 2014. She is currently a journalism and sports management student at the University of Minnesota. For all of your Minnesota Wild news and updates, follow her on twitter: @allibaker23