A Wild Night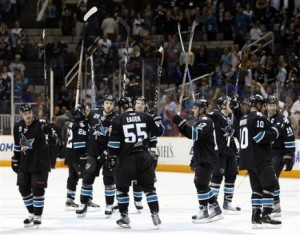 On Thursday night in San Jose there was a wild storm, the Minnesota Wild, and some wild turnovers, but for 60 minutes there was no doubt who the better team was, as the Sharks dominated play in a 2-1 victory. At one point in the third period the Sharks were out-shooting the Wild, who entered the game as the best possession team in the league, 29-16. They did so despite missing their best defenseman Marc-Edouard Vlasic, who missed the game with an upper body injury suffered two nights prior against Edmonton.
San Jose got contributions from all four forward lines, three defense pairs, and netminder Alex Stalock came up with a huge save in the final moments to seal the victory. With San Jose's infamous trio of John Scott, Adam Burish, and Mike Brown all out of the lineup (Burish in Worcester, Scott scratched, Brown injured), the Sharks featured a fourth line of Tye McGinn, long time fourth line center Andrew Desjardins, and top prospect Chris Tierney. Their third line of Barclay Goodrow, James Sheppard, and Melker Karlsson also featured two rookies. Despite the four rookies on the bottom two lines, the Sharks were able to roll all four throughout the game. They were rarely hemmed in their own zone for any significant amount of time.
The defense pairs, Mirco Mueller and Justin Braun, Brenden Dillon and Brent Burns, Scott Hannan and Matt Tennyson all looked sharp on the back end. With exception of a couple poor reads, one by Hannan and one by Mueller that led to two-on-ones the other way, it was hard to find a complaint in this game if you're Sharks head coach Todd McLellan.
"It was a good night for our team, I thought everybody fell into place" commented McLellan afterward. "The so-called scorers produced on the power-play, made great plays and finished, we got really good minutes from Shepps line, good minutes from Tierney's line. Everybody played to their strengths. It was a good team win, really good team win."
The atmosphere in the room was as one would expect after the win. A very upbeat group of players considering they just played a complete dominant game against a top team in the league.
"They are right behind us in the standings and to get two points and keep them from getting any points winning in regulation is huge" commented Stalock who stopped 18 of 19 shots. "They're a good team man, it wasn't an easy night and we knew we had to play the way we did and guys blocked a ton of shots."
"We felt good, we've been feeling good, we've been playing good at home," commented Pavelski who notched the go-ahead game winner in the third period. "Guys came out and played hard."
Statement Game?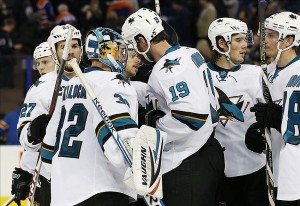 The victory was the Sharks' 16th of the season, which includes wins over LA, Anaheim twice, Tampa Bay, Boston, and the suddenly good New York Islanders, but this one felt different. The opening game in LA was won on emotion, the Sharks have had the Ducks' number for awhile, and the wins against Eastern conference foes were good, but those came with Vlasic in the lineup. For the Sharks to be able to convincingly beat the Wild without both Vlasic and Matt Nieto, well, it's hard to argue this wasn't their most impressive performance of the season.
Nieto is first on the Sharks in corsi-for percentage at 60% and Vlasic is second the team in goals for percentage at even strength at 62.2%. Vlasic is also sixth on the club with a 53.9% corsi and as most people know is generally regarded as one of the best defensemen in hockey. For the Sharks to be able to play this well against a top caliber team while missing a key forward and a key defenseman is as positive a sign as any that the club deserves their GM to be a buyer come the trade deadline in March. It may just be one game, but Minnesota wasn't on back-to-backs and had three days off prior their last game on Tuesday before playing the Sharks. All their key guys, Zach Parise, Mikko Koviu, Jason Pominville, Ryan Suter, Thomas Vanek, Mikael Granlund, Charlie Coyle, they all played in this one against the Sharks. If there ever were a statement game from the Sharks, given the circumstances, it doesn't get much better than this one.