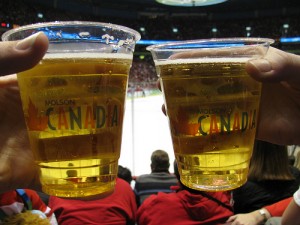 Canadians are passionate about three things. Their county, their hockey and their beer.
In recent months, two of these three were the subject of much debate within the Canadian court system as Labatt and Molson did more than just argue over whose beer is the smoothest.
On Tuesday, as originally reported by The Ontario Globe and Mail, Molson-Coors Brewing Company was awarded the NHL contract for its North American sponsorship rights after the Ontario Appeals Court overturned an injunction that was imposed in June.
The injunction, which was requested by Labatt Breweries of Canada, was originally granted last month by the Ontario Superior Court. Labatt, the leagues now former Canadian beer sponsor, has said that it is reviewing any further legal options.
Winning the contract, which is the largest in NHL history, will cost Molson about $375 million over the next seven years. That's a lot of six-packs.
Molson's opportunity came when Labatt failed to secure an extension of their sponsorship rights during exclusive negotiating sessions last winter. Molson, which is based in Denver, was the leagues official beer sponsor for decades prior to Labatt gaining the sponsorship rights in 1997.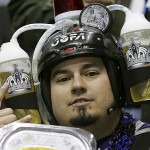 Along with the new sponsorship, Molson plans on spending tens-of-millions of additional dollars in order to further expand the Molson Canadian brand.
It will accomplish this through various methods such as social media and the annual Winter Classic game. Molson has already seen progress in advancing the Canadian brand of beer during the Vancouver Olympics after a series of light-hearted commercials centered around the Molson Canadian Hockey House.
"We'll move beyond rink boards and ad placements, curating experiences for beer drinkers and hockey fans," Molson spokesman Adam Moffatt told the Ontario Globe and Mail. "It's a great springboard when we start to look at how we can expand and grow [the Canadian] brand."
Not all is lost for Labatt, however, as they recently secured sponsorship deals with three individual Canadian teams: the Vancouver Canucks, the Calgary Flames and the Winnipeg Jets. This deal gives Labatt the "pouring rights" within those teams' arenas according to Labatt spokesman Bob Stellick.
Hockey fans have lost little sleep in regards to who would be supplying their beer at the arenas this season. By the third beer, the name on the side of the cup starts getting blurry anyway.