There are definitely worse things in the world than having your No.1 goalie healthy and ready to play as the regular season winds down, with playoff positioning on the line. Namely having your No. 1 goalie healthy and ready to play under those same circumstances, but deciding to go with your back-up instead.
Thankfully for the Montreal Canadiens (but not so much for Al Montoya), fate intervened, prompting Carey Price to get the start Tuesday night against the Dallas Stars. That's in spite of his back-up having initially been slated to play the game.
Carey Price vs Stars. Al Montoya s'est blessé au bas du corps. #lavoiedubé

— Renaud Lavoie (@renlavoietva) March 28, 2017
Price vs. Montoya vs. Fucale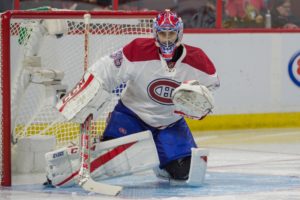 Now, no one is wishing ill will towards Montoya, who's done a serviceable job as Price's back-up this season. However, with first place still on the line, the Canadiens simply owe it to themselves to ice the best possible line-up until they hypothetically win the division.
Granted, Montoya is part of that lineup and he's a definite asset to have on the bench over a still-inexperienced Zach Fucale, who was just called up and had only been able to muster a .898 save percentage in the ECHL this season. But, given the choice between Price and Montoya, who would you rather have in nets?
There is an admitted argument to be made that there's no point in overplaying Price for several reasons. First off, the Habs are all but assured of a playoff spot at this point. Why needlessly risk Price getting injured in a hockey game? Well, for starters, Price can get injured anywhere. Montoya's injury proves that. There's no point bubble-wrapping the guy.
No Guarantees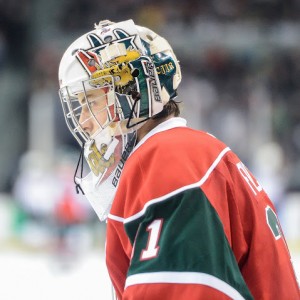 Furthermore, because the Canadiens'
remaining regular-season schedule
pits them exclusively against non-playoff teams, the intensity on the part of any upcoming opponent should be minimal. There are of course no guarantees, but the same can be said of Montreal winning the division. Why take any chances?
Think about it like this: If this was all about resting Price, why wouldn't the Habs play Fucale instead? Because they want to win. And, between the two healthy goalies, there's no denying which one gives them the better chance. It obviously would be the same choice between Price and Montoya.
Another faulty reason you may not to play Price down the stretch? The Canadiens may not even want to win the division, as their most likely first-round opponent as a result would be the Metropolitan Division's New York Rangers, who have more points then them.
Looking Ahead
Ultimately though, not only do the Habs arguably match up better against the Rangers than the Boston Bruins, for example. They would also be losing guaranteed home-ice advantage for the first two rounds along with the Atlantic, by falling out of first place.
Why go to all the trouble of putting yourself in a good position to win the division over six grueling months and then let your slim lead slip away by needlessly playing your back-up? When the game in question even isn't part of a set of back-to-backs?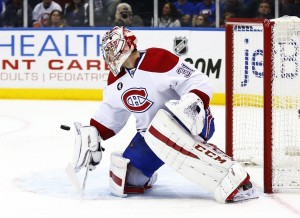 Of note, the last time Montoya played was last week against the Detroit Red Wings. That game also wasn't bookended by another on either night. However, that decision was at least justifiable because head coach Claude Julien had just played Price two nights in a row in consecutive games against the Ottawa Senators the previous weekend… clearly because those were important games and the outcome had a direct impact on where the Canadiens would finish the season.
That's still to be determined now. Just because the remaining games aren't against the Senators, it doesn't mean the Canadiens can afford to take any of them for granted.
There's one set of back-to-backs left, on the final weekend of the season, at which point there's a good chance the division will have already been decided. If Price continues to play until it is, there's a much better chance they'll have wrapped it all up even before that point. Assuming he's healthy in time, let Montoya play then. Not before.