Tis the "New Year, New Me" season, and like everyone who stepped into the gym for the first time in a long time, the Montreal Canadiens were hard at work on Monday looking to improve on the shortcomings of 2017.
Habs Back on Home Soil
The New Year began at the Complex Sportif Bell arena for the first practice of 2018. It was the return to Montreal following a seven-game road trip that saw the team collect 4 out of a possible 14 points on a journey that started with a shutout loss in Ottawa for the NHL100 Classic, and ended in Florida with another shutout loss on Dec 30. Having struggled mightily over the past two weeks, a Bell Centre homecoming is a fresh start the Canadiens are in dire need of.
"We have a lot of games at home in a row coming up," said Jonathan Drouin. "We're happy to be home, and we're going to try and use that to our advantage."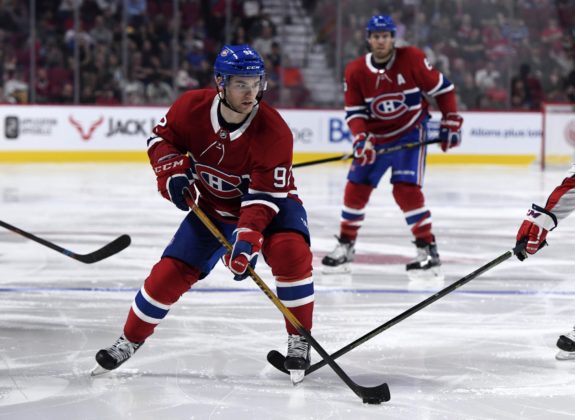 The final three months of 2017 were anything but kind to the Canadiens. After losing key members of last season's squad including Alexander Radulov and Andrei Markov in free-agency, the less-than stellar play from its most important remaining players caused the team to crumble from their familiar place near the top of the Atlantic division all the way to the bottom where they are currently crunched between teams in the midst of rebuilding. Frustration at all levels of the organization have begun to set in, but the head coach sees these times as an opportunity rather than a deterrent.
"Right now, we've got a long road ahead of us," said Claude Julien.
"I'm not wishing for this, but at the same time, this is what makes you better. If you handle [the hard times] the right way, that's what's going to make you better in the long run. We're going to be stronger and we're going to capable of handling more adversity than ever by dealing with these things" added Julien.
Canadiens Starting the New Year in the Right Direction
The change of the calendar provides a blank slate for each player, and no one could benefit more than Max Pacioretty. With one goal in 21 games, the Canadiens' captain has been snake-bitten all season long in the goal scoring department. With a shooting percentage of 5.4%, Pacioretty's efficiency is the lowest its been since 2009-10, and is far from his season average of 10.25%. For players with the skill-set that Pacioretty possesses, particularly when it comes to scoring goals, it's what going on inside the person's head which is the source of the issue during slumps like his.
"It can be lack of confidence," said Julien. "I see guys get the puck on their stick and they should shoot quicker when they get it in certain areas, and sometimes they should take a fraction of a second to look where they're shooting. That comes with confidence."
While being more confident in yourself is easier said than done, Pacioretty will need to find his game in the very near future if his circumstances are to remain the same. As rumours of general manager Marc Bergevin actively shopping Pacioretty's services around the National Hockey League begin to surface, it's now or never for the captain in Montreal.
"I've played [in Montreal] for 10 years and I've never gone through something like this. I've gone through ups and downs, but never this low, said Pacioretty. "I know what I can bring and how I can play and how I have played in the past, so once I get out of this, and once the team gets out of this, you hope you can from learn from it and get better from it."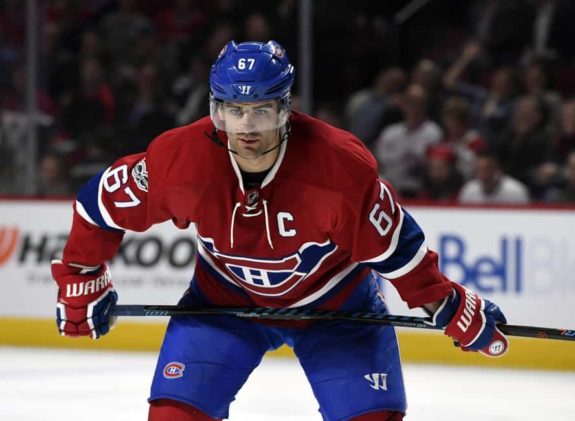 Like coach Julien has stated, the road to the playoffs is a long and bumpy one for the Canadiens following a 16-19-4 start to the 2017-18 season. Currently 12 points out of the last spot in the Atlantic division and eight points out of one of two wild-card positions, it will take plenty of self-reflection on the team's part to find themselves and rejuvenate their season. No great accomplishments have ever come without tremendous obstacles to overcome. With 43 games remaining, it will take all the team has to get into the post-season.
"We want to find our game as a group, said Pacioretty. "We're looking for answers and obviously with the "C" on my sweater I take the most responsibility for what's going on right now, and I take that personally. I'm just going to keep working to try and help my teammates and I get out of this."
I cover the Montreal Canadiens and Laval Rocket for The Hockey Writers. I am currently a student at the University of Concordia studying journalism in the hopes of one day becoming a full-time sports reporter. I have previously covered the Indianapolis Colts of the National Football League for Pro Football Spot.