NHL Trade Deadline: February 29th, 2016
As the 2016 NHL Trade Deadline rapidly approaches, the Canadiens are once again going to look to improve their team in order to gear up for a playoff run. The Habs struggled through December, winning only three games all month. Habs' GM, Marc Bergevin will be looking to add a scorer to his lineup, though he doesn't want to sacrifice the team's future in doing so. Bergevin is specifically looking for help on the right-wing, and he would prefer to acquire a player with term left on his contract, as opposed to acquiring a rental. This article will look at a few options that the Canadiens have as potential trade deadline targets, and will evaluate how realistic each option is.
*Note: These are in no particular order, and some players on this list may become unavailable due to their respective teams' participation in the playoff race.
Canadiens Trade Deadline Targets:
Cam Atkinson: The Canadiens and the Columbus Blue Jackets have been in discussion for some time now. While many thought that the Canadiens were going to take a run at Ryan Johansen, it appeared that the asking price for the skilled centre was too high. Though Johansen is settling in with his new team in Nashville, the Canadiens remain tied to the Blue Jackets. One player that the Habs, among other teams, have expressed interest in, is Cam Atkinson. Atkinson is a 26-year-old right-winger, who has put up 26 points through 44 games thus far this season. The American winger fits many of the qualifications that GM Bergevin is looking for, except for size; Atkinson is only 5'8, 180 pounds. He has two years remaining on his contract, which pays him $3.5 and $4.5 million in 2016-17 and 2017-18 respectively.
The likelihood of Atkinson being traded to Montreal isn't particularly high, since there are many other teams interested in the winger. The price for a player like Atkinson would likely be a young roster player or prospect, and though Canadiens' GM, Marc Bergevin doesn't like giving up young players, he could make an exception – as Atkinson has term left on his contract. Atkinson is young, and could provide the added scoring that the Canadiens are looking for.
Jarome Iginla: Jarome Iginla isn't getting any younger, but he is proving that he can still produce at the NHL level. Iginla has 23 points through 44 games thus far this season, and he is fresh off of scoring his 600th career NHL goal. While he doesn't produce points quite like he used to, Iginla could be an important addition to a team looking to make a playoff run this season. Among other things, he brings experience and size. Iginla currently plays for the Colorado Avalanche, who are not looking like they'll be a playoff team in the highly-competitive Western Conference this season. 
Iginla does fit what Marc Bergevin is looking for, as he is a right-winger, with size, and some term left on his contract. The only issue is, Jarome Iginla is 38. Iginla is signed for one more season after this one, with a cap hit of $5 million. Surely Bergevin likes what Iginla can potentially bring to the Canadiens, but this may be more of a plan C, or D for the GM. If Bergevin isn't able to acquire a younger player before the deadline, a deal for Iginla could make sense. That said, Iginla has a No-Movement Clause, which means he would have a say on his trade destination, if any.
Shane Doan: Similarly to Iginla, Shane Doan is a player on the back-end of his career, who would potentially bring experience and scoring touch to the Canadiens. Doan is 39, and has played his entire career thus far with the Arizona Coyotes organization (formerly the Winnipeg Jets). Through 33 games this season, Doan has put up 22 points. The difference between Doan and Iginla, though, is that Shane Doan is an Unrestricted Free-Agent at the end of this season. If Doan is traded before the trade deadline, he would be a rental to a contending team that needs more offence, and more leadership. If the Coyotes could acquire a young prospect or two for their long-time captain, a deal wouldn't be too unimaginable. In addition, it is likely that Doan wants to win a cup before retiring from the NHL. The only issue with Doan, is that his Coyotes are actually in a playoff spot as of now. They're in second place in the Pacific division, and if their success continues, Doan will likely stay in Arizona. That said, if the Coyotes fall out of a playoff spot, they could look to get some return for Doan before he tests the waters as a free-agent in July. 
Doan has a No-Trade Clause, which means that any trade destination would have to go through him. At his age, and in this stage of his career, this may be his last shot for a deep playoff run. Though Doan leaving Arizona at the deadline makes sense (if they're not in a playoff position), his destination may not be Montreal. Canadiens' GM Marc Bergevin has expressed that he wants to make a deal for a player that can play for the Habs for years to come. This isn't the case with Doan. Like the Iginla situation, if all else fails, and the Canadiens are in need of a rental for the playoffs, Doan may be an adequate acquisition that brings leadership and a little bit of extra scoring.
Mikkel Boedker: Another Coyotes winger, Mikkel Boedker is an interesting candidate as a potential trade deadline target.
Boedker is 26, and has scored 32 points through 42 games thus far this season. The Canadiens are one of a few teams that have inquired about Boedker as the trade deadline approaches. The Danish winger has proven that he can score points, and the Canadiens are in need of exactly that. The price for a player like Boedker would be interesting. He is young and talented, but he is also going to be an Unrestricted Free-Agent at season's end. Though Boedker would serve as a 'rental' to a team that could hypothetically acquire him, he still has many years of hockey ahead of him. In addition, he fits almost perfectly into the Canadiens' style of play, as he is a very quick winger with strong offensive instincts. His contract this season pays him $3.75 million, and he is likely to get a raise in his next deal – no matter the team.
Boedker is under the radar compared to some other players on this list, but that may work in the Canadiens' favour. Despite the fact that we don't hear his name too often, he definitely has the potential to help out a team like the Canadiens greatly moving forward. Marc Bergevin could look to make a deal for Boedker before the deadline, the only question is – how much will it cost? If the price is reasonable, discussions could become very interesting. That said, with 32 points so far, the Coyotes may look to acquire something big in return. Like he did with Jeff Petry last season, if Bergevin is able to acquire Boedker, he will likely try re-signing him when the season ends. All of this is assuming that the Coyotes aren't in a playoff spot as the deadline approaches, but like the Doan situation, if Arizona management sees playoff potential in their team, they will probably not sell at the trade deadline. 
Kerby Rychel: Kerby Rychel's name has been thrown a lot lately, as it is reported that he asked for a trade from Columbus prior to the season. Since last year, Rychel and the Canadiens have been linked to one another. There were discussions in place last year, as Rychel to Montreal was brought up, though those seemed to simmer down as the season progressed. Kerby Rychel is 21, he is a 6'1 winger who has had trouble earning a permanent spot in the Blue Jackets lineup. Through only 19 career NHL games, he has scored 8 points. Though Rychel will eventually be on the move, and though the Canadiens have expressed interest in the winger, he wouldn't exactly solve the current issues that the Canadiens have. If Marc Bergevin was to make a deal at the deadline, he would likely acquire a player that could help the Canadiens for this season's playoffs. Rychel has the potential to help the Canadiens, but not right away.
Bergevin has repeated that he wants to make a 'hockey deal'. He wants to bring in a player that has a future with the Canadiens, and he would prefer not to acquire a rental. Though Rychel wouldn't be a rental, he also wouldn't help the Habs right away. This isn't to say that the Habs won't continue discussing Rychel with the Blue Jackets, rather, it is to say that the Habs will look to add a player at a different stage than the young winger. Seeing Kerby Rychel in the red, white, and blue at some point in the future isn't unthinkable – it just seems like if the Habs were to acquire him at this year's deadline, another move would follow.    
Jonathan Drouin: Alright fine… Jonathan Drouin. Drouin, a Quebec native, has requested a trade from the Tampa Bay Lightning. Almost immediately, the Habs fanbase began swirling with all kinds of rumours about how Drouin was practically already wearing his Habs jersey. Jonathan Drouin will be traded by the Tampa Bay Lightning. Jonathan Drouin may be traded to the Montreal Canadiens, just like he may be traded to any of 29 other teams in the league.
BREAKING: HABS CH

I can confirm from a strong source the Habs are aggressively pursuing Drouin.

— Brian Wilde (@BWildeMTL) January 7, 2016
After Brian Wilde of CTV reported that the Habs were "aggressively pursuing Drouin," the Habs fanbase was quite excited, which was justifiable. Jonathan Drouin has been successful at all levels that he has played. He will surely be a top-tier offensive threat at some point in the future. He represents essentially what the Canadiens need in order to turn their team into a true contender. Could this be any more perfect? Well, yes. Drouin is a great young talent – but one that will be acquired at quite a steep price.
On @TSN690 outstanding Pierre McGuire says Beaulieu McCarron and a pick would be a deal that both Habs and TB would embrace.

— Brian Wilde (@BWildeMTL) January 7, 2016
Once again, Brian Wilde reports on the Drouin trade. NBC's Pierre McGuire suggested that for the Habs to acquire Drouin, it would take developing top-pairing defenceman, Nathan Beaulieu, one of the highest-rated prospects in the organization, Mike McCarron, and a draft pick. If Marc Bergevin stands by his word, which he has in the past, there is no way that the Habs trade for Drouin at this price. Sure, the Quebecois winger is skilled, but Bergevin doesn't want to sacrifice his team's future. In addition, it is unlikely that Tampa wants to trade a player who will one day make a serious impact to the Montreal Canadiens – a division rival. If the price for the Quebec-native drops as the deadline approaches, the Canadiens would become a serious player in the Drouin saga. That said, with only 8 points through 19 games this season, Drouin wouldn't fully solve the Canadiens scoring woes… yet.   
Radim Vrbata: 
Radim Vrbata is another player who could be a fit on the Canadiens. The right winger has proven that he can score, though his production this year is a little lower than in the past. Vrbata has a disappointing 19 points through 41 games this season, though with 256 career goals, Vrbata could help a Canadiens team that is struggling to score. The 34 year old's contract, which pays him $5 million, ends after this season – making him an Unrestricted Free Agent as of July 1st. Another rental option, Vrbata may come at a more manageable price for Marc Bergevin. Vrbata's Vancouver Canucks are battling for a playoff spot in the competitive Pacific division, where four teams are separated by only two points. If the Canucks fall out of a playoff spot, they will have to make an important decision regarding their pending UFA.
If the Canucks decide to trade Vrbata, the Canadiens could be a team that would come calling. The Habs could use the experience, and could use the scoring ability. Like in all other cases, Marc Bergevin will be stingy when it comes to the return, but if the price is right, the GM won't hesitate. As proven when he played with the Sedins, if Vrbata is paired with skilled players, he can succeed offensively. As this list shows, if the Canadiens are in a position to acquire a rental for the remainder of the season and playoffs, they have a couple viable options that could definitely help the team.    
Andrew Ladd: Andrew Ladd and the Winnipeg Jets will be faced with an interesting situation by the time February 29th rolls around. The Jets captain knows that his future with his team may be in doubt, as his contract expires at the end of this season. Ladd has played for the Jets since coming over from Chicago after he won a Stanley Cup there. The Jets will be faced with important decisions in order to remain under the salary cap after this season. Ladd plays a style of hockey that would compliment the Canadiens' current lineup, and he is able to put up points, while bringing a physical, offensive presence. Through 43 games this season, Ladd has 24 points. The 6'3 winger would add size and strength to a smaller Canadiens group. He would help out with scoring, and he would help the power-play, which could use a player willing to pay the price around the net (other than Brendan Gallagher, of course). 
If the Canadiens end up looking for a rental, Andrew Ladd fits the bill – he has playoff experience, a Stanley Cup ring, and he would probably come at a more reasonable price than some of the other players on this list. Ladd is one of the best options for a rental player that the Habs could get, if they choose to go that route. This, however, is all only an option if the Jets are willing to trade their captain. The race for the 2016 playoffs is still very tight, and if the Jets end up being positioned in a playoff spot, they'll probably stick with their captain and attempt to make a deep playoff run. A trade for Andrew Ladd is pretty unlikely, though the pressure of getting no return on their soon-to-be UFA could force the Jets to make a move.   
Jordan Eberle:
 Jordan Eberle to the Canadiens has been rumoured for many years now, but this year, a deal involving Eberle to Montreal could become more realistic. The Canadiens are looking to add a player of Eberle's caliber, though they are only likely to pay the price for a player of this sort – if they can keep him for a while. Eberle is signed through 2018-19 with an annual cap hit of $6 million. All of this said, Eberle will come at a steep price, while GM Bergevin may be more willing to pay now than ever before –  due to his team's struggles. Eberle could be the scoring right-winger that the Canadiens have been looking for.
It is no secret that the Oilers are looking to build for their future. They have a pool of talented young forwards, and a couple defencemen who will eventually be solid NHL'ers – along with some future stars. As far as their roster goes as a whole, it can use improvement. The Oilers would likely look to acquire a prospect defenceman as the main part of the deal, though more would be needed in order to make a deal like this realistic. Marc Bergevin has been full of surprises since taking over as GM of the Canadiens; fans can never expect what may be up his sleeve. If Bergevin can pull off a deal for Eberle, it could turn the Canadiens into a very legitimate threat in the Eastern Conference. Eberle is old enough to do damage in the NHL today, but he is also young enough to be able to make an impact in the foreseeable future. 
Eric Staal: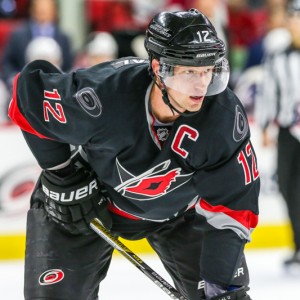 Eric Staal ends this list of potential trade deadline targets for the Canadiens. Staal has played for the Carolina Hurricanes for his entire career thus far, and he has been their captain since 2010. Though Staal was one of the more dominant players in the league a few years ago, that seems to have changed. He is only 31, but his point production has diminished greatly over the last three seasons. As of now, he  has 28 points in 44 games. This is a respectable number, but more is expected from the former 2nd overall pick who once put up 100 points in a season. Part of the reason for Staal's low numbers is because he plays for one of the weaker teams in the NHL. Perhaps if Staal was surrounded by a better group of players, his production would rise, and he would return to being a strong NHL point producer. 
Staal is an Unrestricted Free-Agent after this season, which makes him a likely candidate to be a rental for a team like the Canadiens. The issue once again here, is that the asking price for Staal is probably going to be extremely high. He has a reputation as a player that can do serious damage, so there will be a hefty price to pay for his services near the end of the year. The Carolina Hurricanes will be looking for picks and prospects in return for Staal. If by some chance Staal was traded to the Canadiens, it isn't likely that he would be playing with them next season, as his demanded salary will be pretty high for his new contract. Taking all of this into consideration, Staal could help the Canadiens – a team that need an offensive push. He would be a rental, and though the Habs would rather keep a player for a few years, Staal could be a good option as a rental if thats is what GM Bergevin decides he wants. The Hurricanes currently sit 4 points out of a playoff spot, though their participation in the playoffs is still pretty unlikely.  
Other potential trade targets: Kris Versteeg, Scott Hartnell, Teddy Purcell.
While the Canadiens look to improve certain aspects of their game in the second half of their season, Marc Bergevin will be working the phones to try to acquire one of these Trade Deadline targets that may be able to help push the Habs through the playoffs. The Canadiens will look for some additional scoring help at the trade deadline, and GM Bergevin is hoping that the price for said help isn't too steep. While Bergevin works the phones prior to the trade deadline, though, the Canadiens should focus on their current roster – and on winning games. The Habs have to ensure that they make the playoffs, before worrying about trade deadline acquisitions to help them in the playoffs. As February 29th approaches, the Habs have to ensure that they're in a position to qualify for the playoffs, before sacrificing some players, for trade deadline acquisitions. The NHL trade deadline is always the most exciting part of the year, and we'll have to wait and see what the extremely calculated GM can come up with – as February 29th approaches.