Starting the 2015-16 National Hockey League season, which one player's performance is most vital to the success of the Florida Panthers on the ice?
Some of the names that come to mind are Jaromir Jagr, Jonathan Huberdeau, Aaron Ekblad, Brian Campbell and Roberto Luongo.
The Panthers are determined to improve upon last season's sixth place finish in the NHL's Atlantic Division, which saw the Panthers miss the playoffs by seven points. The Panthers have made the playoffs only once since the 2000-01 season, so making the playoffs will be a huge challenge.
In 2014-15, Florida made significant progress over the previous season as the Panthers increased their point total by 25 points as they improved from 66 points two seasons ago to 91 points last season.
Offense
Offensively, Huberdeau led Florida with 54 points last season. Huberdeau is headed into his fourth season with the Panthers and the 2013 Calder Trophy winner signed a two-year, $6.5 million contract before the start of this season's training camp. Huberdeau is expected to play on Florida's top line with Jagr and Aleksander Barkov.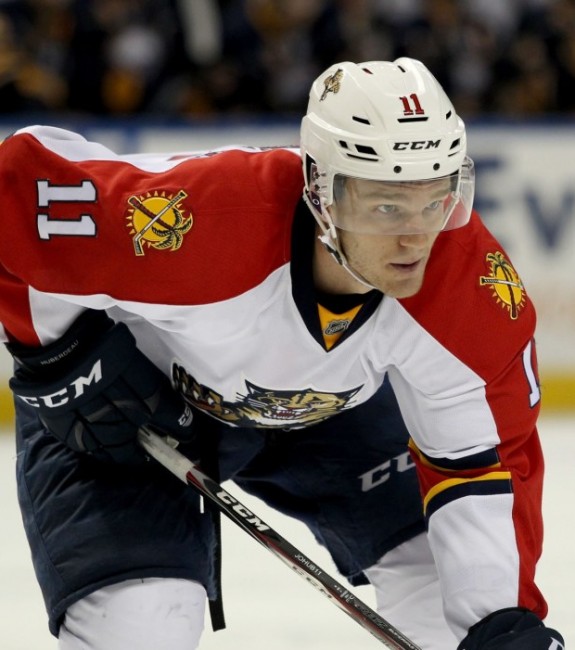 Speaking of Jagr, the Panthers acquired the 43-year-old in February 2015 and the NHL's 4th all-time leading scorer with 1,802 points averaged nearly a point per game in 20 games with Florida last season.
While both Huberdeau and Jagr are important to Florida's success this season, the Panthers have other forwards, such as Barkov, Jussi Jokinen and Nick Bjugstad, who can contribute points if either Huberdeau or Jagr do not produce as expected offensively.
Defense
On the blue line, Florida's Aaron Ekblad and Brian Campbell solidify the Panthers defense along with adding some offensive pop. Ekblad, who won the Calder Trophy last season led all Florida defensemen with 39 points last season and Campbell led all Panthers in time on ice last season, averaging over 23 minutes per game.
Ekblad and Campbell are expected to anchor the blue line and assist offensively, however, Florida can maintain to a certain level if the likes of Willie Mitchell, Erik Gudbranson, Dmitry Kulikov and others are called upon to pick-up some of the slack if Ekblad or Campbell are injured or struggle.
Goaltending
After breaking down the importance of the top forwards and defensemen, it leaves one player to pinpoint as the most crucial player to the success of this year's Panthers…goaltender Roberto Luongo.
The 36-year-old Luongo is entering his 16th NHL season. Last season, Luongo bounced back, going 28-19-12 with a 2.35 goals against average, after a pair of sub-par seasons and guided the 25-point improvement for the Panthers. In order for Florida to improve even more, Luongo must be terrific in net on a nightly basis, which will be tough to do as goalies tend to decline significantly in their mid-30s (see Curtis Joseph, Evgeni Nabokov, and Nikolai Khabibulin). Luongo is 10th all time in NHL wins for a goalie with 401, however, in order to accumulate those wins, he has played in 864 games, plus an additional 64 playoff games, which has taken a significant toll on Luongo.
If Luongo fails to play up to last season's standard or gets injured, 30-year-old Al Montoya would be his replacement. Montoya, the highly touted goalie in the 2004 draft out of the University of Michigan was drafted 6th overall by the New York Rangers, has only played in 111 games spread out over parts of 6 NHL seasons. Only once has Montoya played in 30 or more games in an NHL season and Montoya has never played in the NHL playoffs. Last season as Luongo's backup, Montoya had a 3.01 GAA and a mediocre save percentage of .892. Beyond Montoya, the Panthers have little depth at goalie, as Mike McKenna would presumably be next in line.
In order for Florida to have a genuine chance to make the playoffs, Luongo will need to play 55-65 games and play as well or slightly better than he did in 2014-15. If Luongo is unable to play at or above that same level as last season or becomes injured, it will be highly improbable for the Panthers to make the postseason for the second time since 2001 as Montoya is an efficient back-up goalie but has not shown the ability to perform at the level Luongo did last season over the course of an NHL season.
Therefore, Roberto Luongo is the player that is most critical to the success of the 2015-16 Florida Panthers.
I have followed the NHL since the early 1980s, when offense was king. I lived in the midwest until 2013, when I relocated to south Florida.