A Las Vegas expansion would welcome the chance to join the Pacific Division, which is easily the worst in the NHL this season. Other than the Los Angeles Kings who sit fifth overall in the league, no Pacific team is higher than 19th.
Anaheim and Calgary have taken a step back after their vaunted playoff runs, while Arizona and Edmonton have elevated their play and remain in the playoff hunt. Only four points separate the bottom six Pacific teams.
Other than 4th place LA, no Pacific team is higher than 20th in the #NHL. All 6 Pacific teams are 20-25th pic.twitter.com/SNPpuDKaD8

— Trevor Beggs (@TrevBeggs) December 12, 2015
There has been a little bit of shuffling since the weekend, but the bottom six Pacific teams are all between 19-28 overall. The division is weak, but there is no shortage of storylines with the parity between all of these mediocre teams. Every team has had some standouts and some disappointments, so here is a look at one MVP and one underachieving player from each team in the Pacific.
Anaheim Ducks
MVP: Sami Vatanen
Not much has gone right in Orange County this season for the Ducks, who were expected to compete among the top teams in the league. Instead, they sit 28th overall and dead last in the Pacific. With their stars such as Corey Perry and Ryan Getzlaf performing below expectations, Sami Vatanen is a standout player on a poor Ducks team.
The 24-year-old defender has elevated his game once again in his third full season with the Ducks. He is tied with Corey Perry for the team lead with nine even strength points, and is also the only Ducks defencemen who is a plus player. Although he is arguably the Ducks best defenceman, he is fourth on the back end in ice time, behind Kevin Bieksa, Cam Fowler, and Hampus Lindholm. The Ducks don't have a number one defencemen like the other elite NHL teams, and Vatanen is the closest asset they have in terms of a top defenceman.
Honourable Mention: John Gibson. The young netminder is making a case for more ice time with a .934 save percentage and two shutouts through eight games.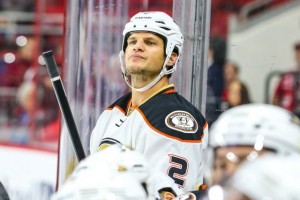 Biggest Disappointment: Kevin Bieksa
The former Canucks defenceman was expected to fill in for Francois Beauchemin, but the 34-year-old is biting off more than he can chew this season. He has three points in 29 games on the Ducks  "top pairing" with Cam Fowler.
Why Ducks general manager Bob Murray thought Bieksa would be a good fit as a top defenceman on an elite team is mind-boggling. Bieksa struggled on a mediocre Canucks defence last season and was relegated to the third pairing with Luca Sbisa. The pair was downright awful during stretches last season, especially against the Flames in the playoffs. He was prone to pinching too much and got pushed off the puck easily in his own end. Not to worry Ducks fans, Bieksa is only locked up for the next two years…
Honourable Mention: Jakob Silfverberg. After registering a career-high 39 points last season, Silfverberg has struggled with six points in 29 games despite playing in a top six role.
Arizona Coyotes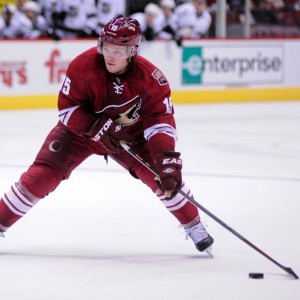 MVP: Max Domi
The Coyotes have exceeded everyone's expectations this season and a main reason is because of the offensive production from their rookies. Domi leads the Coyotes in  points with 25, and he is putting himself in the conversation for rookie of the year.
Thanks to some offensive production from Domi and other forwards such as Anthony Duclair, Martin Hanzal and Mikkel Boedker, the Coyotes are surprisingly in a battle for a playoff spot. They were regarded as a safe bet to compete in the Auston Matthews sweepstakes, but with Domi leading the way that outcome seems less likely.
Honourable Mention: Martin Hanzal. The Czech forward's offensive capabilities are on display as he is third overall in the NHL with 2.91 points/60.
Biggest Disappointment: Mike Smith
Mike Smith started the season strong for the Coyotes during their first three games, but it was nothing but a tease as Smith regressed back the similar mediocre numbers he posted last year. Smith is a hot and cold goaltender who is currently in a cold stretch with four straight losses and a save percentage lower than .900 in all of those games.
It's a shame for the overachieving Coyotes that Smith is dragging them down. If Smith could perform even a little bit better the Coyotes would probably be firmly entrenched in a playoff spot. His .901 save percentage and 3.06 GAA is a black mark for this impressive Coyotes team.
Honourable Mention: Antoine Vermette. The veteran centre has struggled this season with nine points in 24 games, and is on pace for his lowest point total since his rookie season.
Calgary Flames
MVP: Johnny Gaudreau
Obviously Johnny Hockey has never heard of the sophomore slump.
The diminutive winger is once again tearing up the NHL with his quick hands, and he has 31 points through 29 games, good for seventh overall in the league. His chemistry with Sean Mohanan is one of the bright spots in a mediocre Flames season. He has also been the main reason why Calgary has pulled a few points out of the extra frame. Gaudreau leads the NHL with three goals and six points in overtime.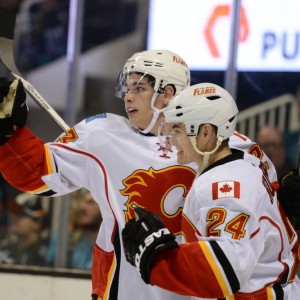 Honourable Mention: Sean Monahan. In his third season Monahan has continued to lead the Calgary Flames as their number one centre with 23 points in 29 games.
Biggest Disappointment: Dougie Hamilton
After the acquisition of Dougie Hamilton, Calgary was expected to have elite defence, not one which has given up a league-high 104 goals. Part of that is on the goaltenders, but Hamilton really struggled in the early going. He was a -11 through the first 13 games as Calgary plummeted to the bottom of the league. On many occasions he turned the puck over in the defensive zone, and couldn't seem to find chemistry with any Flames defencemen.
On the bright side, it looks like Hamilton is starting to turn things around. He was on a four game point streak up until Saturday night's game against the Rangers.
Honourable Mention: Jonas Hiller. All of Calgary's netminders have struggled, but Hiller's number have taken a huge drop from where they were last season. His .862 save percentage is dead last in the NHL.
Edmonton Oilers
MVP: Taylor Hall
Taylor Hall is showing that he isn't just one of the best players on the Oilers roster, but one of the best players in the league. His chemistry with Leon Draisaitl has vaulted Edmonton into playoff conversation after five straight wins. Hall has been absolutely on fire of late with nine points in his last four games including three straight game winning goals. This team will look even scarier with the addition of Connor McDavid, although the defence and goaltending is still mediocre at best.
Honourable Mention: Leon Draisaitl. The 20-year-old has surprised everyone with 27 points in 22 games, good for 27th overall in the NHL.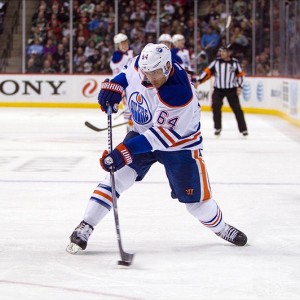 Biggest Disappointment: Nail Yakupov
Nail Yakupov's season unofficially came to an end on November 3rd when Connor McDavid went down with a broken clavicle against Philadelphia. Before McDavid's injury Yakupov had 10 points in 12 games, and even had a seven-game point streak at one point. However he only registered 2 points in his next 10 games before suffering a freak injury thanks to an NHL linesman. Yakupov has been a disappointment in Edmonton since day one, and likely has to wait until McDavid's return in order to regain prominence again.
Honourable Mention: Cam Talbot. Brought in to be the starter, Talbot has already lost the starting job after three wins in 12 starts accompanied by a .889 save percentage.
Los Angeles Kings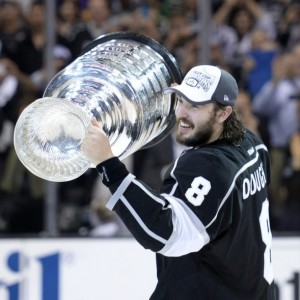 MVP: Drew Doughty
There is nothing Drew Doughty cannot do for the Los Angeles Kings. The Kings are fifth overall in the NHL despite being 19th in goals scored. Much of that is because of their stingy defence, which is anchored by the superstar defenceman. Doughty is third among all defencemen who have played at least ten games with a 59.6% Corsi, showing the rest of the NHL that he is a possession machine. He is also on pace for 48 points, which would be his highest total since 2009-10
Honourable Mention: Jeff Carter. Carter, not Kopitar, is the offensive leader of the Kings this season, anchoring a productive line with Milan Lucic and Tyler Toffoli.
Biggest Disappointment: Marian Gaborik
Gaborik is being paid like a top six forward, but he is only mustering third line production. 10 points in 29 games while playing on a line with Anze Kopitar is unacceptable for the Slovak. Luckily the Kings defensive prowess has masked some of the problems on offence for the Kings.
Honourable Mention: Dustin Brown. Another winger making big bucks for the Kings who isn't producing nearly enough with only two goals in 27 games.
San Jose Sharks
MVP: Joe Pavelski
With "Jumbo Joe" regressing this season, Pavelski is clearly the best Joe playing for San Jose. His 28 points in 30 games leads the team and is keeping the Sharks afloat in the dreadful Pacific Division. If only some of his production could rub off on his teammates. According to leftwinglock.com, Pavelski has spent most of his time playing with Joe Thornton and Melker Karlsson of late. Those two wingers have a combined 20 points in 44 games.
Honourable Mention: Brent Burns. The NHL's version of Chewbacca is still producing despite spending most of his time on defence instead of at forward.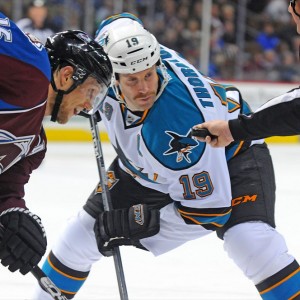 Biggest Disappointment: Joe Thornton
After publicly feuding with his general manager last season, things aren't improving for Thornton this year. The 36-year-old only has four goals and 16 points this season. He is on pace for his worst offensive season since 1998-99, his second year in the league. Thornton's regression shows that the Sharks championship window has closed.
Honourable Mention: Tomas Hertl. The third year Czech winger hasn't been able to recapture the magic from his rookie season, with only three goals in 29 games this season.
Vancouver Canucks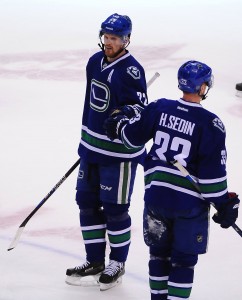 MVP: Daniel Sedin
You could pick either one of the Sedins' for the Canucks MVP so far, because they are the offensive juggernauts on a team that is deeply deprived of secondary scoring. Let's go with Daniel Sedin, who has recaptured his goal scoring touch from a few years back, and is fifth overall in the NHL with 34 points in 32 games. If either one of the Sedin's were to go down with injury, the Canucks would tumble to the bottom of the standings, assuming they aren't already heading there.
Honourable Mention: Henrik Sedin. The captain of the Canucks is also doing his part to keep the team afloat as he is 10th overall in the NHL with 31 points.
Biggest Disappointment: Bo Horvat
As a Canucks fan, you really feel for Bo Horvat. The lack of centre depth on the Canucks has forced Desjardins to play Horvat more than the organization wants. Despite seeing a six minute increase in his ice time compared to last season, Horvat only has four even-strength points and is a minus -14 through 31 games. The injury to Brandon Sutter has put the spotlight right on Horvat, who is battling the dreaded sophomore slump this season.
Honourable Mention: Yannick Weber.  Expected to be a top four contributor on the Canucks back-end, Weber has barely shown he is capable of being an NHL defenceman. His offence has dried up as he is one of the only Canucks who hasn't scored a goal this season.