Brianne McLaughlin is a two-time Olympic silver medalist with Team USA and the starting goaltender for the NWHL's Buffalo Beauts. This year, the first year of the NWHL, McLaughlin is being paid to play professional hockey; she was the first player to ever sign with the Beauts. This is something that wasn't possible just one year ago at this time.
Until Dani Rylan, the NWHL founder and commissioner, had an idea last March of creating a league that paid women hockey players a salary – and pulled it off. History began on October 11, 2015 when the league kicked off its inaugural season, and history was made on March 12, 2016 — when the league crowned it's first Isobel Cup champion – the Boston Pride, who defeated McLaughlin's Beauts.
Imagine for a minute that's she's your daughter and you watch her play her heart out with such passion as she grows up before you, knowing that once she completes her four years of eligibility in college, that's it. Sure she could become a coach, or run a training camp, continue to play internationally in the Women's World Championships and the Four Nations Cup tournaments; but that option of getting paid to play was never there.
Until now. McLaughlin was a tremendous part of building up the Robert Morris University hockey program as she was part of it's inaugural team, and now she is part of the inaugural NWHL season — once again laying down the groundwork so that future generations of women that follow in her footsteps will have an easier path to living their dreams.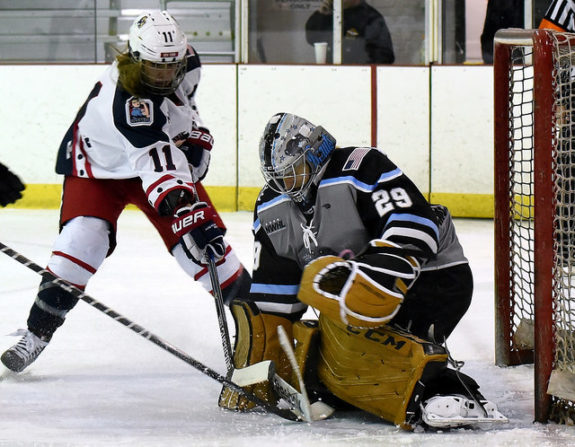 Prior to Game 2 between the Beauts and the Pride, The Hockey Writers spoke with Susan McLaughlin, Brianne's mother, about what it has been like to watch her daughter play professional hockey in the NWHL this season. "I've always been extremely proud of Brianne, she's been keeping us and me busy since she was four-years-old," Susan said with a smile. "It started playing with her brother, he was about six-years-old. She wanted to play; and I said absolutely not. You're not playing hockey."
It would seem in this instance that Brianne won that particular battle, eh? "Little did I know, had I said no," she said grinning, "I wouldn't be having all this fun – traveling and watching her play. I'm just so proud of Brianne. She works hard, she loves the game. I don't think we want it to end (tonight)." Susan and her husband Brian made the trip to New Jersey for the Isobel Cup Final from Ohio and any of Buffalo's games they haven't been able to make it to this season, she has been able to watch online via the NWHL website/cross-ice pass.
"We try to (get to all of her games), we really do. We've been to most of her games in her life. This year was a little tough, but it was nice to be able to watch (from home). I never missed a game," she said assuring us. "We made a handful of home games and we were in Connecticut last weekend (for the playoffs) obviously."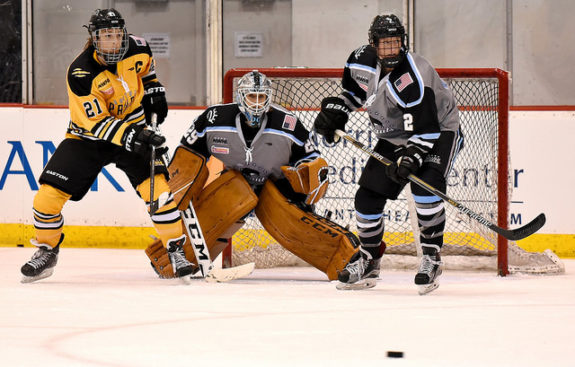 Hockey is a pretty intense sport as we all know, and goaltenders are on the ice generally the entire game. While people are shooting frozen chunks of rubber at them. Every hockey fanatic lives and dies with every save their team's goaltender makes. The bigger the game, the bigger the save. Now imagine if it was your daughter or son that is the goalie; how nerve-wracking would that be?
"Things just don't change. I'm nervous before every single game, whether she's playing or she's not playing. I try to watch her warmups and that gives me a good indicator," she explained to THW. "For me as long as Brianne is having fun in the net, I know she's going to have a good game. I'm extremely proud, and so happy for her. (But her being a goalie) that's what makes me a nervous wreck every game. It never changes. I try to settle down. I'm shaking already (20 minutes before puck drop), I don't even know why." She laughed a little and added, "You think I'd be used to this!"
Brianne having fun, as usual:
L for LOOOOVE @haywilliathlete #NWHL @BuffaloBeauts pic.twitter.com/qhU28lsYXF

— Brianne McLaughlin (@BrianneMcL) February 2, 2016
As with most, if not all hockey parents, they are the rock that their kids can lean upon and talk to as a routine, when they need support, or to just talk. The same can be said with Brianne and her extremely proud mother. "I always ask her: 'do you get nervous in the net?'," Susan said smiling, "and she says 'ehhh, maybe once in a while; like starting with the Beauts — a brand new program, big expectations. A new feel for the game with a new team.' I said to her I'm nervous every game. I was nervous when you were four, and I'm nervous when you're (almost) 29-years-old."
We figured that a mom and her daughter would surely talk after every game, but one can never assume things in this business, so we asked Mrs. M anyway. "Do I? Absolutely," she said with a laugh. "I'll text her a little before every game. I always say good luck, and have fun. I just keep it lighthearted. As long as she's having fun she's good. I can remember pretty much all of her coaches would be like: Brianne! Before a game, get your head right. Stay focused. Be ready. Settle down. Be quiet." She paused and shook her head a little bit, "That's not how she is. She's always laughing and joking."
Obviously. . https://t.co/JiShIt2gHB

— Brianne McLaughlin (@BrianneMcL) March 13, 2016
https://twitter.com/NHLBlinn/status/708838252103516160
Being paid to play was never even an idea when Brianne was younger, something her parents never thought could be possible. "We hoped," said the Buffalo goaltender's mom, "someday that there would be women's professional hockey. Brianne always worked hard to promote it; she's big on that. Back home where she lives in Pittsburgh, she has her own business where she trains (hockey players) for both goalies, and she has forwards and defensemen too. Just any chance she gets to work with the younger girls, older girls, whatever — to promote (and grow) women's hockey."
The ending obviously wasn't what the McLaughlin's wanted, with the Beauts falling two games short of their aspirations of winning the Isobel Cup. But anyone who watched any of Buffalo's playoff games know that if they continue to get play like that in the net going forward in year two and beyond — Brianne McLaughlin and the Beauts will be contenders for quite some time, with her parents in the stands.
Watching their daughter play professional hockey.
You can find more information on Brianne McLaughlin's goalie training and camps HERE.
Dan Rice can be reached via Twitter: @DRdiabloTHW or via Email: drdiablo321@yahoo.com. 
Dan Rice is in his 9th year of reporting for THW & has covered NJ Devils home games for 15+ years at various websites. He began his journey working for legendary broadcaster/writer Stan Fischler from 2002-04 & completed an internship at the ECHL; he also has been writing features for the NWHL (nwhl.zone) website since 2016.