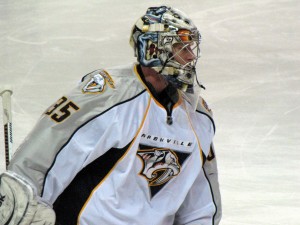 The Nashville Predators have played over one-third of their entire season already.  If the season was viewed at in the same context as one game, the first period is over.  In keeping with the game analogy, it was a period in which the Predators didn't perform well, were out skated, out shot, but managed to get into the locker room only down a goal, however, this team runs a very real risk of letting the game get away from them, and desperately trying to play catch up.  The Predators are slipping away from hockey relevance and must halt and reverse trends they've produced so far this season.
Defense & Goaltending    
The Nashville Predators rank 15th in the league with a 2.69 goals against average.  Nashville's newest $7 million dollar man has a personal G.A.A. of 2.59.  In reviewing some statistics from NHL.com, for all goalies that have played in more than 10 games, Pekka Rinne is 24th in the league in that category.  Additionally, for all goalies that have played more than 10 games, Rinne is 20th with his .919 save percentage.  Pekka Rinne has been, statistically speaking, mediocre.  If this hasn't, it should be setting off red flags in the Nashville front office.  The star goalie is the cornerstone to a team now built around defense, goal tending and gritty offense.  In order for Nashville to turn around, Rinne will have to channel his inner monster that had a 2.12 goals against average last year and helped net him his $7 million dollar annual salary.
Pekka Rinne is not the only aspect of the defense side of the ice that has lacked so far this year.  Nashville ranks 22nd in shots against per game.  It does not take a NASA team to understand that the more shots a goalie faces, the more times the puck will end up in the net.  The Predators have allowed just over 31 shots on goal per game.  The easiest way to help out a goaltender is to lock down on defense, clog the shooting lanes, block some shots and take some of the burden off of Rinne.  The Predators need to help do the little things on defense to help pick up their goalie and make scoring a more difficult task.
Offense
While most pundits, journalists and analysts did not expect the Predators being a high-powered team this year, goal scoring has lacked throughout a major part of the year.  The Predators have had 14 games so far this season in which they have scored two or fewer goals.  It is an extremely large burden for both the defense and net minder to carry when the offense does not light the lamp.  Nashville ranks 16th in the league with a 2.66 goals per game average.  While this is a step up from their 21st ranking a year ago, more consistent icy in the scoring is necessary to get the Predators back into playoff contention.  The Predators have no reliable offensive threat.  Craig Smith and Patric Hornqvist are tied for the team lead with 8 goals each, and in the grand picture of the NHL, puts them both in a tie for 83rd in goals for the year.  Shea Weber and Ryan Suter, who are both defense men, are in the top 7 of goal scoring on the team.  Offensively this team must find a way to push the puck up the ice faster and create scoring chances on opposing goalies.
Overall
Last year's Nashville Predators made it to the 2nd round of the playoffs and challenged the eventual Western Conference Champion Vancouver Canucks.  Expectations coming into this season were that this team would be a formidable opponent, a playoff team, and may make noise again for a round or two.  The team, so far this year has been average in just about every category.  The brilliance of Pekka Rinne from last year has worn off, and it has uncovered much of what is wrong with the Nashville Predators.  They are a below average offensive team, marginally good defense team, and rely heavily on their man between the pipes.  Until Pekka Rinne resumes total dominance in-goal, either defensively or offensively the Predators must step up their game.  If they don't, they will find themselves watching the playoffs and not being in them.
Mike Finazzo has written for 411mania.com and writes for Freethesporstman.com under a pen name of R.C. Sutton. Mike currently covers the Central Hockey League for ArmChairReport.com. He also has 20 years experience with watching the NHL. Mike's primary role with the Hockey Writers is as a Nashville Predators correspondent..