Crosby's out. Indefinitely. Concussion-like symptoms.
Swish that around in your mouth and get used to the taste, because it's an ongoing scenario that's going to punctuate his career and follow him like a shadow.
As was released Monday, Sidney Crosby took his first significant blow to the head a week ago against Boston and is now taking precautionary measures further than the initially-reported two-game layoff.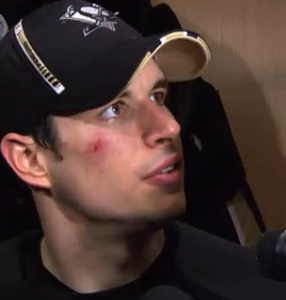 The Penguins' Captain will be out indefinitely, dealing with some degree of post-concussion symptoms that were apparently enough to remove one of the game's fiercest competitors from the lineup after less than a month of play.
"I've been doing light exertion stuff and seeing how that goes," Crosby said. "It's that whole (recovery) routine again, but hopefully not as long. When I wasn't doing something for 6, 7 months that process was a little longer. Hopefully, that's not the case here."
Hockey is a violent sport and remained as such even after Sid returned from an eleven-month absence in November. Crosby, who needed nearly a year to acceptably recover from severe concussion symptoms, is once again out of action, indefinitely.
The media hyperbole that came with Crosby's first absence is seemingly back with his current layoff. Some call it a precursor to early retirement. Some have called him soft. Most of it is nonsense. The only thing that can be accurately culled from the situation at this point is that Sid is indebted to his complete recovery, and nothing else.
He's not indebted to a team race to remain atop the league in points.
Nor to a badly-overstated assault on the individual scoring race.
Nor to the occasional and revolting notion that he needs to "cowboy up" and play through it.
"I'm not happy about watching," Crosby said, "but I have to make sure with these sort of things that I'm careful and making sure I'm 100 percent before coming back."
"No timetable."
Frankly, this sort of thing was a possibility, and given the car-crash nature of the NHL today, maybe even inevitable. The chances of it reoccurring were compounded by Crosby's apparent determination not to let his injury keep him from engaging in the physical realm of the game.
Crosby looked maybe as aggressive as he'd ever been in his few games since returning, and as reported here on THW, it seems an incidental hit from Boston's David Krejci is the culprit.
Anyone who though the Kid was permanently out of the woods was mistaken. Is it a concern? Certainly. Pittsburgh natives have come to know the damning ambiguity of the term "out indefinitely."
However, inexplicably, some are reading Crosby's tarot cards again. Already.
A year. Two years. Retirement.
This news should come as no surprise to anyone. The Penguins have to protect their biggest asset, and Crosby has to do the unthinkable—protect his post-pro sports quality of life.
The Penguins have already shown Buddhist patience in allowing their Captain to recover fully from any trace of symptoms. This means recovering to a point that pleases both Crosby and his doctors, the only folks who can really determine when he should be playing.
Sid, too, has shown an atypical willingness to put his well-being before competition. It has long been the pro-sports model to sacrifice oneself for the sake of the team, even if it meant declining health in later years.
Crosby is one of the most competitive people on Earth. To take himself out of action, pre-emptively, must be excruciating. It's also uncommonly mature, and gives a sense of just how serious he considers this injury and his willingness to adhere to the prescribed ways of handling it.
Many have said it: this is Crosby's version of Mario Lemieux's permanently bad back. Lemieux was robbed by injury of many of his best years, and eventually the injuries and games missed simply became part of his reality.
The same is happening with Crosby. There is always a chance that he'll catch an errant forearm up high and the discussion will start anew.
The important thing to remember is that this injury can be managed (as 87 and the team are managing it right now), that a productive career can still be had (as Boston's Patrice Bergeron and others are proving), and that most of the fire and brimstone talk that comes with every cautionary absence is mostly white noise.
There's always going to be a possibility of recurring symptoms. The difficult thing now is to expect them, and to handle them properly when they arise.
After all, we were told this sort of thing could happen.
https://youtube.com/watch?v=R1bIhZO7o3k