It's all a guessing game.
The Pittsburgh Penguins announced on Wednesday that star forward Sidney Crosby would not travel with the team on an upcoming road trip and plans to miss the next two games for precautionary reasons.
The official statement from the Penguins and GM Ray Shero:
"Sidney took a hard hit during our game against Boston Monday night and wasn't feeling 100 percent," Penguins General Manager Ray Shero said. "He saw Dr. Micky Collins of UPMC today and took an ImPACT test, which showed no problems. However, we all think it's best that he sits out the next two games as a precaution."
So after a magical two weeks we're back to square one.
What's wrong? How long is he out? What happened?
Dr. Collins is not the Penguins' team physician, but he has been part of Crosby's so-called 'concussion team' for the past year.  Shero points out that Crosby passed an ImPACT (baseline concussion) test which seems to indicate Crosby's head or functionality was at least a minor concern.
But of course, it's all a guessing game.
The Associated Press interpreted Shero's use of the phrase 'hard hit' to mean the late game collision between Crosby and teammate Chris Kunitz:
PITTSBURGH (AP) — Pittsburgh Penguins star Sidney Crosby's will miss the next two games as a precaution following a collision with teammate Chris Kunitz in Monday night's loss to Boston.

General manager Ray Shero said Wednesday the former MVP wasn't "feeling 100 percent" after inadvertently running into Kunitz in the third period and will sit out Thursday's game in Philadelphia and Saturday's visit to the New York Islanders.
The referenced hit left Crosby hunched over and limping off the ice favoring his right leg, but to my knowledge, Shero never singled out that hit as the root of Crosby's problems.  An inadvertent elbow from Boston's David Krejci on the second shift of the game is what caught my eye:
(Video via @Allie874)
On the play, Krejci attempted to shoot the puck into the offensive zone with his back to Crosby.  The puck ended up bouncing over Krejci's stick and his left elbow followed through into Crosby's face, causing his head to snap back.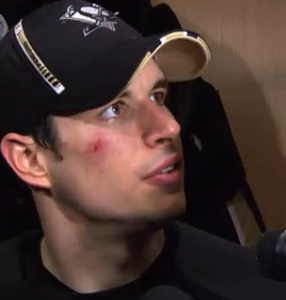 It's never easy to determine principal point of contact — especially watching the game in person or even a video without Brendan Shanahan's super slo-mo camera angles — but Crosby was left with a visible mark on his right cheek after the play and took an opportunity to remind Krejci what happened later in the first period.
After a neutral zone faceoff, Crosby slashed Krejci in the leg causing the Bruins center to chop back.  The two scuffled and barked at each other after the shift was over before returning to their respective benches to continue the banter.
Based on facial expressions, Krejci didn't understand why Crosby was so incensed until Crosby pointed to his elbow and then the bruise below his right eye.
"Yeah, I feel fine," Crosby said after the game when asked if he felt okay.  Crosby missed the Penguins full practice on Tuesday before returning to the ice Wednesday for a light skate prior to the team leaving for Philadelphia.
All we — and maybe anyone — know at this point is some combination of the accidental elbow from Krejci, the Kunitz collision, and other physical confrontations later in the game with Milan Lucic and Rich Peverley left Crosby not "feeling 100 percent".
Eleven months ago, Crosby was in a similar situation after absorbing an elbow to the head from Washington's David Steckel in the Winter Classic.  Crosby later admitted that he didn't feel right after the game, but attributed the neck pain and headaches to whiplash.  Victor Hedman delivered a second blow to Crosby just days later that eventually ended his season.
With all the uncertainty surrounding concussions, it's better to be safe than sorry.
In the end, it's all a guessing game.