The Nashville Predators knew what they were getting when they drafted Pekka Rinne. It only took 258 picks in the 2004 draft to land him. Not only was his 6-foot-5 stature impressive, but his mobility and athleticism at such a size made Rinne even more valuable.
After a brief stint with the AHL-affiliate Milwaukee Admirals that saw Rinne notch 81 wins over three seasons. The Predators gave Rinne his shot in the big league. In his first season, Rinne started in 49 games and earned 29 wins while posting a 0.917 save percentage and 2.38 goals against average — not bad for a rookie.
Since then, number 35 has only continued to produce for Nashville. Last season, Rinne and the Predators soared to new heights with a first round sweep of division rival Chicago Blackhawks, as well as the club's first Conference Championship and Stanley Cup Final appearance.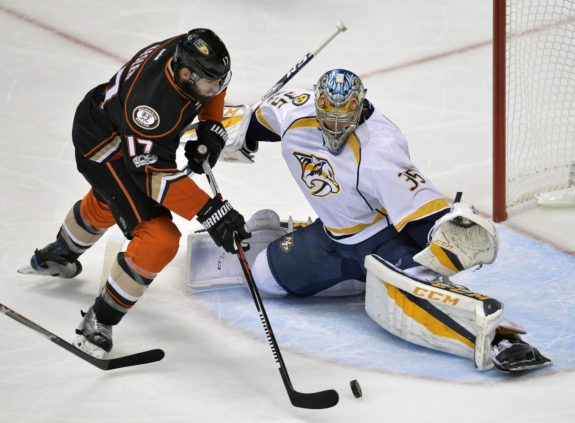 Sadly, however, it just wasn't in the cards this year for Nashville. After coming so close in the previous season, the opportunity for Rinne to hoist the Stanley Cup is slowly dissipating.
An Aging Body
The number 35 isn't just the number on the back of Rinne's sweater — it's soon to be his age as well. Traditionally, the older one gets, things seem to slow down a bit and not work as well as they once did. There's a reason that the average age of a Cup-winning netminder is approximately 28-years old.
Rinne is a distant seven years away from that statistic. Like a fine wine, though, his play has gotten better with age. It's no coincidence that as Rinne has had time to mature in the NHL, the Predators made further advancements in the playoffs each year. But how long will it last?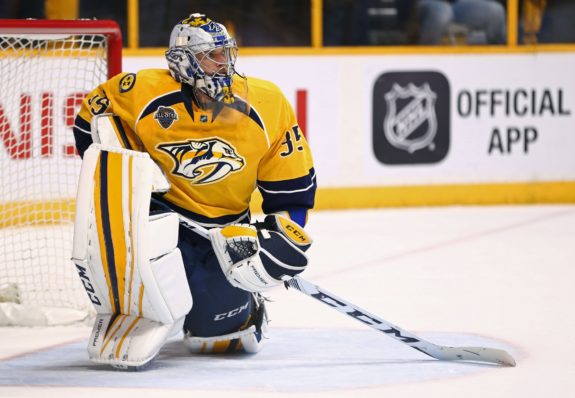 The latter years of Rinne's career have been sprinkled with injuries. While being a physical pain, such injuries surely disrupt any momentum he may have gained during the season. In the last four years, Rinne has been sidelined four times with lower-body injuries.
It's not all doom and gloom, however. The most recent aged netminder to win the Stanley Cup was Tim Thomas at age 37 showing that all hope is not lost for Rinne.
Rinne's Heavy Workload
The saying goes, "If it ain't broke, don't fix it." Rinne has been a cornerstone in the emergence of the Nashville Predators rise to serious playoff contenders. In doing so, he has found himself starting a high number of regular season games as the Predators relied on him to drive their success.
Coming off of a hip infection that severely limited his playing time in the 2013-14 season, Rinne started in nearly 75% of games in each of the last three seasons. That's asking quite a lot for a goaltender who also goes on to start in every playoff game.
It's no secret that in last year's playoffs, Rinne was phenomenal in the first and second rounds. His numbers took a slight dip in the Western Conference Final but plummeted in the Stanley Cup Final against the Pittsburgh Penguins.
Pekka Rinne SV% by series:

CHI: .976
STL: .932
ANA: .925
PIT: .778

— Adam Vingan (@AdamVingan) June 1, 2017
The drastic drop in SV% could be explained by a couple of things. First, for some reason, the Penguins were Rinne's kryptonite. Second, he had played a lot of hockey and was just worn down. There's only so much the body can endure over a grueling deep postseason run.
Emergence of the Backup
Rinne has never been at risk of losing his starting job, let's make that clear. In the last three years, Predators backup goaltenders haven't started more than 20 games in a season. However, there's a lot of excitement about backup Juuse Saros and the future of the team with him in net.
Saros has made the most of his limited playing time catching the eyes of many in Nashville. Even though only starting 19 games, Saros posted a 0.923 SV% and 2.35 GAA. The inclusion of Saros gaining playing time in the latter half of the season certainly helped Rinne remain fresh for the playoffs.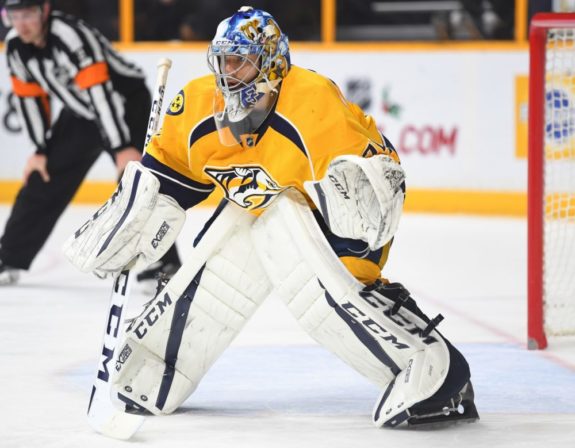 Sure, Saros got lit up in the Stanley Cup Final when he came in relief for Rinne, but can you blame him? He may not be ready for that kind of pressure just yet, but he should be utilized in a complementary role in the near future to help continue Rinne's success.
The Solution
There's no question that the end of Rinne's career is looming on the horizon. Age may be more than just a number, mentally, but one's physical age is a more determined metric.
Don't be surprised to see Saros gain more and more playing time in the near future. In doing so, the Predators will help keep Rinne physically and mentally rejuvenated throughout the season and possibly prevent another post-season burnout.
If the Predators can manage to reduce Rinne's playing time and maintain a winning atmosphere, there's a good chance the Stanley Cup will make its way to the Music City.
Ben is an Ohio State alum born and raised in south Jersey. Currently calling Nashville home, he has been covering the Nashville Predators since 2014. Initially drawn to hockey as a kid by the FoxTrax puck, he now despises the idea of such a thing.