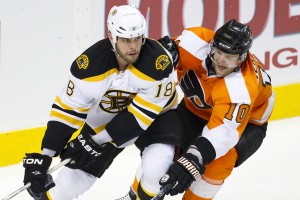 Nathan Horton was traded from Florida to Boston this summer along with Gregory Campbell for Dennis Wideman, the 15th overall pick in last June's draft (traded to Los Angeles) and a third-round pick in the upcoming draft. It was thought Horton would provide an offensive jump for the goal-starved Bruins, but his numbers didn't get any better from his averages with the Panthers. In six seasons in south Florida, Horton averaged 28 goals, 30 assists and 58 points every 82 games. In 80 games on a much better Bruins team this season, his totals were slightly down at 26 goals, 27 assists and 53 points, although he did record a plus-29, 14 points higher than his best season in Florida.
But now, in his first foray into the playoffs Horton has turned up his pace and is not only scoring, but getting important goals for the Bruins. He is tied for third in team scoring and is one of four Bruins to have recorded at least 10 points in the first two rounds. But his points have been coming at very important times in the game and more often than Patrice Bergeron, Brad Marchand and David Krejci as Horton has been the best Bruins skater so far.
Here is a breakdown of the top four scorers on Boston in these playoffs and when they have recorded their points. The breakdown of each column is; Total: The total amount of points each player has in the first two rounds; GWG: How many points each player has had on game-winners; GTG: How many points each player has had on goals that tied a game at any point; GAG: How many points have been recorded on go-ahead goals at any point in the game; 1st: The amount of points recorded on the first goal of the game (the first goal also counts as a go-ahead goal); 3+: How many points each player gets when the Bruins are already up by three goals i.e. when the game is already out of reach and the goal isn't a factor in the outcome.
| | | | | | | |
| --- | --- | --- | --- | --- | --- | --- |
| | Total | GWG | GTG | GAG | 1st | 3+ |
| Patrice Bergeron | 2G, 10A | 0G, 0A | 1G, 1A | 0G, 4A | 0G, 4A | 0G, 1A |
| Brad Marchand | 5G, 6A | 0G, 0A | 1G, 1A | 1G, 2A | 1G, 2A | 1G, 0A |
| David Krejci | 5G, 5A | 3G, 0A | 0G, 0A | 2G, 2A | 2G, 1A | 0G, 2A |
| Nathan Horton | 5G, 5A | 2G, 2A | 0G, 0A | 3G, 3A | 0G, 2A | 0G, 1A |
Horton is showing his worth by producing points when it really matters. He has been in on four game winning goals (40% of his points) including three overtime goals. He scored the winner in double overtime of Game 5 against Montreal to give the Bruins a 3-2 series lead and the series-clinching goal in overtime of Game 7. He also assisted on David Krejci's overtime goal in Game 2 against Philadelphia. Milan Lucic is the only other Bruin with more than one overtime point during the playoffs and both of his assists have come on the Horton goals. Bergeron and Marchand have both been instrumental early on and when they are behind, but tying a game up doesn't matter if you don't come out on top.
He has also helped put his team ahead six times (60%), two more times than Bergeron (33%) and Krejci (27%) and three more times than Marchand (40%). Horton's points have also come late in the game. It's not that scoring the first goal of the game isn't important, but unless they're banking on a 1-0, they will need a way to get ahead later in the game. While Bergeron's four assists to open scoring is impressive, take those away from his go-ahead goals and he has no points to put the Bruins in the lead late in the game when it really matters. The same goes for Marchand who has yet to be involved in a go-ahead goal other than the first of the game. Krejci has one assist while Horton has three goals and four points. If you take away points when the game is already out of reach, then Horton is in sole possession of third in team scoring.
The Bruins have plenty of offense this postseason and it has been spread out. But it is Horton who is providing the important goals most often. He, like the rest of the team, has been getting better as the playoffs have gone on. His trade didn't look special during the regular season, but in the playoffs he has looked anything but regular and GM Peter Chiarelli has made the trade look like an absolute steal.