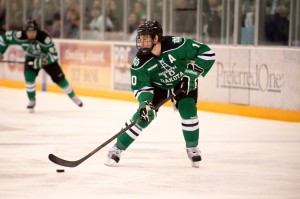 Imagine a college hockey holiday tourney in Las Vegas, Nevada during the holiday season. Hey, it sounds good to me. It's not that far-fetched, there is already an annual holiday tourney in Florida called the Florida College Hockey Classic that's played in Estero, Florida during the month of December. This season, the 2013 Florida College Hockey Class includes Maine, Princeton, New Hampshire and Cornell.
I would imagine that a college hockey tourney in Las Vegas, Nevada  would be appealing to many college hockey fans as well. Travel to Las Vega, NV is relatively cheap, especially with Allegiant Airlines being in many cities around the USA.  Usually, you can find a decent package deal to fit most price ranges, if you book your hotel room and flight together.
This past weekend, Joe Paisley beat writer for Colorado Springs Gazette suggested this very idea in blog post, "I would like to see a holiday hockey tournament in California or Las Vegas to test the waters a bit. Get North Dakota to play and those fans will fill an ECHL facility."
I believe, that Joe Paisley is onto something.  Last season, on February 9, 2013, there was an outdoor hockey game at TD Ameritrade Park in Omaha, Nebraska between the University of North Dakota and University of Nebraska Omaha and 13,650 fans showed up to see the game, which UND won 5-2. If it hadn't been for the thousands of UND fans that showed up for the outdoor game, that event could have been a major bust.  I have seen estimates that there may have been as many as 7,000 UND fans in attendance, to see that game.
So, if that many people show up to Omaha, Nebraska, in the middle of the winter, to see a hockey game. Can you imagine how many would show up to see a hockey game in a destination city like Las Vegas, NV?
Maybe it's time for college hockey to spread out a bit and hold a college hockey tourney in a nontraditional market like California or Las Vegas.  Seriously, NCAA regionals are already being held in half empty arenas and in towns no one wants to travel to. I think an event like this could be a major success, especially if you include a rabid fan base like the University of North Dakota, Minnesota or Wisconsin.   I think that this is a great idea and one that college hockey fans could get behind, in numbers.
I think that UND fans would travel en masse to Las Vegas. Having been to Las Vegas a few times myself, it's a great destination, especially during the winter, when most of the North Country is covered in snow and ice.
One factor in our favor, there's already professional hockey in Las Vegas. The Las Vegas Wranglers of the East Coast Hockey league play their hockey games in the Orleans Arena, which is on the grounds of The Orleans Hotel and Casino, Las Vegas, NV. The Orleans Hotel and Casino is located west of the Las Vegas strip, if you do a search on Google maps, you will see that it's 2.6 miles away from Cesar's Palace, which is located in about the middle of the Las Vegas Boulevard. Convenience wise, you could book a hotel room right at the Orleans Hotel and Casino and go from the airport to the hotel if you wanted to and you wouldn't have to leave the grounds of the hotel, if you didn't want to, but hey, it's Vegas.
In conclusion, I think Division I College Hockey should definitely look into having a college hockey Christmas tourney in the Silver State, kind of seems like a no brainer to me. Let's make it happen soon.
Eric is a 1996, 1999 graduate of the University of North Dakota. Eric covers the University of North Dakota Hockey and Division I college hockey. Eric is the Contributing Editor for Inside Hockey.