During the month of September, we will profile New Faces in New Places from around the NHL. We now look at Blue Jackets' winger Anthony Duclair. He once had a lot of promise but now is in Columbus on a one-year deal. Is he the next Sam Gagner?
Anthony Duclair
2017-18 Stats: 11-12-23 in 56 total games between Arizona and Chicago.
2018-19 Team: Columbus Blue Jackets.
How Acquired: Signed 1-year deal worth $650,000 on July 6, 2018.
Expected Place in Lineup: Bottom-9 winger.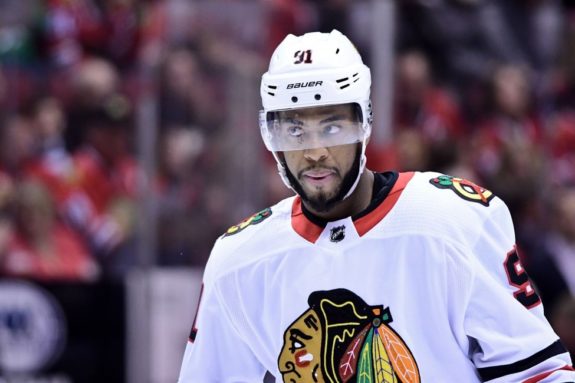 Mark's Take
Imagine being just 22 playing in the NHL and you're already playing for your fourth team. That's exactly where Anthony Duclair finds himself as the 2018-19 season approaches.
After the Arizona Coyotes traded Duclair to the Chicago Blackhawks in January, some wondered if that change in scenery would finally jump start him. It started out well only to see his ice time dwindle before finding a home on some nights in the United Center press box.
What happened here? Duclair burst onto the scene in 2015-16 as a rookie in Arizona and pumped in 20 goals while garnering some Calder votes. Then things went south in a hurry.
Duclair followed up his outstanding rookie season by scoring just five times in 58 games. His shooting percentage went from 19% down to 6.6%. He couldn't find any level of consistency. He did score nine times during the first half of the 2017-18 season, but couldn't regain his early form.
Many have questioned in effort since his rookie year. Then Coyotes' coach Dave Tippett said Duclair needs to compete harder. Will this be a concern in Columbus? As you know, Tortorella won't tolerate less than a full effort.
But if there is good news, Tortorella has a way with helping young players find their game. Duclair himself said he came to Columbus partially because of Tortorella. Given where he and the Blue Jackets are at in their respective paths, this has the makings of being a perfect match.
The Blue Jackets need scoring. Duclair needs a bounce back. For a league-minimum deal, this is a nice gamble for the team. If it works, he becomes the next Sam Gagner. If it doesn't, you don't lose very much.
What Others Have Said
"Anthony is a skilled, young player with world-class speed, who has played in over 200 NHL games as a 22-year-old and was one of the league's top rookies just two years ago. He is eager for an opportunity to improve as a player and we think he has a chance to be an impactful addition to our hockey club." –GM Jarmo Kekalainen
"If he (Duclair) can rediscover his 2015-16 level of production, he'll help Columbus replace Matt Calvert, who signed with Colorado." –Stephen Whyno/AP
"The appeal of Duclair is obvious to the Blue Jackets. He's a former top prospect with serious wheels and a 20-goal NHL season on his resume. " –Chicago Sun Times
"Duclair has identified the issue, it's just a matter of correcting it — something the Blue Jackets are hoping he's successful at doing in order to make this gamble worth it." –NBC Sports
2018-19 Season Stats Prediction
I think Tortorella finds a way to jump start Duclair this season. Although 20 goals is a bit rich, he'll make a serious push for it knowing that the rest of his career could be at stake.
16-12-28 and gives a boost to Columbus' second power-play unit.