To be relegated to the dreaded "fourth line" is usually bad news for a hockey player. Wikipedia defines the fourth line of a hockey team as "usually composed of journeymen with limited scoring potential, but strong physical play and, as often as possible, strong skating abilities."
Apparently, no one on the  New Jersey Devils read the part about "limited scoring potential." The fourth line, consisting of  Ryan Carter, Steve Bernier and Stephen Gionta, have been outstanding in the postseason, combining for six goals and six assists in New Jersey's 14 playoff games. Perhaps just as impressive as the line's total output has been it's balance; all three skaters have chipped in two goals and two assists, making it the Devils most statistically even group. Game 2 in New York was no exception, as Ryan Carter provided a huge lift for New Jersey late in the 2nd period by deflecting a shot past Rangers goalie Henrik Lundqvist to tie the game before the Devils went on to win 3-2.
"I think it was big for us to get that one, and carry some momentum into the third," Carter said after the win. "Any goal's a big goal this time of year, regardless of where it comes from."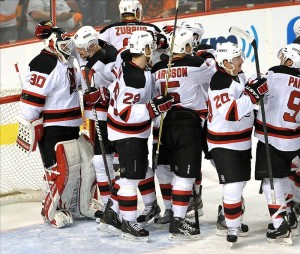 Devils head coach Pete DeBoer reinforced the importance of the scoring and the physicality of New Jersey's fourth line in the post game press conference:
"Your fourth line gets out there, crashes and bangs, creates momentum and scores a big goal for us. It's been the story of the playoffs."
The fact that none of the trio of Carter, Bernier and Gionta was on the Devils NHL roster at the beginning of the season is a tribute to the organization's scouting and shrewd eye for talent of Devils President/General Manager Lou Lamoriello. Carter was acquired on October 26, 2011 off waivers from Florida, Bernier, a former first-round pick of the San Jose Sharks, was signed as a free agent on January 30, and Gionta spent the season with Albany of the AHL before being called up on April 6.
Another unlikely offensive contributor has been defenseman Bryce Salvador, who picked up two assists in Game 2 and has logged two goals and six assists for eight points this postseason. Compared to Salvador's output for the entire regular season
, zero goals and nine assists for nine points, his offensive offering in the playoffs looks even more impressive.
"I'd rather take the wins over the points," Salvador said. "If the points come with the wins, that's fine. But I'd rather have the wins."
As the series heads to Game 3 in Newark, the Devils would prefer both.