For the first time in a long time, the New Jersey Devils seem to be in position to land one of the top free agents on the market. No, not just Kevin Shattenkirk, but also polarizing Russian winger Ilya Kovalchuk.
The former $100 million man has been planning to return to the NHL for months and is now able to do so under the stipulation that he can only sign with the Devils. Many have looked at the facts – Kovalchuk's early retirement from New Jersey, the state's high property taxes, and his desire to win – and have concluded that the best idea is for both parties to agree to sign a contract and a trade. There is a strong case to be made, though, for Kovalchuk to return to New Jersey.
Money
There exist many narratives about Kovalchuk's decision to retire and soon un-retire from the NHL, but almost all of them paint a picture of a player trying to cash in on his name and past success. With the Russian ruble facing a sharp decline relative to the US Dollar, his KHL contract was anything but lucrative, which helps to explain the timing of the move. Even if you deny that explanation, Kovalchuk certainly has shown a desire to get paid in the past. Enter New Jersey.
One thing that few teams can argue over the Devils is cap space. Ray Shero has been saving for awhile now and currently has about $28 million in cap space. The newest addition to that sum came on June 30 when Shero surprisingly bought out the remaining two years of Michael Cammalleri's 5-year, $25 million pact. The team's current space is enough to take on Sidney Crosby, Connor McDavid and Erik Karlsson's contracts.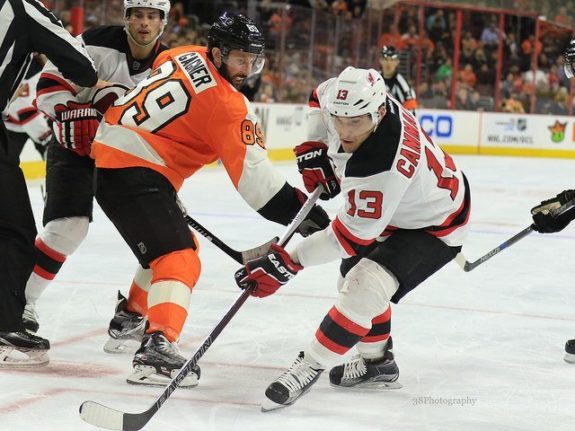 There's no telling how much money Kovalchuk could possibly want from the team that he eventually plays for, but the point is that the Devils have plenty of flexibility to sign him and add more. Even if he wants the 1-year, $5.75 million contract that Alexander Radulov earned last summer, Shero would still have more than $25 million at his disposal.
Location
On a lesser note, Kovalchuk seems to have a preference in location. This is according to Slava Malmud, a Russian hockey news reporter, who pegged the Russian as having two desired locales: New York and Florida.
Kovalchuk would likely prefer to stay in NYC or wind up in Florida. Wife and 4 kids are a major factor. It will be sign-and-trade, though.

— Slava Malamud (@SlavaMalamud) April 30, 2017
Given that the Devils have never made a trade with the Rangers and the Lightning have tremendous cap problems, chances of a trade to either place would be slim to none. The Islanders could be a fit but, trading a star to a division rival is less than ideal. That leaves the Panthers and – potentially but unlikely – the Sabres. If he wants to play in Florida, Kovalchuk and his agent have been given permission to talk to GMs around the league.
That said, New Jersey is not a bad option. It's unlikely Kovalchuk initially bolted to the KHL because he no longer wanted to be in the state of New Jersey — he used to live in northern New Jersey, an easy train ride from New York City. While it is not New York City per se, the Garden State is hardly a consolation prize.
Don't forget that Kovalchuk, after six months with the Devils, became an unrestricted free agent and ultimately re-upped with the team for, at one point, a 17-year contract. He did this despite an equally competitive offer from the Los Angeles Kings on the table. By all indications, he still has his home in Alpine, NJ.
Devils fans and the state of New Jersey welcomed Kovalchuk in 2011. If he returns to the team this summer, the reception would likely be no different, similar to Scott Gomez's warm return to the Garden State. Just look at fans' reaction to Kovalchuk scoring a regular season overtime goal in 2013:
Even if location is a sticking point for Kovalchuk, New Jersey seems to be, at worst, a reasonable destination.
Surrounding Talent
Based on the stat sheet alone, the Devils ice one of the worst offenses in the league. Their leading point scorer had 53 points and their goals for total was third lowest among all 30 teams. Surely that means their forward corps is completely barren, right?
Wrong. Shero has heavily drafted forwards in his three years as GM. Because of that, the Devils attack is one to watch in 2017-18.
Starting with the players who lined up with Kovalchuk in previous years, Travis Zajac and Adam Henrique are still playing their best hockey. Since Kovalchuk's departure, the Devils have rebuilt their scoring attack, now headlined by Taylor Hall and Kyle Palmieri. Hall is one of the league's premier left wingers whereas Palmieri finished 15th in goals among right wings.
On top of those talents are the young gun centers that the Devils have been cultivating since Shero started. Pavel Zacha put up 25 points at 19-years old. Michael McLeod led the OHL in playoff scoring last year after a dominant season with the Mississauga Steelheads. Then there's Nico Hischier, the first overall pick in the 2017 NHL Draft. He's a creative puck-handler who could do great things with Kovalchuk on his flank.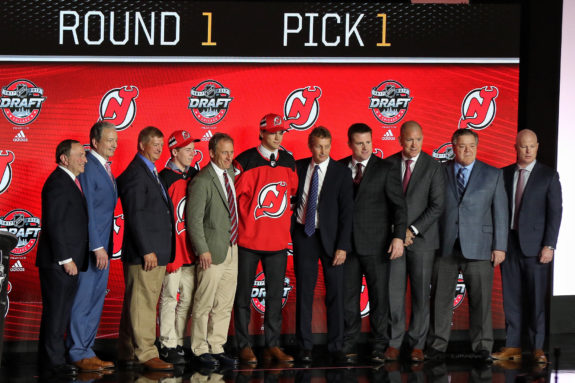 At least at forward, the Devils are in as good of shape as ever. Adding Kovalchuk would put the team in uncharted territory given the franchise's tendency to rely on defense and goaltending to win games.
Devils in Contention?
Kovalchuk likely wants to win. It was a major source of frustration in Atlanta, having only been to the playoffs once and getting swept in the first round that year. In two years with the Devils, Kovalchuk played 28 playoff games and came two wins away from his first ever Stanley Cup. Assuming that getting his hands on the Cup is a primary motivation, the Devils are not likely to be his best option. However, the Cinderella style run that the Devils produced in 2012 is not out of the question in 2017-18.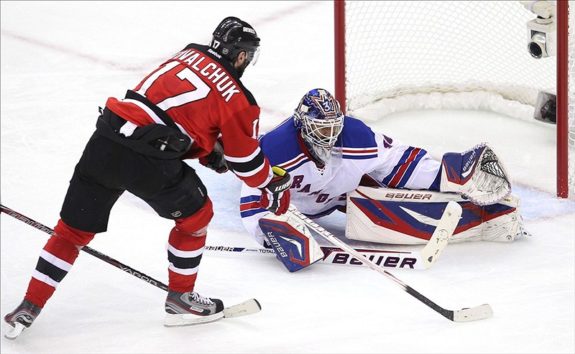 The Devils defense needs a lot of work but the forward corps is well built (if Kovalchuk joins) and the team's goaltending is capable of being the league's best. In the parity-filled NHL, teams can go from cellar-dweller to playoff contender in one fell swoop. The Devils could be this year's prime candidate to do just that.
Team Need
Throughout his entire career, Kovalchuk has taken up top line minutes. Since 19-years old, Kovalchuk has never averaged fewer than 20 minutes per game over the course of a season. Moreover, he played almost 25 minutes a night in his last season in New Jersey.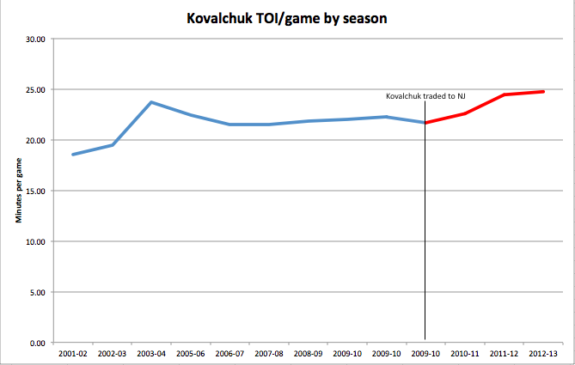 Given that Kovlachuk is now closing in on 35, it is questionable if he can handle the massive workload he was once accustomed to. That said, given the Devils' strength in shot suppression – they finished 10th in the NHL in shots against – Kovalchuk would not need to concern himself with defensive responsibilities. Instead, his time on ice will often be when the team is trailing, in the offensive zone and/or on the powerplay.
Whether or not Kovalchuk has New Jersey on the top of his wishlist, the reality is that it could be the right move for the Russian winger and his family. The Devils have the money, location, talent, ability to contend and could make a great asset out of Kovalchuk. The question then becomes whether Kovalchuk be willing to come back to a place that he once deserted for greener pastures.