Sean Couturier is one of those guys who has made a living off of being gritty, and doing all the behind the scenes work for the Flyers. With the addition of Dave Hakstol, the Flyers young center is poised to have a good year offensively.
Defensive Machine
For the past few seasons, he has been the Flyers go to guy when it came to shutting down some of the NHL's best talent. Malkin, Crosby, and Ovechkin are just a few of the names Couturier is tasked with keeping in check, night in and night out.
Just to put that into perspective, the three players Couturier was on the ice most against last season were, John Tavares, Nicklas Backstrom, and Ryan Johansen. That's not an anomaly either. Let's take a look at who's he's spent the most time on-ice against over his whole career (stats via hockeyanalysis.com):
John Tavares (144:06 TOI, 1 Goal, 10 SOG)
Alexander Ovechkin (104:13 TOI, 0 Goals, 13 SOG)
Sidney Crosby (99:49 TOI, 0 Goals, 13 SOG)
Kyle Okposo (98:40 TOI, 1 Goal, 8 SOG)
Nicklas Backstrom (87:40 TOI, 0 Goals, 6 SOG)
For a good measure of comparison, lets take reigning Selke winner, Patrice Bergeron's metrics from the same time period (2011-present):
Kyle Turris (88:27 TOI, 1 Goal, 21 SOG)
Claude Giroux (87:49 TOI, 2 Goals, 12 SOG)
Steven Stamkos (86:59 TOI, 2 Goals, 17 SOG)
Tomas Plekanec (83:49 TOI, 0 Goals, 12 SOG)
Phil Kessel (83:17 TOI, 5 Goals, 23 SOG)
Couturier has kept arguably the two best players in the NHL from scoring a single goal while he is on the ice. That is something not many players in the league can boast about, let alone a 22-year-old.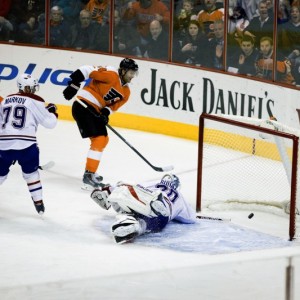 Also, keep in mind that during the time span measured, the Bruins had some top-tier defenseman, and one of the NHL's more elite goaltenders. Secondly, keep in mind that Couturier has played with Matt Read over that time span, someone who seems to have lost his scoring touch after the 2011-12 season.
His defensive game has already developed into one of the best in the game, but a lot of that becomes overshadowed with his "lack" of production offensively. Lack of production isn't a very good phrase to use, however, because Couturier's past usage has pretty much hindered his ability to find himself in situations to score. Infact, Couturier rarely even starts his shifts in the offensive zone, and playing alongside two wingers who had awful Corsi ratings, that is a recipe for disaster. Here's a quote explaining, from Broad Street Hockey:
"Among all NHL forwards that played at least 1,000 minutes at five-on-five in 2014-15, Couturier started the fewest percentage of his shifts in the offensive end of the ice — just 25.5 percent. Of that same group of forwards, Couturier also started the highest percentage of shifts in the defensive end of the ice — 38.7 percent of his total 5v5 shifts. We don't even need to get into talk about guys he's tasked with playing against — often the Crosbys, Ovechkins and Tavares' of the world — to notice that this is keeping him at an offensive disadvantage."
Combine his zone statistics with the players he's playing against and the wingers he has to work with, and I'd say it's a miracle he even managed 37 points last season. However, all of that should start changing.
New Coach, New System
It's very easy to forget that Couturier is still a developing player. He's just 22 years of age and broke into the NHL at just 18 years old. He's been thrown into a role that most players don't see until a lot later on in their career, however, a new coach should help the situation.
Dave Hakstol comes to Philadelphia with plenty of experience working with younger guys. As an NCAA coach, he needed to improvise constantly. Unlike the NHL, where a core group of players stay around for years, college hockey sees a lot of new guys in and out every few years. That means a coach needs to adapt and work with what he has. That's something Craig Berube never did in Philadelphia, and never did with Couturier.
Peter Laviolette threw Couturier into the deep end in his first season. When Laviolette's system started failing the Flyers, Berube came in and did almost the exact same thing. As a new NHL coach, and as Laviolette's former assistant, it was probably the easiest to implement and the only thing he knew.
With Hakstol taking the reigns, he now has a chance to not only use Couturier in a defensive role, but propel him into an offensive role as well. The Flyers and Couturier could both benefit from the change.
I'm not suggesting alter Couturier's usage totally, but giving him more offensive zone starts could completely change his game. He managed 37 points last season despite starting one out of every four shifts in the offensive zone, can you imagine how that number  would change if he started even 35 or 40% of his shifts in the offensive zone?
Another think to keep in the back of your mind is that Hakstol has plently of experience with good, two-way forwards. He's coached Zach Parise, TJ Oshie, and Jonathan Towes. All three of those players have a very good defensive upside, but know how to score as well. It's very plausible to think that a guy like Couturier could benefit from all of this.
With a new coach, and a new system likely to be put into place, Couturier will get a fresh start.
Matt is a contributor for the Philadelphia Flyers at The Hockey Writers. He has previously covered the Flyers for GrandstandU. He enjoys playing hockey and making music in his spare time.