There's going to be plenty of buzz surrounding the St. Louis Blues this season, with the recent re-signing of Jaden Schwartz, all of the new talent coming in droves, and the new jerseys/attitude of the team. However, the biggest hockey news outside of the Blues themselves is set to become a Scottrade area mainstay in the winter of 2015, and it may just be exactly what you've been waiting for.
Thanks for all the support this far! https://t.co/dKlnPI9HML — Steve Albers (@SteveAlbers13) September 25, 2014
The Center Ice Brewing Company is a craft microbrewery that was started by an area hockey player who was looking for something a little bit different in his beer, something that would bring him back to his skating roots while providing an outlet and an atmosphere that only those true hockey enthusiasts would understand. That's exactly what the brain trust at Center Ice Brewing is bringing to the table with its drafts, and the atmosphere it's going for at the establishment should bring everything together full face-off circle.  
@Blues_FanNation @CenterIceBrew Ion even drink and I'd dig this! I think a joint like this would serve to strengthen STL's hockey market. — Loyal & Royal (@thesweaternotes) September 17, 2014
Craft Brews for Hockey Players and Fans Alike
The folks at Center Ice Brewing are looking to build out a new type of bar, a truly hockey oriented foundation, where everything is catered to the numerous hockey players and fans around the St. Louis area. The idea was simple, create an atmosphere that would drive any St. Louis area sports nut (and hockey fanatic) crazy with call backs to the old Arena days and to the Blues greats, and fresh draft beers that dance on your taste buds, suit any mood you may be in, and leave you chanting LET'S GO BLUES as you go on your way.
Go check out @CenterIceBrew! Lets get a hockey brewing company in St.Louis! pic.twitter.com/Fg6FS6W6Ut — Hockey Edits (@HockeyEdits14) September 17, 2014
Steve Albers (head of Center Ice Brewing) wanted a place to rejoice with fellow hockey fans, and to truly follow his passion for the sport and for the drink that completes it (for so many). His plans currently involve 4 signature beers that aren't your average products, which should bring a breath of fresh air into the city that started the beer revolution so many decades ago.
Craft Beers List:
In the words of the Center Ice Godfather himself (Steve), here's what you can expect on "Opening Night" at Center Ice: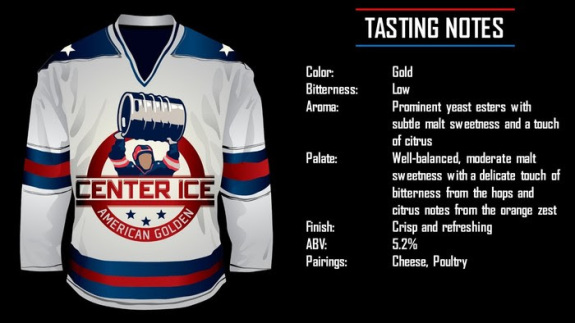 Center Ice American Golden Ale
First, our Center Ice American Golden Ale pours a bright golden hue with a white frothy head.  Zested with fresh oranges, citrus notes help balance the subtle malt sweetness.  Designed to unite hockey fans and craft beer enthusiasts, its crisp refreshing finish leaves the palate wanting more.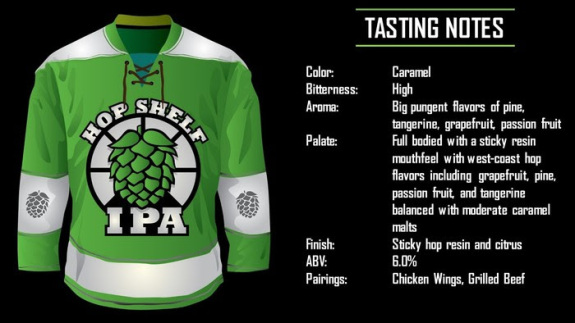 Hop Shelf IPA
Second, our Hop Shelf IPA was brewed and dry-hopped with an abundant amount of hops.  Four different hop varietals give big bold flavors and aromas of grapefruit, passion fruit, pine and tangerine.  A plentiful amount of honey malt balances our version of this American IPA.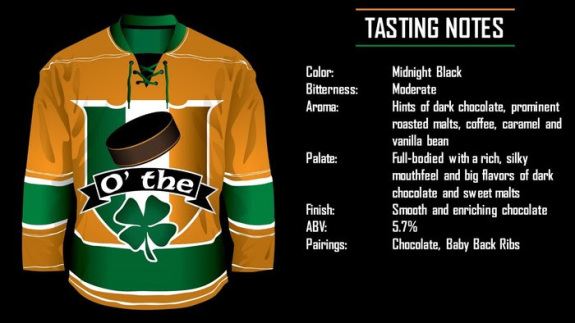 Puck O' the Irish Stout
Third, our Puck o' the Irish Stout is our full-bodied chocolate Irish Stout.  It pours as black as a hockey puck with aromas of dark chocolate and sweet caramel.  Brewed with malted barley imported from Cork, Ireland and aged with fresh cacao nibs, this is a desirably rich stout for all chocolate fans.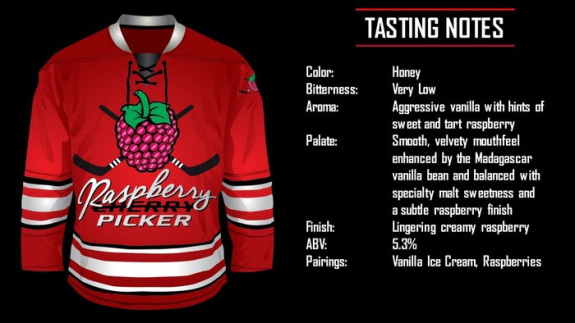 Raspberry Picker
Lastly, our Raspberry Picker originates from the hockey term, Cherry Picker.  Raspberry Picker is brewed with fresh raspberries, whole vanilla beans and lactose.  Hints of subtle raspberry with a smooth, velvety mouth feel make this beautifully balanced beer a perfect complement to most desserts.
 Seasonals
In addition to these four tasty craft beers, we will rotate seasonal and specialty beers that include: pumpkin ale, Christmas ale, black IPA, strong ale, imperial coffee stout and more.  I wish I could tell you more about these specialties, but you'll just have to wait.  I promise you won't be disappointed.  Let's just say some of them may or may not be aged in whiskey, rum and/or tequila barrels. Please give us a follow on Twitter: @CenterIceBrew
The Tip of the Center Ice(berg)
Though those descriptions make you salivate with anticipation, they may not even be the best part. Center Ice Brewing is dedicated to keeping their favorite team, the St. Louis Blues close to their heart by trying to create a tasting room out of scraps from the old Arena, to go along with their hockey stick and puck tap handles (some of which are signed by current and former Blues players) and their hockey jersey bottles.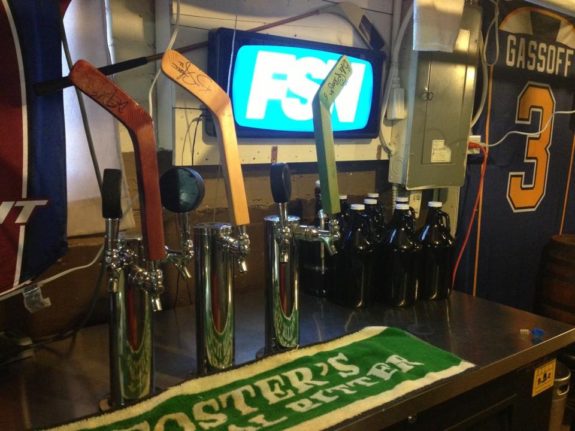 The promised ambiance at Center Ice Brewing is breathtaking to any Blues fan, or any fan of hockey for that matter, but the group needs your help to make their dream a full reality! They are currently ending their first Kickstarter campaign (which you can donate by clicking this link: ), with the goal of gaining the initial $25,000 investment needed to begin finding that perfect location near Scottrade to build out.
Thanks for all the support this far! https://t.co/dKlnPI9HML — Steve Albers (@SteveAlbers13) September 25, 2014
Please donate what you can to turn every St. Louis area hockey fan's dreams into realities so we can begin celebrating the Blues and the greatest sport on Earth together next December (2015).
If you'd like more information about Center Ice Brewing or about what they are trying to accomplish in the St. Louis area, follow them on Twitter: @CenterIceBrew. Also give me a follow while you're at it: @pep30.
Mike has covered the St. Louis Blues and Tampa Bay Lightning in depth for The Hockey Writers since 2013. He is also a contributing writer for KSDK News Channel 5, the St. Louis area NBC affiliate, and has been a credentialed media member of the Blues since 2014. Follow him on Twitter @pep30.