The strong Washington Capitals experienced a skid at the end of December 2016. During the final six games, Washington allowed 11 goals. The main cause of untimely goals was turnovers. Turnovers led to the opposition gaining premium scoring chances, and goaltender Braden Holtby struggled in late December to bail out his teammates. Holtby is a world-class netminder, but it was apparent something bogged Holtby's mind.
However, the club looked as though any resemblances to December struggles were eradicated in a 2-1 win against Ottawa on New Year's day. As they turn the page on their calendar, Washington knows it has the performers who can change the script.
Holtby in December
"Three goals tonight that I could've stopped. It really comes down to that," Holtby said following a 4-3 loss to the New York Islanders on Dec. 27.
You can see Holtby is disappointed with himself here.
Holtby visibly knows he should have had that one back as he immediately throws back his head. What preceded the goal was a lame pass toward Matt Niskanen picked off by Anders Lee.
The Capitals would face the New Jersey Devils two days later. Washington blitzed New Jersey with 14 shots through the first period to gain a 14-8 edge after 20 minutes. Devils netminder Keith Kinkaid shined on the ice as he turned aside every shot. By the end of the night, that number rose to 43 in total. The Capitals went on to lose 2-1 via the shootout.
Holtby Now
Head coach Barry Trotz rested Holtby in a 6-2 rout against New Jersey on Dec. 31. Trotz proved why he is a head coach. Holtby seemed refocused the next day while his teammates played better in front of him than they had done recently. Holtby pushed off his skates better, the puck gleamed brighter in his eyes, and he rescued teammates on some turnovers.
Check out this strong power slide off the right skate.
Holtby isn't the type of goalie to rest on his laurels. He stormed onto the scene in the 2012 playoffs and, despite only playing 43 games over 2012-13 and 2013-14, has a Vezina trophy on his resume, and ranks third in all-time save percentage among active goaltenders (.922). Holtby will certainly backstop Washington to an impressive 2017 run.
With the upcoming expansion draft, the Capitals might do well to protect Holtby. He generates chemistry in the locker room, has become a fan favorite, and can help the team win.
Evgeny Kuznetsov
The 24-year-old superstar that was going to be Washington's other great Russian isn't playing like one. He broke out in his sophomore year, collecting 77 points in 80 games, leading Washington's deep offensive corps in scoring. Nowadays, the flash seems to been replaced with a different word: sloppy. He makes questionable passes in his zone that lead to oppositional scoring plays. On Dec. 29, Kuznetsov tossed the puck behind his back to center ice, where New Jersey's PA Parenteau picked it up and wristed the rubber over Holtby's right shoulder.
Eight days earlier in Philadelphia, Flyers captain Claude Giroux intercepted Kuznetsov's attempt to break out of the defensive zone. The winger attempted to bounce the puck off the boards, and Giroux skated in and sent a blistering wrist shot past Holtby.
Trotz has vocalized his concern for Kuznetsov's play. Kuznetsov's shifts have decreased over the past couple games. He posted one shot in the 6-2 romp over the Devils, but had nothing to show against Ottawa except for an ill-timed two-minute minor.
Kuznetsov's gift is his playmaking ability. He can get that touch back by simplifying his game and making smart passes. Once he does that, the Capitals have that versatile forward that can go up and down the lineup.
The Leadership
Alex Ovechkin, Nicklas Backstrom, Jay Beagle, Karl Alzner, and John Carlson are the longest tenured Capitals on the roster. They have 2,945 regular season games and 336 postseason games of National Hockey League experience. Ovechkin's five points in the last five games are most in that span out of the longtime Caps. All of them need to improve and hold teammates (cough, Kuznetsov, cough) accountable when they make lazy plays.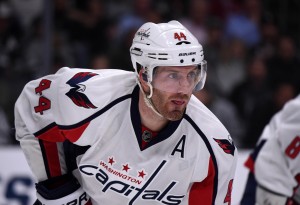 General Manager Brian MacLellan acquired leadership over the last few years by signing TJ Oshie, Justin Williams, and Brooks Orpik. Williams and Orpik have their names engraved on the Stanley Cup. They need to contribute in the postseason as well as discuss with their teammates the mentality needed to win in April and May. The addition of Lars Eller enhances the bottom-six center depth. The Capitals will be entering the playoffs quieter than last year. They are a year older, and will likely not have the leisure to pursue individual records.
Imagine if the Capitals who have been in D.C. the longest were to play a shift together in the playoffs… that would be captivating.