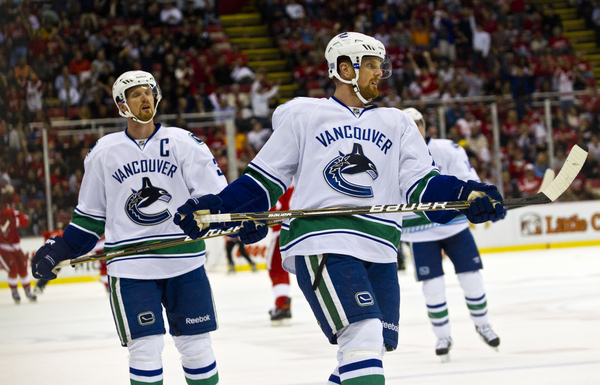 It is no secret to the NHL world that the Vancouver Canucks don't show up in the first month of the hockey season. It seems almost inevitable that there will be disappointing performances and a .500 win/loss percentage would be considered a great October. Stats for the past 3 seasons:
October
2008/2009- 6 wins, 5 losses (1 SO win)
2009/2010- 7 wins, 7 losses (2 SO wins)
2010/2011- 4 wins, 5 losses (2 SO losses)
average- 34 games – 17 wins – 50% winning percentage
compared to:
March
2008/2009- 11 wins, 4 losses
2009/2010- 9 wins, 6 losses (1 SO loss)
2010/2011- 13 wins, 2 losses (2 SO wins)
average- 45 games – 33 wins – 73.3% winning percentage
This year looks no different, the 2011/2012 season beginning with a home shoot-out loss, followed by a hard-fought comeback victory and 2 road losses. There are many theories behind these 'bad' starts from the Canucks. The pre-season routine is often put under scrutiny with Vigneault and the coaching staff choosing to give rookies and try-out players a lot more ice-time than the top 6 players, who generally only see around 2 or 3 games, some say not sufficiently preparing them for the season ahead.
Poor October goaltending can shoulder some of the blame but Roberto Luongo certainly isn't the root of all problems for Vancouver. Lou is known for his poor season starts but generally picks up his game once he has settled into his routine (career low GAA of 2.11 last season), though this year Cory Schneider may push him for the starting spot between the pipes with Schneider already appearing in half of Vancouver's games this season and playing noticeably better than the gold-medal winning goaltender.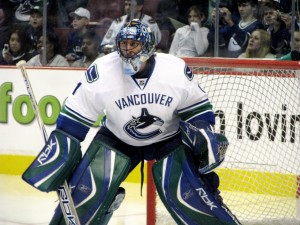 Long-season hangover's are said to be an issue in Vancouver but with a group of coaches and conditioning experts, players should be back to game shape at the start of the season. Some of the issues in the first 4 games of 2011/12 can be attributed to injuries to key players Ryan Kesler and Mason Raymond but the loss of these players for the beginning of the season was no secret and the Canucks should have had been prepared to ensure the smallest impact possible to the line-up.
Other reasons behind the current 1-2-1 start for the Canucks are the performances of forwards Marco Sturm and Mikael Samuelsson who haven't produced enough offensively to remain top 6 players, with the Canucks third line looking much sharper. On the defensive end, Keith Ballard (minus his goal in the first game), Alex Edler and Kevin Bieksa have all had poor starts to the season with Edler faning on too many shots and breaking sticks all over the ice. Roberto Luongo also started the season poorly, with 9 goals against in 2 games. While this is not a Luongo bashing article in any means, his 'flopping like a fish' routine has become old fast and goaltending coach Melanson needs to help him combat this habit.
Everything being said, Canucks fans should not worry too much. On paper the Canucks are still one of  the NHL's best and are almost certainly going to make the playoffs. How far they go this year though is up to them but too many losses in October may prove costly around final's time. A poor start to the season is unfortunately something to become accustomed to in Vancouver and fans would almost be worried more about the teams chances if they somehow managed to win all of their games in October.
Admirer of the NHL, Canucks and the Swiss NLA. Feel free to follow me on Twitter: @HockeyWest