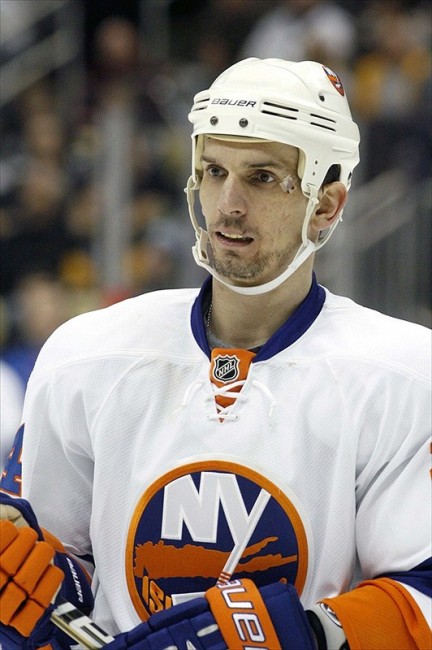 After suffering a 7-0 defeat at the hands of the Philadelphia Flyers life couldn't get much worse for the New York Islanders. Or could it?
Shortly after being drubbed by the Flyers, the Islanders learned that Brian Strait suffered a broken ankle, an injury that will keep him out of the New York lineup for the next six to eight weeks at the very minimum. While some may have dismissed Garth Snow's waiver wire acquisition in mid-January to help fill New York's depth on defense, the move paid its dividends as Strait easily became one of the team's best defensive defensemen.
With four points (all assists) in fourteen games played for the Isles, it is safe to say that fans and members of the organization weren't depending on Strait to be an offensive juggernaut this season. Despite the fact that Strait might not have shown up on the scoreboard as often as some other New York defensemen, he was a +3 for the Isles and logged anywhere between seventeen and twenty-one minutes a night for the team's defense.
As always, nobody in the NHL will pity a team that suffers an injury to a player, especially one of its better skaters. Even though the loss of Brian Strait might be hard to fathom at this point in time, the Islanders have several options to consider when trying to replace Strait from within.
Thomas Hickey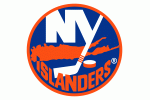 Hickey was another waiver-wire acquisition by Garth Snow, but the former first round draft pick hasn't had much consistent playing time as of late. Brian Strait's injury might mean that Hickey could get some more ice time in the coming days, but the defenseman will have to prove himself as he has not posted any points so far and currently owns a -5 rating.
While Hickey has not put up much in the way of stats, he has shown flashes of good defensive play and could be primed to earn himself a bit of extra ice time during Strait's absence. It is safe to say that Islanders fans won't likely expect Hickey to fill Strait's shoes, but they will be eager to see what the defenseman can do if he is called upon to fill out the Isles' defense.
Radek Martinek
Radek Martinek wasn't a waiver-wire acquisition, but he is certainly a defenseman that is familiar with the Islanders organization. Martinek has spent most of his NHL career with New York and was activated off of Injury Reserve on Monday after news broke that Strait had suffered his injury.
For an eighth round pick, Martinek has sure been a good find for the Islanders, but the defenseman has also had trouble staying on the ice. Out of his ten years of experience, Martinek has only managed to record four seasons ('02-'03, '05-'06, '07-'08, '10-'11) where he has appeared in 60 or more games. Despite the fact that Martinek has had trouble staying healthy during his NHL career, he has played well for New York when healthy, and with about 10 weeks left on the NHL schedule it is safe to say that nobody is expecting Martinek to shoulder an overbearing workload for the remainder of the abbreviated season.
Martinek's veteran leadership and familiarity with the organization could sure be a positive for the Islanders going forward, but it will be up to the defenseman to show that he still has some gas left in the tank and could play at a somewhat competitive level.
Aaron Ness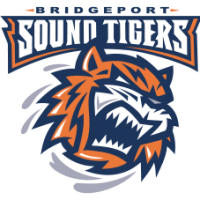 Islanders fans have been waiting patiently for Aaron Ness to make it to Long Island. Even though Ness is a bit undersized for a defenseman (5'10", 175 lbs.), his anticipation, skating, and puck-moving abilities have been highly touted for the last couple of years.
As a member of the Bridgeport Sound Tigers, Ness has recorded 19 points (1 Goal, 18 Assists) in 49 games played this year. While Ness might not score goals in droves, he can certainly be relied upon for his defensive game. Ness' positional play is usually very sound and there is a reason that the defenseman received a nine-game stint [the longest of any Sound Tigers defenseman] with the Islanders during the 2011-2012 NHL season.
The Islanders might not want to rush Ness and might be more inclined to let him play out the year with the Sound Tigers, but he is certainly an option that Islanders fans should keep an eye out for as he is very likely to be the future of the Isles' defensive core.
Matt Donovan
Matt Donovan is another AHL defenseman that Islanders fans know all too well about. Donovan recorded 45 points (10 Goals, 35 Assists) in 72 games played last year and has kept up his scoring pace this year as well.
Much like Ness, Donovan has been waiting to get his call from the Islanders for more than just a cup of coffee. Not only was Donovan an AHL All-Star this year, he is one of the few Bridgeport defensemen that has managed to keep his +/- rating (+7) in the positive. While a number of variables should be factored in when evaluating a defenseman's long-term worth and potential, Donovan has done everything that has been asked of him at the AHL level. Donovan has certainly given Islanders fans a reason to anticipate seeing him in a New York sweater, but the defenseman might also have to wait a little bit before being recalled to the big club.
Who Will the New York Islanders Choose?
Radek Martinek and Thomas Hickey will likely be the first two options that the Islanders look to when trying to replace Brian Strait on the blueline. Since the Islanders already have two more-than-capable offensive defensemen (Visnovsky/Streit), the last thing that New York needs is a defenseman that is concentrated on putting up points.
Martinek and Hickey probably know what their role would be for the Islanders if they do get an added amount of responsibility to shoulder during Strait's absence, but they will need to prove their worth if they want to stick with the team and avoid being a healthy scratch. Aside from Travis Hamonic, the Islanders don't have many shutdown defenders that can nullify an opposing team's top scorers, so Martinek and Hickey will have to show the team that they are not defensive liabilities.
The Islanders can always look to other options as Matt Carkner is getting healthier and nearing a return from his stay on the IR, but Carkner is mainly relied upon for his physical rather than his defensive presence. Jon Landry is also another option that New York could look to as the journeyman defenseman has posted 25 points (6 Goals, 19 Assists) with the Sound Tigers this season, but with a -7 rating it is likely that the Isles will let Landry play out the remainder of the season in the AHL.
With four games left on their schedule for this week, the Islanders will need all the defensive help that they can get as the team will undoubtedly be tired at the conclusion of this week's action. While it is unknown if anyone will be able to replace Strait's presence on New York's blueline, it is certainly obvious that the Islanders will have very little time to lick their wounds and experiment with replacements during a compressed NHL season.
In his third year with The Hockey Writers, Toli covers all things related to the New York Islanders. Focusing on the Islanders, the NHL Draft & draft-eligible prospect goalies, and hockey history, Toli can be contacted on Facebook by searching/messaging Toli Metter and on twitter by searching @ToliMetterTHW.