Always known to make a splash in the free-agent market, the New York Rangers have made signings over the past 20 years that can be filed under three categories: the good, the bad and the ugly. Among the bad there's Dan Boyle in 2014 and Matt Cullen in 2006. The ugly, well there's unfortunately too many to list, but Wade Redden in 2008 and Chris Drury in 2007 are a couple of the highlights.
But what about the good? When it comes to the Rangers and free agency, nobody seems to want to talk about the good. Since the lockout, the Rangers have had success unearthing reclamation projects and turning them into serviceable NHLers. Others have totally reinvigorated their careers with the team.
Below are what I believe to be the Rangers' four best free-agent signings since the 2004-05 lockout ended. For purposes of this article, only players that had NHL experience prior to joining the team were considered. Also international, NCAA and undrafted signings were not considered.
Michal Rozsival (2005)
One of the Rangers' first signings straight out of the lockout, Michal Rozsival was one of seven Czech-born players to suit up for New York during the 2005-06 season. The versatile defender saw considerable success on the team's top pairing alongside countryman Marek Malik and finished tied for the league lead with a plus/minus rating of plus-35.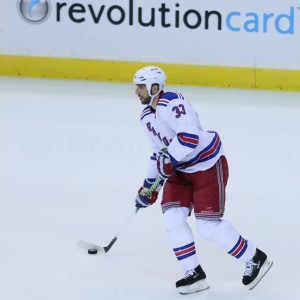 Initially on a one-year, $700,000 deal, the Rangers re-upped Rozsival for two more years at $2 million each in the summer of 2006. Rozsival would go on to have career years in both of those seasons, tallying 30 assists and 40 points in 2006-07, and 13 goals and 38 points in 2007-08.
Though an efficient defenseman for the Blueshirts during his first three seasons with the club, Rozsival is best remembered for his double-overtime goal in Game 3 of the 2007 Eastern Conference semifinals vs. the Buffalo Sabres.
Rozsival's impressive play earned him a hefty four-year, $20 million contract prior to the 2008-09 campaign, but he only spent two and a half more seasons with the club before being traded to Phoenix halfway through the 2010-11 season.
Most frustrating about Rozsival was that he never seemed to reach his full potential. At 6-foot-1, 210 pounds, he had a great hockey body and had an excellent calming presence. He gave the Rangers what they needed for a number of seasons, but it felt like, under the surface, he had what it took to be a high-end NHL defender. He just never realized it and his contract didn't justify any more patience.
Martin Straka (2005)
Another of 2005-06's Czech contingent, Martin Straka was essentially brought to New York to complement Jaromir Jagr. And he did, quite well actually.
During that 2005-06 season, Jagr led the league in goals and points for essentially its entirety but ended up finishing second in both categories (54 goals and 123 points). Both figures set Rangers records, and though Jagr claims the glory, he likely wouldn't have done it without Straka on his wing.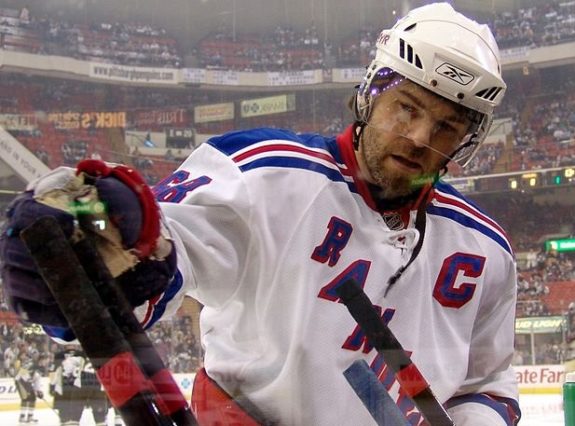 That season, a 33-year-old Straka tallied 76 points; his highest total since registering 95 in 2000-01 in Pittsburgh playing with, you guessed it, Jagr.
In 2006-07, Straka registered 70 points (Jagr tallied 96) and scored at a point-per-game pace in a 10-match playoff campaign that saw the Rangers eliminated by Buffalo in heartbreaking six-game fashion. The 2007-08 season would be his last with the Rangers before returning home to the Czech Republic. During that campaign, the diminutive forward tallied 41 points in 65 games and 10 points in 10 playoff contests.
Though his time with the Rangers was fairly short, Straka played a vital role in putting the Rangers back on the map. Prior to 2005-06, the Rangers hadn't made the playoffs since 1996-97. Jagr's resurgence, aided by Straka, helped the team return to the playoffs and, years down the line, develop into a perennial contender.
Marian Gaborik (2009)
Jagr departed the club for Russia following the 2007-08 season and left a gaping hole up front for the Rangers, who, despite finishing 26th in the league in goals scored (210) qualified for the 2008-09 playoffs. The Blueshirts would take the second-seeded Washington Capitals to seven games but failed to complete the upset and were eliminated.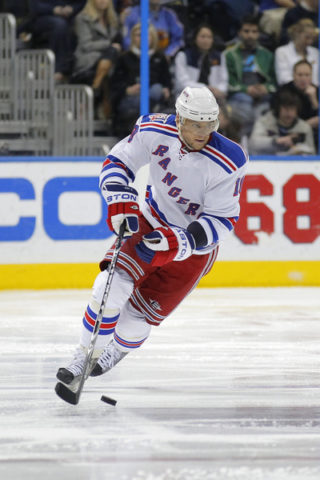 Heading into the summer of 2009, it was evident the Rangers needed to bring in offensive support. Available via free agency was winger Marian Gaborik who had tallied 219 goals and 437 points in 502 games for the Minnesota Wild over the previous eight seasons.
On July 1, then-general manager Glen Sather inked Gaborik to a five-year, $37.5 million contract. The Slovak was to be the offensive centerpiece of a team that was already solid defensively.
And he certainly didn't disappoint in his first season with the team, a campaign in which he matched a career-high of 42 goals and established a personal best of 86 points. The Rangers, though, failed to qualify for the playoffs.
An injury-riddled 2010-11 saw Gaborik tally just 48 points in 62 games, but a return to form in 2011-12 (41 goals, 76 points) helped earn the Rangers an Atlantic Division championship and the top seed in the Eastern Conference. Gaborik scored 11 points in 20 playoff games as the Rangers made their deepest playoff run since 1997 but were eliminated by the New Jersey Devils in a six-game Eastern Conference final series.
A trade for Rick Nash in the summer of 2012 aimed to diversify offensive options for a Rangers team that seemed to be on the cusp of contending. But 35 games into the lockout-shortened season, Sather moved a struggling Gaborik to Columbus for Derick Brassard, Derek Dorsett, John Moore and a late-round draft pick.
For Rangers fans and pundits, the Gaborik signing is polarizing. When things were going well for Gaborik, he was a goal-scoring machine. But when he was struggling he was invisible. His playoff-scoring record was mediocre (13 points in 25 games) yet he still fetched Brassard, who was one of the team's best performers during the 2013-14 Cup run. He may not have satisfied all desires but he still gave the team two 40-goal seasons and returned a key centerman.
Anton Stralman (2011)
A defenseman full of promise, Anton Stralman's NHL career hung in the balance after featuring in 51 games for Columbus in 2010-11. After failing to stick with New Jersey on a tryout contract during the early stages of the 2011-12 season, Stralman inked a one-year, $900,000 deal with the Rangers.
Given the chance to jump-start his career in New York, Stralman ran with the opportunity and became an integral part of a Rangers defense that relied heavily upon a rotation of just five players during the team's 20-game playoff run. After posting 18 points and a plus/minus rating of plus-9 in 53 regular season games, the Tibro, Sweden, native had six points in the postseason.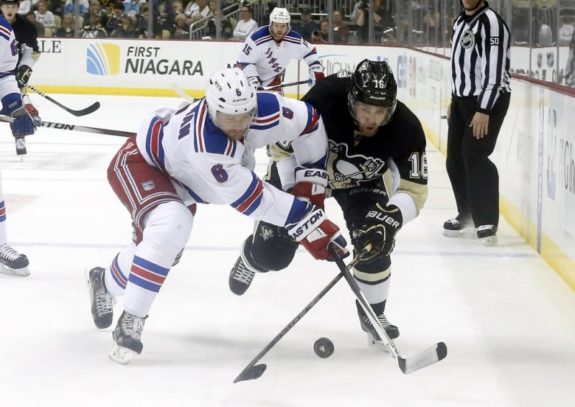 Stralman's strong play earned him a two-year, $3.4 million deal with the Rangers, and the team was once again rewarded for its faith in the player. Despite registering a combined 20 points in 129 games in 2012-13 and 2013-14, Stralman posted impressive Corsi for percentages of 56.8% and 56.2%, respectively, during those campaigns.
In 2013-14, Stralman was vital to the Rangers' run to the Cup final, but was not offered a new contract by New York management in the summer of 2014. In fact, the Rangers never even told Stralman they weren't bringing him back, electing to sign veteran blueliner Dan Boyle instead.
Stralman went on to sign a five-year, $22.5 million deal with the Tampa Bay Lightning and had the last laugh when the Bolts eliminated the Rangers in Game 7 of the 2014-15 Eastern Conference final. During that same season, Stralman established career-highs in games played (82), goals (nine), assists (30), points (39) and plus/minus (plus-22).