The New Jersey Devils' season is over, but the sounds of hockey were emanating from the Prudential Center Friday night. Former NHL foes from the Devils, New York Rangers and New York Islanders shook the cobwebs off their gear to skate in the Third Annual Mike Nichols Charity Hockey Game to raise awareness and funds to benefit spinal cord research and quality of life initiatives.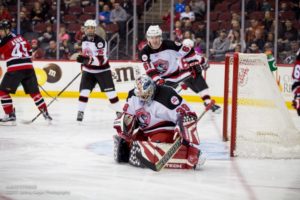 "I'll probably regret [putting goalie gear back on in] a little bit now as I start to cramp up while doing this interview," said former Islander goaltender Rick DiPietro who sported his old USA Hockey Olympic pads with a laugh. "Sometimes watching the playoffs you get the itch to play and then play in this game and realize there's no chance that's going to happen."
While the cramps will dissipate, the memories, support, and money raised with each sore muscle will help the Christopher & Dana Reeve Foundation and The Nichols Family Trust to provide medical needs for Mike Nichols, a member of the New Jersey hockey community.
 January 4, 2014
"I was playing in a high school hockey game and we were on the penalty kill," Nichols remembered. "The puck got chipped behind the defense and I had a step on them. I slowed up in the offensive zone to get control of the puck. He checked me from behind and then he fell on top of me so I couldn't pop up. I hit the boards head first."
Nichols immediately knew something was wrong when he could not get up off the ice. The Monroe Township varsity hockey player fractured his C5 vertebrae and was airlifted to Morristown Medical Center. His injury at Skylands Ice World led to paralysis, and almost cost Nichols his life.
"Initially, I had a stroke after my injury and I couldn't move my right arm," said Nichols. "I also had a ventilator so I wasn't able to breathe on my own. Shortly after that, I flatlined."
#MikeyStrong
It has taken some time, but Nichols has regained movement in his right arm and no longer needs the assistance of a ventilator to breathe. Now an ambassador for the Christopher & Dana Reeve Foundation, he is grateful to the hockey community that has supported him since the accident.
https://twitter.com/DerekStepan21/status/421424780278247424
"Whether I get back on the ice or not, I will always be a hockey player at heart," Nichols stated in the press release announcing the charity hockey game. "The love I have for this sport fuels my mission to get everyone living with paralysis out of their wheelchairs and to a better quality of life."
In November of 2014, just 11 short months after his injury, Nichols met former New York Jets quarterback Boomer Esiason and his WFAN radio partner Craig Carton, and the seed was planted for a charity hockey game.
"I love the game of hockey," noted long-time Ranger fan Esiason. "The game of hockey is a beautiful game, it's a wonderful game, a tough game … But it's also a family game. Hockey is a real family … So when somebody like Mikey comes along, and he sits on our radio show and says he doesn't blame hockey for his injury, that tells you all you need to know about the love for the game … I think that's why the hockey community comes together for Mikey. It doesn't matter if it's Rangers, Devils or Islanders."
The Tri-State Area's Hockey Teams Unite
The inaugural charity game occurred in 2015 at the Middletown Sports Complex in Middletown, New Jersey and has grown every year. In 2015 and 2016, the rink was sold out and raised more than $117,000. This year the New Jersey Devils reached out to Esiason and offered the Prudential Center, and a ticket voucher, with the hope of increasing the capacity, and the money raised, for the Nichols Family Trust and the Reeve Foundation. The New York Yankees also provided vouchers for the first 5,000 attendees.
"This is a dream come true," commented Nichols. "From day one, from the first event, I said I wanted to get it at an NHL rink, and to have it here at the Prudential Center is a dream come true, a vision come true."
Honored to be part of the inspirational #MikeyStrong Charity Game tonight at @PruCenter! pic.twitter.com/guu2G17RDU

— NJ Devil (@NJDevil00) April 22, 2017
"Credit to the Devils who donated the rink to play at the Prudential Center," added former Devil and Ranger John MacLean. "It made it a big thing and it's deserved."
"Obviously playing hockey for a great cause is always a fantastic, fantastic night," said Kevin Westgarth, the lone former NHLer in the game who did not play for a local team, played college hockey at Princeton University in New Jersey. "The work that [WFAN's] Boomer and Carton did to build this event and the support of the Devils – to now be in an NHL building and see the number of people that came out to support this cause was awesome."
Team Boomer vs. Team Carton
Team Boomer was stacked with Westgarth, former Islanders Marty Reasoner and DiPietro and former Rangers Glenn Anderson, Alexei Kovalev, Tie Domi, Brian Mullen, Tom Laidlaw and Brad Richards. Decked out in red, Team Carton included 2014 Olympic silver medalist and New York Riveter Shelly Picard and former Devils MacLean, Ken Daneyko, Bruce Driver, Colin White, Grant Marshall, Doug Brown, Aaron Asham and recently retired Marek Zidlicky, Bryce Salvador, and Patrik Elias.
Patrik Elias … looked like he could still play. I felt like Jim Craig in 'Miracle' flopping out there. – Rick DiPietro
DiPietro, who broke NHL rules a few times by skating up the ice and attempting to score, faced off against Carton in net. Although Carton's goaltending style falls under the unorthodox umbrella, he made a few outstanding saves that left the crowd cheering. He also stoned DiPietro twice. But it was a line with three former Rangers that filled the score sheet.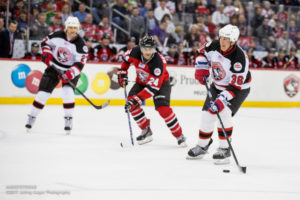 "I got Brad Richards, he's got Stanley Cups. I got Glenn Anderson, may be one of the greatest hockey players of his time, a Hall of Famer, and I got Alexei Kovalev – who I had communication issues with," Esiason said with a smile on his face, adding he stepped into Mike Keenan's shoes and benched Kovalev at one point. "They're all looking at me, and if I don't put them all on the same line we've got a problem."
Esiason's instincts paid off. The line of Stanley Cup Champions connected numerous times. Richards showcased his famous passing game, including a behind-the-back pass to a wide-open Kovalev who scored. Anderson, who netted almost 500 goals in his NHL career, collected a hat trick early in the game, and Kovalev reverted back to his playing days and toyed with Team Carton's defense all game long.
"He's always been shifty," said Driver, a Stanley Cup Champion himself. "It's been a long time since I've chased Alexei Kovalev around in practice when we played across the river for the Rangers. [I] used to have to face him in 1-on-1's every practice."
Goals did come in bunches for both teams with Will Reeve, son of Christopher and Dana, notching a hat trick for Team Carton. But it was the combination of former enforcers, Domi and Westgarth, who netted one of the prettiest goals of the night on a 2-on-1.
I think some of our teams might have missed some of our skills. Maybe if we ended up together I could have played a little longer and scored some more goals. – Kevin Westgarth
Giving Back
While the game was the main event, and Team Boomer won 8-6, the real winners were the Christopher & Dana Reeve Foundation and Mike Nichols. The fans in attendance did not forget that as they chanted his name multiple times throughout the night, including when he dropped the puck for the ceremonial faceoff.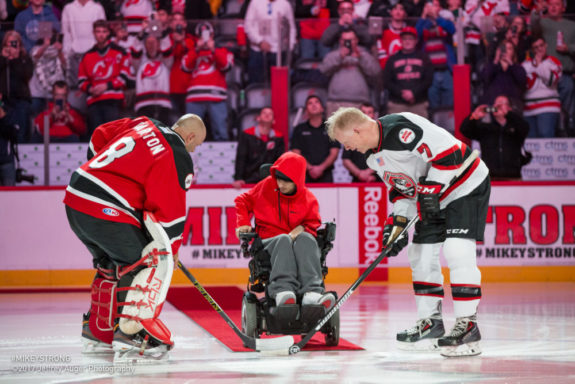 "He's got his head on straight and just love his demeanor," added Westgarth, who now works for the NHL. "He's taken the best of a bad situation, and obviously trying to help everybody that's been confronted with a challenge like his and beyond that. It's really incredible and to have him here to be a part of the event is critical, and it's so incredible to see the reaction not only the fans have but the guys in the room as well."
"Unfortunately, the biggest winner is the guy who lost the most and that's Mikey Nichols," Esiason said post-game. "He came into our studio three years ago and basically blew us away and that's why we've done what we've done.
"Mike was in the locker room before the game, and seeing that smile and knowing that at least for three hours we could distract him and make him really feel good about what he's accomplished since he got injured. He has been the inspiration for us and I'm very thankful that I've met him."
"You gotta give Mikey so much credit," noted DiPietro. "He tells everyone that at some point he's going to have skates back on his feet, and I believe him."
Thanks to everyone who supported the @WFAN660 @BoomerandCarton #MikeyStrong Charity Hockey Game presented by @mmschocolate! pic.twitter.com/RBHJwrKtgR

— New Jersey Devils (@NJDevils) April 22, 2017
Nichols is truly an inspiration to everyone he meets. Not many people would be able to move past that January 2014 night. He has shifted his grit and determination on the ice to helping others like him who have spinal cord injuries. Add in the fact that he's united former foes and he really fits the hashtag Mikey Strong.
For more information on how to help support Mike Nichols or the Reeve Foundation please click here.
At-large-contributor.
Formerly ESPN, SNY, and SNY.tv.
4-time Emmy winner, 2-time NY Emmy nominee for short-form writing.