The 2012 NHL Lockout has cost ice hockey the 2012-13 season. A shortened (probably 48-game) 2013 season will take its place. The loss of hockey is not a positive thing for any franchise on any level, especially in a business sense.
During last year's NBA lockout there was general consensus amongst bloggers and writers that a shortened season would benefit the Miami Heat. The Heat would go onto win the NBA championship that summer. The shortened NHL season will undoubtedly benefit certain teams over others.
Here's a look at five teams that could enjoy an advantage from a 48-game schedule starting in the second half of January:
Los Angeles Kings
The Kings start their Stanley Cup defense later than expected. Their incredible run as the eighth seed in the West starting last April and finishing in June seems a long time ago.
The previous two Stanley Cup winners (Chicago- 2010 and Boston- 2011) have suffered from slow starts and have ultimately fallen in the first round of the postseason while looking tired. A slow start on this occasion could be extremely costly in such a short season.
However, there are a lot of reasons to expect that this Kings line-up will dodge the dreaded 'Cup hangover'. The memory of LA's cup success will be less fresh in their opponents minds and a condensed fixture schedule will give teams less time to prepare.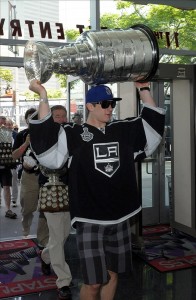 Los Angeles' roster has had time to rest up after their long 2011-12 season. Certain key players will have time to enter this new, shorter season fresh. Most important will be goaltender Jonathan Quick, who has played a lot of games over the past three seasons. He was his team's undisputed MVP last season finishing with a .929 save percentage, a 1.95 GAA and 10 shutouts.
A shortened NHL season will also benefit a veteran defense, which will definitely pleased to have had a little extra rest. Willie Mitchell, Rob Scuderi and Matt Greene give this blue-line physicality, leadership and size. A shortened and delayed season should have given these players the time to rest up and come back playing their physical style once again.
This is also a team that shouldn't be too disrupted with a shorter training camp and preseason. They return a virtually identical roster to the one that seemed to figure it all out during their postseason run last summer. There should be little to no adjustment period for this roster compared with other teams around the league.
LA may not be a favourite to retain the Stanley Cup, but they no longer look like a particularly strong candidate to suffer heavily from a slow start or poor defense.
Boston Bruins
Wayne Whittaker posted a strong article detailing some of the negative impacts of a lockout and shortened NHL season on the Boston Bruins. However, there are plenty of reasons to believe that, particularly in the short-term, this lockout gives the Bruins a great chance to win a second Stanley Cup in three seasons.
The Boston roster that looks set to start the 2012-13 season is not dissimilar to the one that lifted the 2011 Stanley Cup. They are known to be a tight-knit group of players and have shown tremendous chemistry at various points during the past three seasons. They should be very well-equipped to adapt quickly to playing as a team once again later this month.
The two most important factors for Boston Bruins success this year are goaltender Tuukka Rask and defenseman Zdeno Chara. Captain Chara is the undisputed MVP and star of this team. He is a fierce leader, a huge minute eater and one of the league's elite defensemen. However, he is also 35 years old.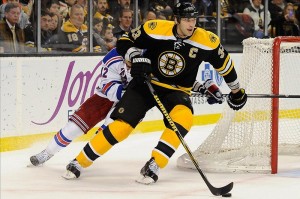 Chara has remarkably managed to never miss more than five games in a season during his six-year Bruins career, but a bigger factor for Boston is ensuring that their top player is fresh, and the shortened NHL season should benefit that hope.
Meanwhile, 25-year old Rask is set to take the reigns from Tim Thomas as the team's #1 goaltender. A real concern entering the season is that Rask had never played more than 45 games in a season and that he might break down having to handle the heavy workload. However, he won't get tested that way in 2012-13 and should be fresh at the crucial time of year. He has a very capable back-up in Anton Khubodin to help him handle the dense schedule as well.
Buffalo Sabres
The most expensive Sabres roster in the franchise's history disappointed in 2011-12 missing the playoffs altogether. The team's young talent struggled and several of the important veteran signings ultimately disappointed. The result was a fairly major upheaval at least year's trade deadline with Cody Hodgson the most notable acquisition.
Buffalo had made some nice moves prior to the 2012 lockout coming into effect adding some grit with Steve Ott.
A shortened NHL season could benefit Buffalo in two important ways. Firstly, they will be able to enter this season mentally refreshed. They have strong skaters who should succeed against some of the league's older tired legs in the dense schedule.
Most importantly, the team's top player goaltender Ryan Miller should benefit from a shortened schedule. Miller has shown before that he likes playing lots of games close together, but that has worked against him in the past. His numbers were slightly down in the past two seasons reflecting inconsistencies that plagued have plagued Miller's game.
Buffalo needs Miller to play at his best, and a shortened NHL season could well be just the kick that the 32-year old's career needs.
Edmonton Oilers
Edmonton haven't necessarily seen the fantastic success that they might have been hoping for when they sent Jordan Eberle, Taylor Hall and Ryan Nugent-Hopkins to the AHL, and then Nugent-Hopkins to the 2013 World Junior championships.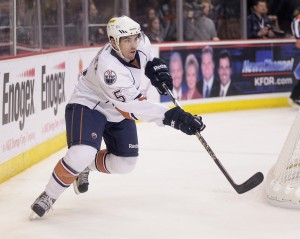 Eberle and Co. leave the Oklahoma City Barons just seventh in the Western conference, though in fairness they have produced offensively, while Nugent-Hopkins captained a Canadian team that missed out on a medal for the first time in 14 years. Those players will have the confidence of scoring large amounts of points and they should be hungry for success after their team disappointments.
Meanwhile, college graduate blue-liner Justin Schultz exceeded all expectations in his first stint in professional hockey.
Schultz dominated the AHL ranking second in the league for scoring with 48 points in 34 games. Defensemen usually need a little longer to adapt to the pace of professional hockey, but the University of Wisconsin product was practically faultless scoring 18 goals amongst his 48 points.
Schultz won't light up the NHL in that way, but if the Oilers are going to enjoy success their blue-line will be vital and if their blue-line is going to be successful, then Schultz will be pretty important. Maybe he can catch fire in a shortened NHL season.
New Jersey Devils
The Devils will have a difficult time without former captain Zach Parise. He was the team's leading two-way player and a crucial part of this team's offense. New Jersey's success is now dependent upon strong team defense and goaltending. If they can keep up the style of game that they played under Peter De Boer last season and in the postseason, then they still stand a chance of generating some success.
The fact is that this team's defense and goaltending are not young. Marek Zidlicky is 35, Henrik Tallinder is 33 and Bryce Salvador is 36. Meanwhile, in net, Martin Brodeur is 40 and Johan Hedberg is 39.
The fact that the team has a veteran duo in net should help to negate the dense schedule caused by a shortened NHL season, while the likes of Andy Greene, Mark Fayne, Anton Volchenkov and Adam Larsson should ensure that the elder statesmen on the blue-line are not overly strained.
New Jersey's veterans should benefit from some extra time, off and a shorter season in terms of games and time frame.