The Arizona Coyotes will be without forward Max Domi indefinitely after he underwent hand surgery, the team announced on Tuesday.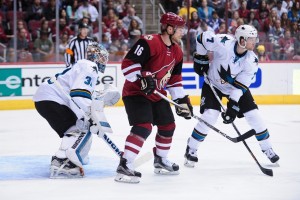 Domi injured his hand during a fight with the Calgary Flames' Garnet Hathaway on Dec. 8. He was considered week-to-week before today's announcement.
The 21-year-old has five goals and 11 assists through 26 games this season, after an 18 goal, 34 assist rookie campaign where he skated in 81 contests with the Coyotes. Before the injury, Domi's current production put him on pace for a 49-point season in 2016-17.
Domi's loss is a big one for the Coyotes, who are 9-14-5 and in seventh place in the Pacific Division. The team's 2.1 goals for and 3.2 goals against per game are both ranked 29th in the league.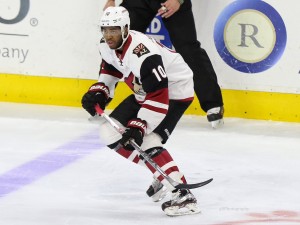 Despite a plethora of talented young players, the Coyotes have been unable to find any sort of rhythm and have dropped seven of their past eight games.
The team will face an uphill battle on offense without Domi. Radim Vrbata currently leads the team with eight goals and 10 assists in 26 games and Anthony Duclair, who found chemistry with Domi during their first season playing together, has just four points in 25 games.
Although a timeframe for Domi's return has not yet been announced, the team did say that he is expected to make a full recovery and return this season.
Team Canada Makes Four Cuts to WJC Roster
Team Canada has cut four players from their World Junior Championship roster, according to TSN's Mark Masters on Tuesday.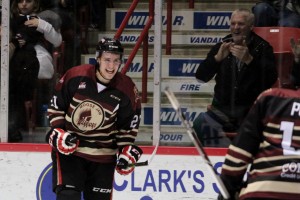 The cuts include forwards Brett Howden of the Moose Jaw Warriors (WHL), Nick Merkeley from the Kelowna Rockets (WHL), Austin Wagner from the Regina Pats (WHL) and defenseman Victor Mete from the London Knights (OHL).
The decision to cut Mete means Canada's tournament team will not include any blueliners from the OHL.
Team Canada's roster now sits at 27 players and there are five cuts still left to be made.
15 forwards left: Barzal, Cirelli, Dube, Dubois, Gauthier, Joseph, Jost, McLeod, Raddysh, Roy, Senyshyn, Speers, Steel, Stephens, Strome

— Mark Masters (@markhmasters) December 13, 2016
Nine d-men left: Bean, Brisebois, Chabot, Clague, Fabbro, Girard, Juulsen, Lauzon, Myers

Two will likely be released tomorrow night

— Mark Masters (@markhmasters) December 13, 2016
Oilers Will Not Loan Puljujarvi for WJCs
The Edmonton Oilers will not loan Jesse Puljujarvi to Team Finland for the World Junior Championship, general manager Peter Chiarelli announced on Tuesday.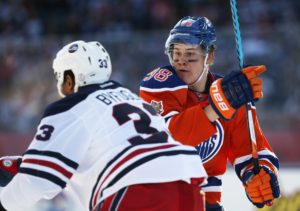 The 18-year-old rookie has tallied one goal and seven assists in 22 games with the Oilers this season after being selected by the club fourth overall in the 2016 NHL Entry Draft.
Puljujarvi is averaging just 11:57 of ice time when he has figured into the lineup, but he's shown signs of being the player the Oilers expect he will be in the future.
He scored in his first NHL game during a 7-4 win over the Flames on opening night on Oct 13 but has been held without a goal since that time. He has one multi-point game (two assists) and is a plus-five for the year.
It's possible the 6'4″, 203-pound forward sees time in the American Hockey League with the Bakersfield Condors this season.
Avs' Varlamov's Status
Colorado Avalanche goaltender Semyon Varlamov has injured his groin and will be out of the lineup for the team's game against the Philadelphia Flyers on Wednesday, according to head coach Jared Bednar.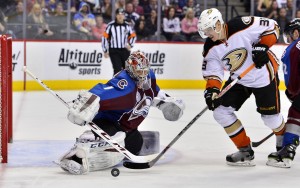 The 28-year-old netminder has a history of groin injuries that have kept him out of an Avalanche uniform at times, dating back to the start of the 2014-15 season.
News of the injury came after Varlamov made 51 saves during a 3-1 win over the Toronto Maple Leafs on Sunday. In 19 games this season, Varlamov has posted a 6-12-0 record with a 3.21 goals-against average and a .904 save percentage.
It's not currently known the extent of Varlamov's absence from the lineup but Bednar does not seem to expect it for be for very long.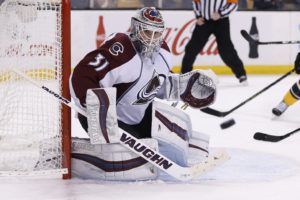 "Varly tweaked his groin, so he's out day to day," Bednar said on Tuesday, according to the Denver Post's Terry Frei. "I don't think it's anything major, but he'll miss (Wednesday's) game.
"Apparently, he's feeling better today than yesterday, so I'm hoping it's going to be shorter than what he's had in the past."
The Avalanche will likely start goaltender Calvin Pickard on Wednesday and provide an update on Varlamov's status sometime in the next few days.