Through games of Monday, Dec. 20: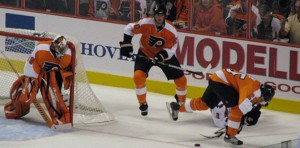 1. (3) Philadelphia (22-8-5): Despite a 5-0 loss to Florida on Monday, not many teams are playing better than Philadelphia right now. The Flyers play an exciting, up tempo, physical brand of hockey but are now without Chris Pronger for six weeks.
2. (6) Vancouver (19-8-4): Roberto Luongo has won five straight starts and has been absolutely dominant during that stretch. Big showdown with No. 3 Detroit Wednesday night.
3. (1) Detroit (20-8-4): The Wings have struggled lately, especially late in games. A Brian Rafalski mistake led to a game-tying goal that kept Chris Osgood at 399 career wins.
4. (2) Pittsburgh (22-10-2): Evgeni Malkin broke out big-time on Monday, recording two goals and three assists in a 6-1 win over Phoenix.
5. (7) Dallas (20-10-3): The Stars are quietly enjoying a great season, though the Brad Richards trade possibility is making more headlines than the team's solid play. Someone will notice eventually.
6. (14) Nashville (17-9-6): Another team that has been flying under the radar, the Predators have won 8 of 10 despite not having a bona fide scoring threat (Steve Sullivan leads the team with 10 goals and 10 assists).
7. (8) Colorado (19-10-4): The Avalanche is amongst the league's best despite the fact their goaltending has been below average (3.02 goals per game). Matt Duchene (13-21-34), Paul Stastny (13-19-32), Milan Hejduk (11-20-31) and defenseman John-Michael Liles (5-23-28) have led the league's most prolific offense, while Thomas Fleischmann has shined since being acquired from Washington.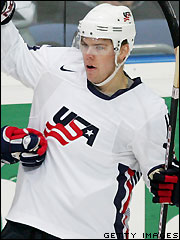 8. (5) Montreal (19-12-2): The Canadiens opened a seven-game road trip with a loss to Colorado. This stretch should tell us a lot about who Montreal truly is.
9. (15) Atlanta (19-11-5): Atlanta leads the league with five overtime wins.
10. (19) Tampa Bay (19-10-4): Tampa Bay is 14-0-1 when leading after two periods.
11. (17) San Jose (17-11-5): Useless fact — Logan Couture (21 years, 8 months) became the youngest player in team history to score a power-play goal in overtime in a win over Dallas last week.
12. (9) Los Angeles (18-12-1): Anze Kopitar has at least one point in six of his last seven games (6-5-11) and leads the Kings with 14 goals and 18 assists.
13. (4) Boston (17-11-4): The Bruins have looked lifeless in too many games of late. Changes may be on the horizon.
14. (12) New York Rangers (20-14-1): Winger Vaclav Prospal skated at practice for the first time this season on Monday. However, there is still no timetable for his return.
15. (10) Washington (19-12-4): Caps finally break long losing streak with 3-2 win over hapless Senators.
16. (13) Phoenix (15-10-7): Heading into Monday night, Phoenix had allowed just 18 first-period goals in 31 games. The Coyotes proceeded to allow two in the opening period (and three more in the second) in a 6-1 loss to the Penguins.
17. (11) Chicago (18-14-3): Jonathan Toews is just two goals shy of 100 for his career. Just as impressive is the fact he ranks No. 4 in the league in face-off percentage, winning 59.8 percent of his draws.
18. (20) Anaheim (18-15-4): Jonas Hiller made 45 saves in a 3-0 win over Boston Monday.
Hiller stars in win over Bruins
19. (21) Minnesota (15-13-4): The Wild rank fifth in the NHL in power-play percentage (23.3%) and have scored at least one PP goal in five of their last six games.
20. (25) Carolina (15-13-4): Prior to losing to Tampa Bay Monday, the Hurricanes had won four straight.
21. (16) St. Louis (15-12-5): The Blues are 7-1-1 against the East and 8-11-4 against the West. Unfortunately for the Blues, they play in the West and five of their next six are against Western squads.
22. (18) Columbus (16-13-3): Despite a four-game winless streak (0-2-2), the Blue Jackets are off to the best start in team history.
23. (22) Florida (15-16-0): Russian rookie Evgeny Dadonov netted his first NHL goal just 29 seconds into the game against Carolina last Wednesday.
24. (26) Calgary (14-17-3): Jarome Iginla has points in 10 of his last 11 games (5-8-13) and is just five assists shy of 500 for his career. He scored his 450th career goal on Nov. 22.
25. (24) Edmonton (12-14-5): Tom Gilbert (290 straight) and Andrew Cogliano (277 straight) have played every game the past three seasons as well as all games this season. Neither player has missed a game in their NHL career.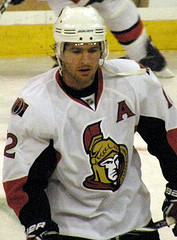 26. (27) Ottawa (14-17-4): Mike Fisher is tied for the league lead in blocked shots among forwards with 46.
27. (23) Buffalo (13-16-4): Since Lindy Ruff was named Buffalo's head coach on July 21, 1997, there have been 156 coaching changes in the NHL. Will Ruff make it to see coaching change No. 157, or will it be him?
28. (28) Toronto (12-17-4): The Maple Leafs have posted a record of 9-7-1 with Colby Armstrong in the lineup this season. Without him, the Leafs are 3-10-3.
29. (29) New Jersey (9-21-2): The Devils' current eight-game road losing streak is the third-longest in team history (the longest is 12, set in 1983).
30. (30) New York Islanders (6-18-6): The Isles slapped Dwayne Roloson (2.67 GAA, .906 save percentage) in the face by giving rookie Nathan Lawson his first NHL start over the longtime vet in 4-3 loss to the Coyotes. The clock on Garth Snow's firing should be ticking.
(Steve Kendall is a freelance writer who has covered hockey for nearly 20 years for publications such as The Boston Herald, The Worcester Telegram & Gazette and New England Hockey Journal.)
Steve has been a writer for 20 years, and has covered the NHL, NCAA, and amateur hockey for the likes of the Worcester Telegram & Gazette, the Boston Herald, and New England Hockey Journal. Follow me on twitter @stevekendallthw