In today's NHL rumors rundown, will the Pittsburgh Penguins make a push to sign Kyle Dubas after this season ends? Meanwhile, what is going to happen in Ottawa where there are a number of questions relating to players and management that require answers? Will Mikael Backlund ask for a trade if the Flames don't make the right moves this summer? Finally,
Penguins Will Push Hard For Dubas If Available
According to Mike Stephens of SInow and The Hockey News, "The rumblings that I've heard at least are that Fenway Sports Group is ready to put the full-court press on Kyle Dubas if he leaves Toronto." He adds that he's aware he's not normally considered an insider, but he's heard sources of his on this are in the know. He also noted, "Not sure if this is even really newsworthy considering Pitt would be dumb not to…"
---
Latest News & Highlight
---
The Penguins fired Ron Hextall, Brian Burke, and Chris Pryor on Friday and will be looking immediately for a replacement it is likely Dubas would be offered the GM and President of Hockey Operations position, which would be a promotion over this current role with the Maple Leafs. Obviously, much of Toronto's interest depends on how well they fare in the playoffs this season.
A Number of Updates Coming Out of Ottawa
Bruce Garrioch noted yesterday that Nick Holden likely won't be back with the Ottawa Senators, but there are a number of other updates coming out of the organization this week. Regarding GM Pierre Dorion reportedly returning next season, DJ Smith noted, "Smith says he was in the room and Dorion made no proclamation he would return. Smith says they hope to be back. Feel this team is headed in the right direction." He added, "Dorion told the players and staff "he could be back." and says a report by a podcaster was incorrect.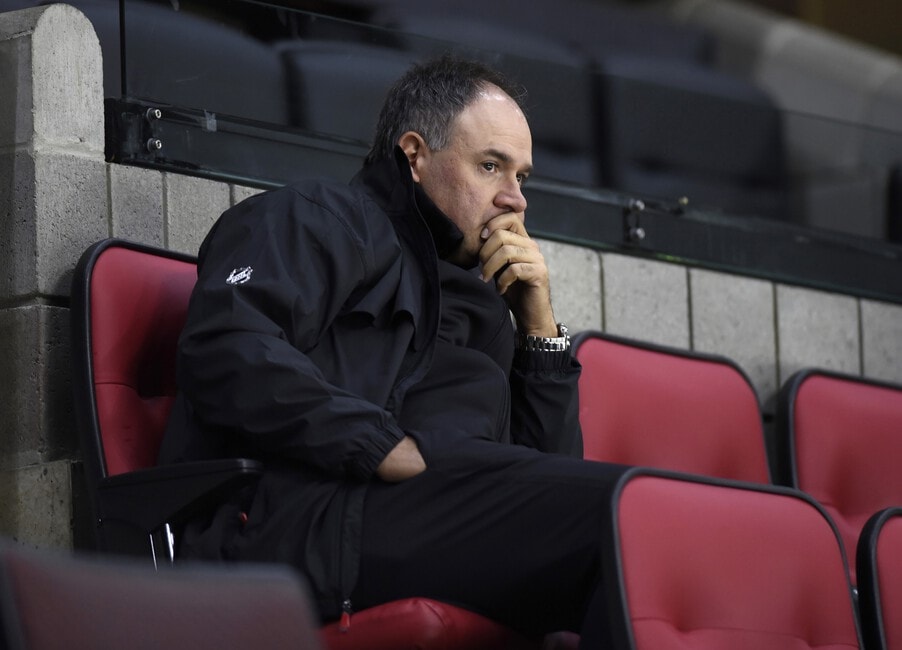 This comes after an initial report from Brent Wallace that Dorion told the players and staff members he would be returning next season. While he does have two years remaining on his contract new ownership and missing the playoffs may make him a candidate to be released.

When it comes to some of the players, goaltender Cam Talbot says about his possible return: "Never say never. Don't want to close any doors." Talbot is are that Anton Forsberg is signed and Mads Sogaard has shown promise. The Senators don't think Talbot will be back but Talbot noted, "I know I still have a lot of good hockey left in me."
Finally, Alex DeBrincat says he's "open" to having discussions on a long-term deal. He's going to take the next couple of months to talk with his agent and has family, but he's not closing the door on any and all options in Ottawa.
Backlund Not Sure He Wants to Return to Calgary
Eric Francis is reporting that Mikael Backlund isn't sure what's next for him. He's got one more season on his current contract at $5.3 million but noted in the end-of-the-season media avails on Friday that he's not sure he'd be open to a contract extension in Calgary. He noted that frustration from this season has him wanting to see what the organization does this summer first, as he wants to win a Cup first and foremost.
Related: 7 Key Flames Players Entering Final Year of Contracts
If he's unsure about his future, one has to wonder if that will lead to trade discussions in the summer. The Flames might be best served to shop him around and have some suitors in line heading into next season's NHL Trade Deadline just to ensure he doesn't walk into a situation where he can leave for free.
Elias Lindholm was also very non-committal during his media avail.
Capitals and Laviolette to Part Ways
According to multiple sources, the Washington Capitals and head coach and Peter Laviolette will amicably split and he'll test the market as a free agent coach. Sammi Silber writes, "Per reports, Peter Laviolette requested a morning meeting with Brian MacLellan, where he told the Capitals he wanted to part ways." She adds, "His three-year tenure in D.C. ended on a tough note as the team missed out on the playoffs for the first time since 2014."
His contract was expiring this season and he felt it was time to see what else was out there. Pierre LeBrun also noted, "Laviolette's contract was expiring June 30. This is as much about the veteran coach wanting to hit the free-agent market and bet on himself as it is the team also wanting a new voice behind the bench."