In today's NHL rumors rundown, the Boston Bruins were busy Monday morning getting two veteran players signed to low-cost contracts. What does that mean for Pavel Zacha, who has his arbitration hearing set for Aug. 11?

Meanwhile, Artemi Panarin scoffed at rumors he might be a possible trade piece out of New York. Finally, are the Chicago Blackhawks currently engaged in trade talks with any teams about moving Patrick Kane?
Bruins Ink Bergeron and Krejci to 1-Year Deals
The Bruins organization didn't waste any time getting to work this week. Earlier on Monday morning, it was announced that the team had officially signed Patrice Bergeron to return for another season. He signed for one year at a base salary of $2.5 million, with another $2.5 million in performance bonuses. Not long after, the Bruins revealed the team had signed David Krejci to return. The two deals together total a $3.5 million combined cap hit for next season, with another $4.5 million in combined potential bonuses.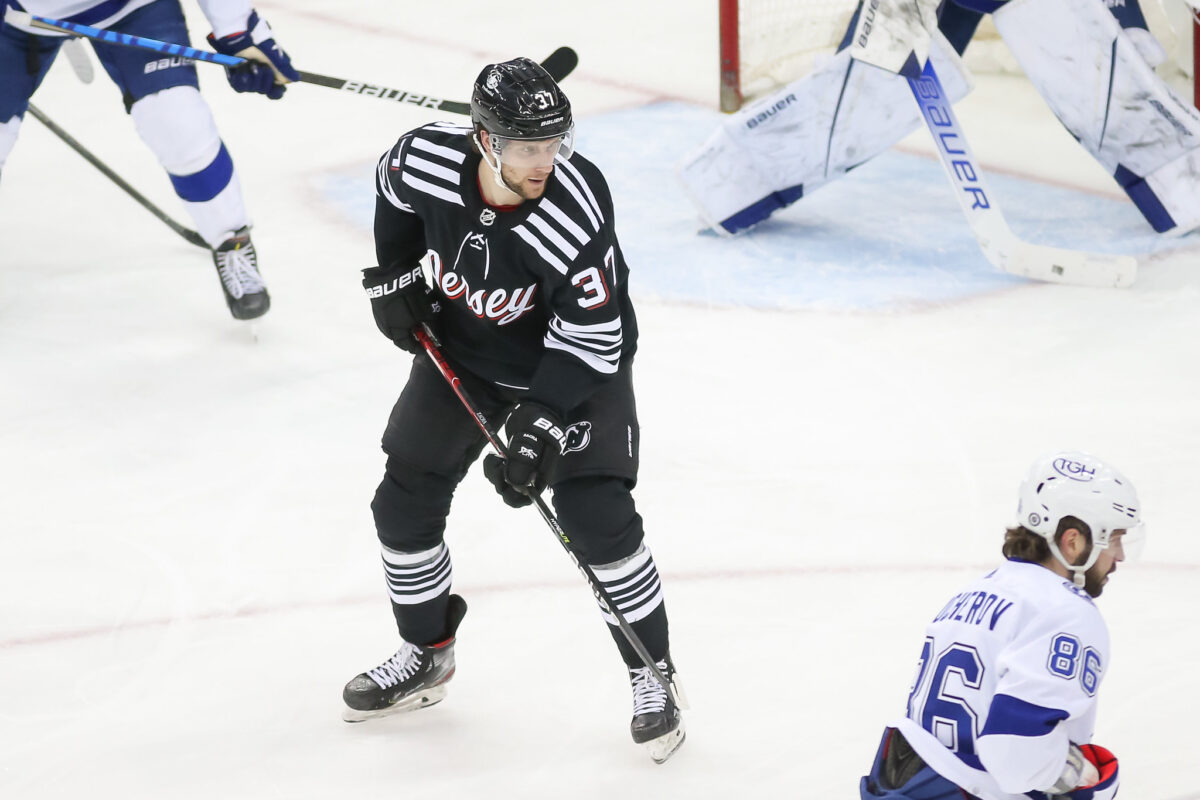 The next order of business for the Bruins is Pavel Zacha's arbitration hearing, which the Bruins would most likely want to avoid. Zacha is not looking at the two contracts the veterans just signed as he prepares to file his case, but is more looking at Lawson Crouse's, $4.3 million per season deal for five years with the Arizona Coyotes. They are the same age, have a similar amount of NHL games played and Zacha's got 59 more points to date, both players drafted in the first round of the 2015 NHL Entry Draft.
The Bruins are also working on trying to get an extension done with 26-year-old David Pastrnak. He is their biggest pending issue — even more than deals for Bergeron and Krejci were. The team would like to get him signed to an eight-year extension but it will be costly. He could come in at around $10.5 million or more per season.
Panarin Scoffs at Trade Rumors Out of New York
Reports in July suggested Rangers' GM Chris Drury wasn't terribly pleased with the play of Artemi Panarin in the 2022 playoffs and there was some chatter that the Rangers could be open to a possible deal that would send him elsewhere and clear out his cap hit. Panarin has responded to those rumors, saying "Speculators." He added, "I haven't heard of such a thing firsthand."
Related: Maple Leafs News & Rumors: Suzuki, Gaudette & Anderson
As part of his response, Panarin said:
"I'm sure I could play better. What did they write there? I really don't know… I'm already used to not paying attention. I'm just shocked by this. Where are they trading me? They can't trade me. If these people understood at least a little, they would know that my contract [has a no-move clause] and a trade is impossible."
Patrick Kane Trade Talk Under Way
David Pagnotta of NHL Network is reporting that there are teams engaged in trade discussions with the Chicago Blackhawks about Patrick Kane. He says that nothing is imminent and he's not expecting a deal in a day, week or anytime right away, but there are a few teams gauging what would be needed from a Blackhawks' perspective to get this deal done.
"This could stretch out into the seasons but discussions are underway and they are ongoing as far as I know." He adds, that one of the teams that has shown interest and had dialogue with the Blackhawks are the Dallas Stars. They have over $11 million in cap space and had internal discussions about the potential of adding the player during the season. "They are certainly a team that would like to do it," says Pagnotta.
---
Latest News & Highlight
---