In today's rumor rundown, there are follow-ups as to what's happening in Philadelphia after Hextall was released, varied reports are surfacing regarding the status of Artemi Panarin's business discussions with the Columbus Blue Jackets, the Rangers might reconsider signing Kevin Hayes and the Oilers got some good news on an injured defenseman.
Who is the Favorite to Replace Ron Hextall?
It didn't take long after Ron Hextall was relieved of his duties as GM of the Philadelphia Flyers that names already started surfacing and possible replacements. Darren Dreger of TSN writes those names include Chuck Fletcher and Ron Francis.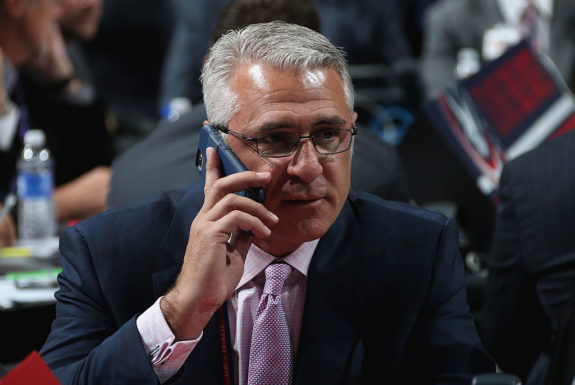 Pierre LeBrun added that Philadelphia hasn't approached the Carolina Hurricanes for permission to speak with Francis, but it is obviously early in the process and the expectation is that they will.  One thing we know for sure is that the organization will not look internally for a GM. Paul Holmgren announced that the job would be given to someone outside the organization and ruled out senior advisor and former Los Angeles Kings GM Dean Lombardi specifically.
Sam Carchidi of the Philadelphia Inquirer adds that Chris Pronger won't be interviewed despite it being common knowledge he wants to get into the general managing game.
Others have suggested a clean sweep of the coaching staff is coming and that Paul Holmgren himself is going to be active in the player movement for this team. Frank Seravalli of TSN tweeted, "Holmgren says he will personally look around for a short-term fix in goal, maybe even before new #Flyers GM is hired. "If I can make our team better, I'd be foolish not to look at it."
Related: NHL Rumors: Kovalchuk, Hextall, Canadiens, More
Panarin "Genuinely Happy" in Columbus
There appears to be good news when it comes to the situation in Columbus with Artemi Panarin.
Brian Hedger of The Columbus Dispatch reports that Panarin and agent Dan Milstein will "discuss business" in late January when the Blue Jackets are on their bye week, while Pierre LeBrun recently reported the two sides would talk over the holiday break in December. Aaron Portzline of The Athletic writes that while in Detroit, Milstein met with Columbus Blue Jackets GM Jarmo Kekalainen and assistant GM Bill Zito about other players but that the meeting was initiated by Panarin's people.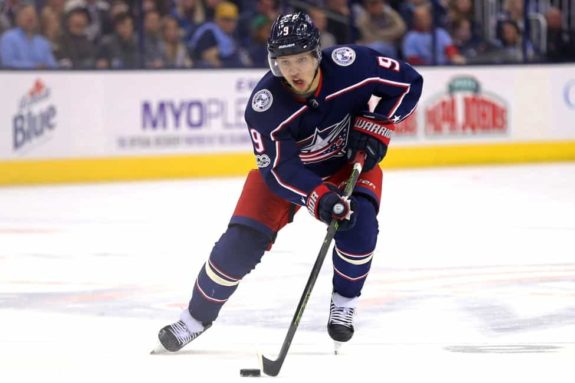 The timelines and content of each meeting may be different but the messaging here is clear; Panarin is willing to sit down with the Blue Jackets to discuss business when he wasn't before and this may mean a change of heart as he considers his playing future and whether or not the Blue Jackets are part of it.
The words coming out of Columbus is that Panarin is "genuinely happy with the way things are going this season." That at least should give a bit of hope to Blue Jackets fans. Whether each side has discussed the idea of a new contract is uncertain but Milstein did say, "We would sit down for business as soon as Artemi is ready."
Meanwhile, Kekalainen has said he's pretty much stopped talking trade talks for Panarin with any other NHL teams.
Related: NHL Rumors: Nylander, Puljujarvi, Coaching Jobs, More
Rangers Should Re-Sign Hayes?
Larry Brooks of the New York Post believes the New York Rangers would be better off re-signing Kevin Hayes unless they can get a young core winger or defenseman back in a trade.
Brooks writes:
There are two legitimate reasons for the Rangers to trade Hayes and neither has anything to do with rebuilding. One is if Gorton does not believe the pending free-agent center is worth the contract it would take to keep him off the market and in New York. The other is if the GM could acquire either a goal-scoring winger or top-four defenseman under multiple years of contract control who would enhance the Rangers' chance of contending over the next three or four years, max.

source – 'Kevin Hayes is more to Rangers than a potential trade chip' – Larry Brooks – New York Post – 11/25/2018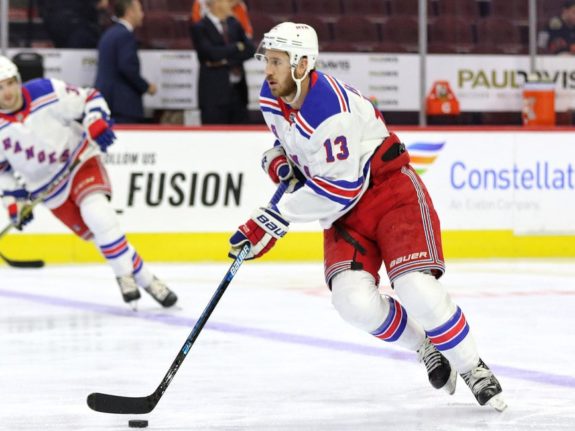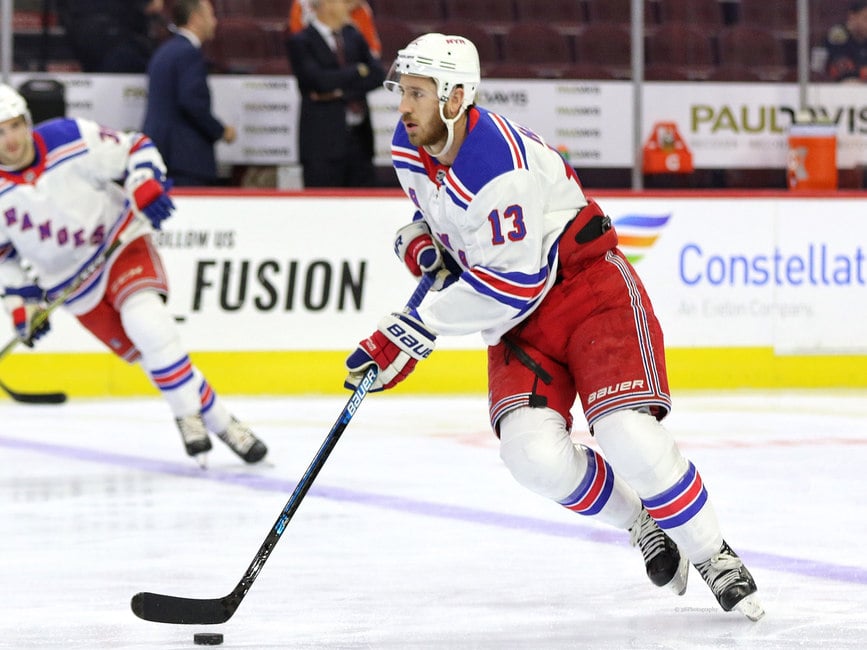 Brooks suggests a six-year, $6 million deal could be a fair amount as it would represent a small raise on his current $5.25 million deal. The Rangers aren't eligible to officially re-sign Hayes until January 1st and GM Jeff Gorton acknowledged that there haven't even been preliminary talks on an extension just yet.
Andrej Sekera Return For January?
Fans in Edmonton are excited because it looks like a return for defensemen Andrej Sekera is not far off. He skated with the team in practice on Tuesday and Jason Gregor of TSN 1260 reports, "Sekera will have pregame skates for next two weeks then see doctor. If cleared he will then enter regular practices in non-contact jersey. If no setbacks seems like January is likely return time."