In today's NHL rumors rundown, the Carolina Hurricanes aren't any closer to signing any of their big-ticket UFAs. Meanwhile, the Boston Bruins haven't even approached Jake DeBrusk about a contract extension. Which teams are interested in trading for Shane Pinto? Finally, after Mike Babcock resigned, what will happen to GM Jarmo Kekalainen in Columbus?
No Contract Extension Talks For Hurricanes' UFAs
According to Luke DeCock, writing for the Raleigh News & Observer, Carolina Hurricanes General Manager Don Waddell has revealed that contract negotiations for pending unrestricted free agents (UFAs) Brady Skjei, Brett Pesce, and Teuvo Teravainen have remained dormant since July. While the Hurricanes express a desire to secure these players for the future, the current circumstances are not conducive to reaching an agreement. Waddell emphasized that the process cannot be rushed.
DeCock writes in his piece:
"We'd like to get something done but it's not there to be done right now. We can't force it." said Waddell. Which means the Hurricanes will roll the dice on all three in pursuit of a Stanley Cup, willing to ask anything to win everything.

source – 'As training camp looms, Carolina Hurricanes roll dice on expiring contracts for big names' – Luke Decock – 09/15/2023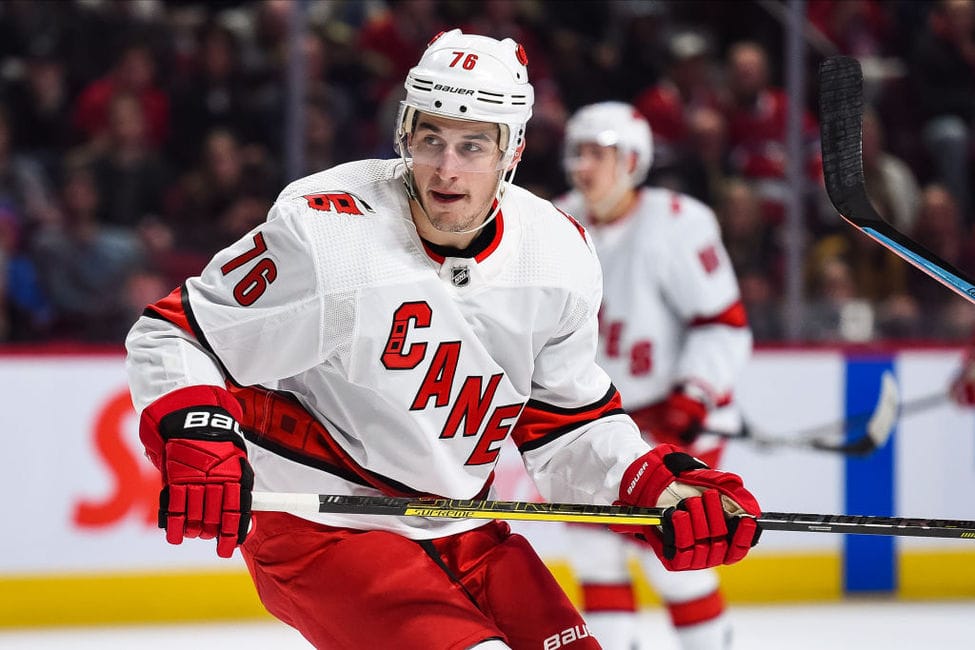 As Decock points out, failing to extend these UFAs could result in their departure without compensation after the season, posing a significant risk for the Hurricanes. Both Pesce and Skjei, integral members of the top-four defense, are likely to command substantial contracts, making retaining them a formidable gamble.
Jake DeBrusk Hasn't Been Approached By Bruins
When asked about the status of contract negotiations with the team, Jake DeBrusk brushed aside news that he hasn't had talks with the team about extending. Instead, he focused on the upcoming season. He explained, "Getting my game ready, and I guess when it comes to contract talks, it's one of those things where you need two sides to tango, and if it happens, it happens, but it's one of those things where it's obviously not my main focus, but it's going to be a big year for our team in general, and I know that if I'm doing my part and having success with production and certain things that will help our team."
---
Latest News & Highlight
---
DeBrusk, who has vocally expressed his desire to stay with the Boston Bruins on multiple occasions, is embarking on the last year of his two-year contract, carrying a $4 million salary cap impact. Come July 1st next year, he will have the opportunity to explore unrestricted free agency.
Bruins and Flyers Interested in Shane Pinto
According to Bruce Garrioch's report in the Ottawa Sun, the Ottawa Senators are facing the task of securing a contract for Shane Pinto before the commencement of training camp this Thursday. General Manager Pierre Dorion had previously stated his commitment to doing so. But, as time winds down, other teams are showing interest in a trade.
Related: Today in Hockey History: Sept. 18
Pinto has little leverage in a new deal, but there is the chance that Ottawa decides to move on if the offers are good enough. It is believed the Bruins and Philadelphia Flyers have made inquiries through his agent and they have both been told to talk to Dorion about Pinto's contract expectations.
The belief is still that the Senators will wait out Pinto and he'll eventually sign given his more limited roll on the team and how it hurts his status if he doesn't play.
Is Jarmo Kekalainen Next to Leave the Blue Jackets?
With Mike Babcock resigning on Sunday, questions in Columbus now are why GM Jarmo Kekalainen isn't following him out the door. After all, he had one job and that was to hire the right coach to turn things around in Columbus and Babcock didn't even make it to training camp before that decision bit the organization.
Sign up for our Daily NHL News & Rumors Substack newsletter

Now there are questions about how awkward things will be to start the season and whether prospects or players will avoid the team in the future.
The belief is that Kekalainen will not be fired since he released the statement on Babcock and is holding the press conference on Monday to address the coaching change. Blue Jackets' owner John P. McConnell issued a statement today, saying "We do not anticipate further changes to our hockey leadership team at this time. "Additional disruptions would be detrimental to our players and coaches as they prepare for the opening of training camp in 2 days."