The NHL's player pool is as talented as it's ever been, with star players featured across the league. In fact, there are so many that some do not get the credit they deserve. Whether it is due to the market they play in or other players on their teams consistently grabbing headlines, it is time to acknowledge those who have slipped into the background yet deserve to be recognized for their performances.
7) David Perron
David Perron's nickname should be Mr. Reliable because all he does is consistently produce offence. He hasn't finished below .80 points per game in the five seasons leading up to 2022-23, and despite being on a low-scoring Detroit Red Wings team, is on pace for his fourth straight season of 50-plus points. Now in his 16th season, the former 2007 first-rounder is aging like a fine wine as he seems to be getting better as his career comes to a close.
Where Perron really shines is in the postseason. Since the 2019 Playoffs, he ranks tied for ninth in goals with 20 and 18th in points with 38. He also carries a higher points-per-game than Mathew Barzal and Patrice Bergeron despite playing fewer games. A master of his craft, teams should be lining up if the Red Wings decide to make him available at the trade deadline.
6) Jared Spurgeon
One of the most consistent defencemen in the entire league, Minnesota Wild captain Jared Spurgeon is rarely if ever, discussed on a national level. He isn't a big-time point producer or a heavy hitter but has mastered the little details needed to have success in the NHL. With all the eyes on Kirill Kaprizov, Mats Zuccarello and Joel Eriksson Ek, the 2008 sixth-rounder is able to slide under the radar and become one of the most underrated players in the league.
Related: Wild Top 10 Players All-Time: No. 5 Jared Spurgeon
---
Latest News & Highlights
---
One area of Spurgeon's game he has mastered is the ability to stay out of the penalty box. In 13 seasons, he has played 815 NHL games and logged over 18,000 minutes, yet has never eclipsed 20 penalty minutes in a season. Despite his smaller stature at 5-foot-9, 167 pounds, he is able to use strong body positioning and stick placement to break up plays and transition the puck out of the defensive zone. He is a player any team would be lucky to have on their blue line, and a great advertisement as to why drafting smaller defencemen is not always a bad idea.
5) Nico Hischier
Nico Hischier's development over the past few seasons has been a treat to watch. He has turned into one of the NHL's top two-way centers and should receive Selke Trophy votes by the end of the season. Despite his elevated play, especially this season, his overall game is rarely discussed, with most of the focus surrounding the New Jersey Devils being directed to players like Jack Hughes, Jesper Bratt or Dougie Hamilton.
From an offensive perspective, Hischier has been sneaky good this season. He has already hit 20 goals and is a point-per-game player with 43 points in 43 games. With his play improving year after year, it is only a matter of time before he breaks through and becomes a force in the NHL.
4) Shea Theodore
Shea Theodore has developed into one of the NHL's elite offensive defencemen but continues to be overlooked. With stars like Jack Eichel, Mark Stone and Alex Pietrangelo playing alongside him on the Vegas Golden Knights, it has been hard for the 2013 first-rounder to get the appreciation he deserves. Add in the fact he has been injured for large portions of the season, and the conversation surrounding Vegas rarely seems to start with him.
Related: 7 Golden Knights' Originals Driving Early Success
How good has Theodore been over the past four seasons? He is ranked tenth in points with 123 and seventh in even-strength points among NHL defensemen with 113. He is higher on both lists than Morgan Rielly, Erik Karlsson, Rasmus Dahlin and even Pietrangelo, showing just how dominant he has been since the 2019-20 season. A key member of the Golden Knights' run to the Stanley Cup in 2018 and their blue line now, his game needs to be appreciated more.
3) Clayton Keller
Clayton Keller is the best player on the Arizona Coyotes but makes the list because, over the past few seasons, no one has talked about his play. This goes for essentially the entire Coyotes roster, as the conversation surrounding the franchise is usually focused on the arena, potential relocation or tanking. This is a shame because, since the start of last season, he has become a hidden gem in the desert.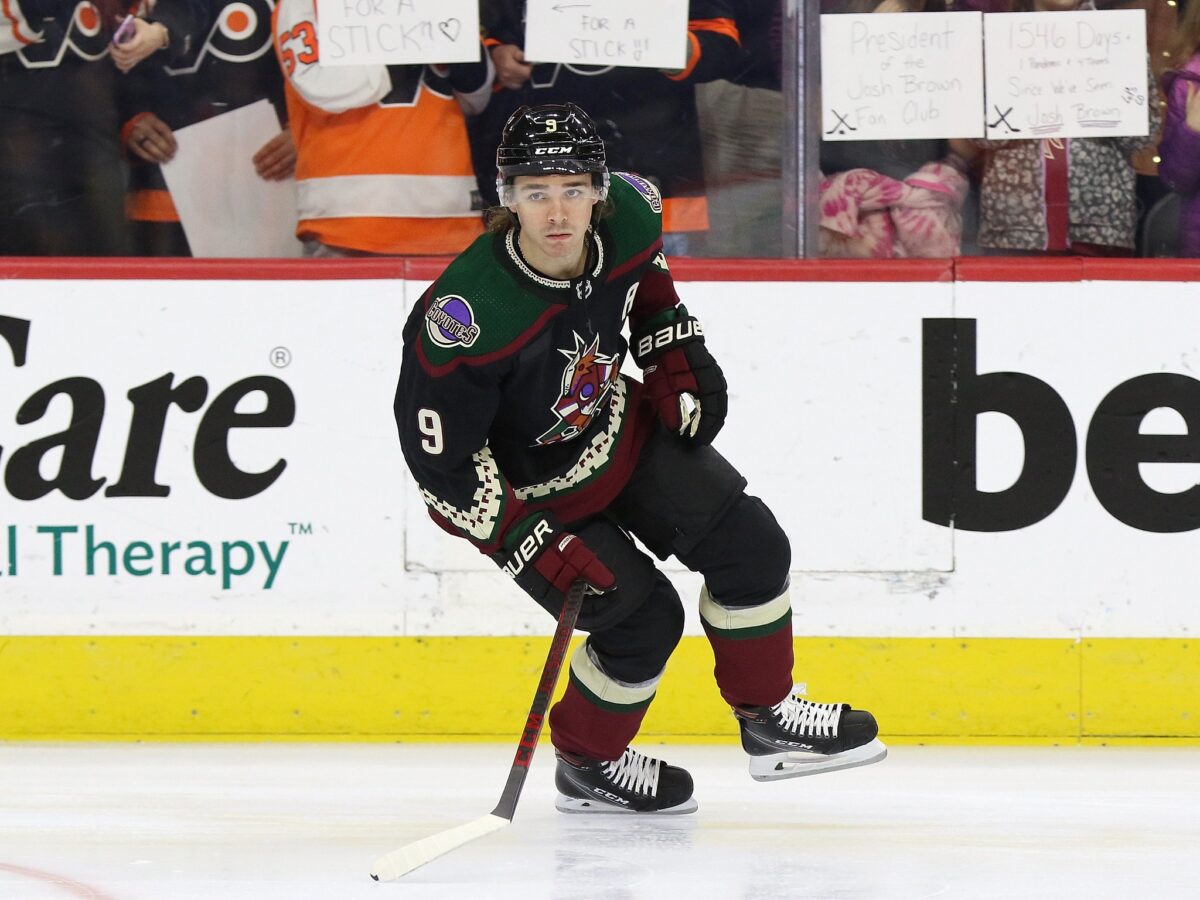 From the start of the 2021-22 season to this point, no one on the Coyotes has come close to Keller's production. His 101 points are 21 above the next-highest player on the team, and his .91 points per game is better than Bo Horvat, Pierre-Luc Dubois and Andrei Svechnikov. His $7.15 million cap hit is already looking like a steal and will continue to be one of the best contracts in the NHL until its expiry date in the summer of 2028.
2) Roope Hintz
Roope Hintz may be one of the best-kept secrets in the NHL. The Dallas Stars forward has been a .99 points per game player over the past three seasons, but like so many on this list, is overlooked because of the teammates that surround him. With the emergence of Jason Roberston and Jake Oettinger combined with established veterans like Joe Pavelski, Jamie Benn and Tyler Seguin, the 2015 second-rounder is highly underappreciated for what he brings on a nightly basis.
Related: Stars' Second-Half Success Will Rely on Roope Hintz
Whether it is at even strength, on the power play or even shorthanded, Hintz has found ways to produce offence. He is not a flashy player but finds a way to make an impact on a nightly basis. One of the best Swiss Army knives in the league, he is well worth the eight-year, $67.6 million contract extension he signed back in November.
1) Steven Stamkos
It is hard to imagine a 500-goal scorer and 1,000-point player making this list, but Tampa Bay Lightning captain Steven Stamkos is someone that doesn't get enough recognition. With players like Nikita Kucherov, Andrei Vasilevskiy, Victor Hedman and Brayden Point getting most of the attention in Tampa, the former 60-goal scorer is sometimes seen as an afterthought when the team is discussed. In the end, the lack of discussion around his play seems to be a positive as he hit 100 points for the first time in his career last season and is on pace for his first back-to-back 90-plus point seasons in over a decade.
One of the reasons Stamkos' name is not talked about as frequently is injuries. This allowed players like Kucherov and Point to take over the offence and solidify themselves as some of the top forwards in the league. Add in the fact that while Tampa Bay is a growing market, it is not talked about as much on a national scale, and it makes sense why in the past few years, his play has gone under the radar. Watch for him to have a massive second half to the season as he looks to lead Tampa Bay to their fourth straight Stanley Cup Final.
Plenty Of Underrated Stars Around The League
Underrated stars are vital to an organization's success as they can be the difference between a long playoff run or failing to make it out of the first round. From scoring big-time goals to making game-saving defensive plays, they make a difference on a nightly basis, even if their contributions go unnoticed on occasion. These seven players listed are playing major roles for their teams and deserve to be recognized more for their strong play.
---
---