When general manager Peter Chiarelli decided to part ways with a pair of draft picks to acquire netminder Cam Talbot from the New York Rangers, the hope was the Edmonton Oilers had finally found a goalie capable of handling the responsibility that comes with being the go-to-guy for a struggling hockey team. Unfortunately, the 28-year old has been unable to deliver on that promise and has essentially handed Anders Nilsson the opportunity of a lifetime.
Nilsson has had another great game. 3 on 3, what do the #Oilers have to lose?

— Paul Almeida (@AzorcanGlobal) December 3, 2015
After facing the Boston Bruins on Wednesday night in what turned out to be a 3-2 shootout win for the team wearing Orange and Blue, the towering Swede has now started 11 of the Oilers last 14 games while posting a fairly respectable 5-5-1 mark. Add to that a rather healthy 2.34 GAA and .919 SV% and just like that, Todd McLellan has himself a new No. 1 goalie. While Talbot opened the door with his poor play, Nilsson has proceeded to knock it down and the ball is now in his court.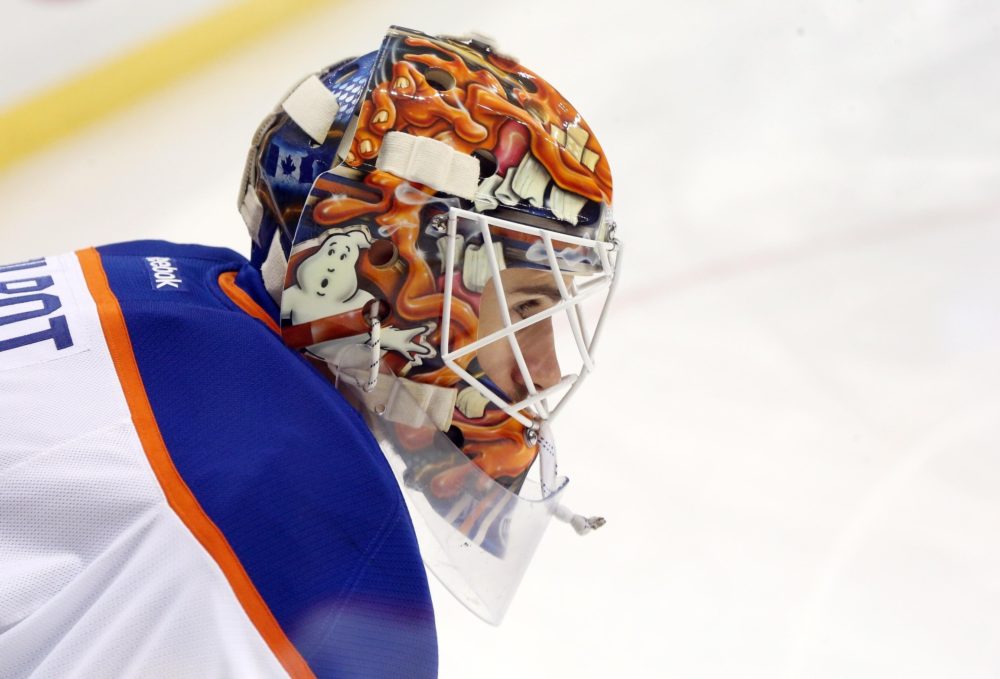 Talbot Will Not Go Quietly
After starting the year out as Talbot's caddy, the 25-year old needed all of four weeks to take over the crease from the Oilers new shiny acquisition.  Now does that mean Nilsson is "the man" from here on out? Not at all, as he has also had some bumps along the way during his first fourteen appearances. With that said, the 2009 third-round pick has been handed the keys to the car and if he continues to play well…he is not coming out of net anytime soon. End of story.
[Related Article: The Sky Is Not Falling]
However, should Nilsson hit a rough patch or revert back to the form he had shown during his brief stints with the Islanders, my guess is Talbot will be itching for the opportunity to reclaim his position. While he may be disappointed with his performance to this point in the season, this is a scenario Talbot is quite familiar with. Let's not forget when you are playing behind Henrik Lundqvist, you tend to grow accustomed to sitting, watching and working on the shortcomings in your game during practice.
In all likelihood, he will get that shot but with potential unrestricted free agency looming, Talbot will need to prove he has what it takes to be a club's No. 1 and do it rather quickly. If he does that, someone will take a run at him as a potential starter next summer and get him on what will probably be a cap-friendly number. However, if that isn't how this plays out, Talbot will be viewed as nothing more than a very good backup and earn himself a contract similar to his 2015-16 salary of $1.4 million.
Nilsson Truly Is a Wild-Card
Make no mistake, while the plan was for Talbot to run with the starter's gig, Chiarelli and company were not completely sold on the notion of him being their guy. If they had been, my guess is we would have seen Ben Scrivens make this club out of camp and start 15-20 games as the backup, instead of paying him an NHL salary to sit on the bench in Bakersfield. Clearly that was not an option, so taking a flyer on a kid who had struggled to find his way in North America but was coming off one heck of a season with the Kazan Ak-Bars in the KHL was the road they decided to go down.
[Related Article: Oilers Take a Flyer on Anders Nilsson]
After coming to training camp and not allowing a goal in his three appearances, it looked as though this had the potential of turning into a two-horse race.  So here were and after playing a starring role in Edmonton's shootout win over Boston, Sportsnet's Mark Spector asked the Oilers new bench boss if Nilsson was now his No. 1 goalie and McLellan's response to the question says it all.
"I think it's getting awfully close to that, but the problem with declaring a No. 1 guy is it pushes the other guy to the side and we are not prepared to do that with Cam. We think he's a tremendous goaltender and we're going to need him…and he's going to have to work himself back into winning games…and he will."
– Todd McLellan, Edmonton Oilers Head Coach –
In other words, this coaching staff sees exactly what we are all seeing but until they have a bigger sample size to go on, nothing will change. Which means the goalie with the hot hand will continue to get the net and as of this moment, the guy who wears the No. 39 on his back is the only one qualifies. Again, the ball is now in his court and it will be up to Anders Nilsson to determine how this ultimately plays out.