The New Jersey Devils opened their season last Friday night and were thrown right into the fire with back-to-back matchups against the Winnipeg Jets and Washington Capitals, which resulted in 0-2-0 start to their 2015-16 season. Season openers are rarely pretty and can often be a misleading representation of things to come. Last season the Devils opened 3-0-0 and looked to be back at the level fans in New Jersey had grown accustomed to. Then it collapsed.
Considering all of the offseason changes the Devils encountered, it would have been hard to imagine the preseason being enough time to adjust and successfully implement an entirely new system. However, time is of the essence, especially when points are at a premium and there is never an easy game. Unfortunately for the Devils, time is exactly what they need.
Friday night's opener against Winnipeg was a mixed performance. At the start New Jersey looked ready. The team had their legs moving, showing their new fast-paced system. The Devils were shooting the puck from every angle and Winnipeg was not getting many quality chances. Then New Jersey began looking like a team that experienced an offseason overhaul. Many passes were not connecting and the team only had brief stints of sustained offensive pressure. While the second half of the game was better than the first, overall it looked raw.
New Jersey had a better showing against Washington though. Their passes were connecting and their zone entries were smoother. The Devils had longer periods of sustained offensive pressure and showed more aggressiveness on the puck. There was an overall better flow to the game as well as yet another power play goal and a fantastic 5-on-3-penalty kill.
Reasons for Optimism
The games may not have been perfect, but there were promising signs for the Devils and head coach John Hynes. The new system will take more than two games or even realistically more than the first month of the season to fully be established and for the players to be comfortable in it. The Devils 2011-12 run to the Stanley Cup Finals is a testament to that. New Jersey opened former head coach Peter DeBoer's first season with a 3-0 defeat to the Philadelphia Flyers and that roster was loaded with firepower.
While both games had their fair share of hiccups and mistakes, everything that appeared to be an issue should be fixable. There were no serious system failures or gaping holes and the specialty teams looked fairly solid, especially the power play. Fans have to hope as the team becomes more entrenched in the new system, that it will translate to more scoring. Nevertheless, no matter the system, a coach cannot teach speed and that was something New Jersey was seriously lacking in previous seasons. Now the Devils have it and it was one aspect that was on display during the team's first two games and possibly one of the most promising signs.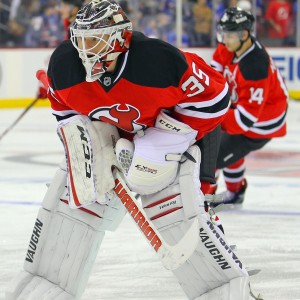 Another promising sign was that both goalies Cory Schneider and Keith Kinkaid played well. Regardless of the scoreboard, every goal scored against both Schneider and Kinkaid came off of quality shots. Both goalies continuing their strong play is vital since the young defensive group is bound to have momentary lapses while learning Alain Nasreddine's new structure.
New Jersey's young defensive group were pinching in and contributing offensively including a power play goal courtesy of Eric Gelinas' slap shot, which was his first of the year. The first goal of the season is typically one of the hardest to get. Two players that the Devils will rely heavily upon for scoring, forwards Adam Henrique and Mike Cammalleri broke through against Washington, and Jiri Tlusty scored the lone goal against Winnipeg. New Jersey native Kyle Palmieri also gave fans a reason to be excited. He exhibited his speed, hustle and yet again played well alongside Henrique showing that the duo has the potential to be big contributors.  Finally, the Devils never quit. Even though the team was down on the scoreboard, New Jersey never threw in the towel and kept pushing until the final horn.
Accountability
However, while Hynes waits for his first NHL win, he did not mince words after either game. He kept it simple. The team did not perform well enough to win. Hynes also made a statement by scratching second year defenseman Damon Severson from Saturday's lineup after he struggled Friday night as well as forward Reid Boucher, who took an untimely penalty against Winnipeg.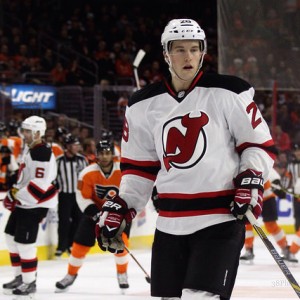 Obviously Boucher did not intentionally shoot the puck over the glass and Severson is bound to have bad games, just like every player throughout the league does. Severson is one of the Devils most promising defensemen and New Jersey needs Boucher's scoring ability. Nevertheless, it is sometimes better for a player to take a step back and watch while they are developing instead of forming a bad habit. For example, after being a healthy scratch on opening night, Gelinas bounced back nicely against Washington
Rarely does a player intentionally land himself in the penalty box. In majority of cases when that does occur, it is typically considered a smart penalty. That is one facet that needs to be cleaned up moving forward. Penalties could be attributed to a variety of aspects. Nonetheless, while New Jersey is adjusting to the new system and finding their game, the team cannot hurt their own cause by landing themselves in the box. Hynes forcing players to be accountable and play for their nightly lineup spot sends a strong message and one that is beneficial for any team that has previously struggled.
The Devils may currently be 0-2-0, but at the moment the team should be measured by their improvement. The difference between Friday and Saturday nights' games was substantial, just like the difference between the first preseason game and the last. New Jersey is moving in the right direction but patience is key because it is not going to happen overnight. As this new era commences in New Jersey, it is laying the groundwork for the future and long-term success of the franchise. Every game may not be pretty but the kinks will get ironed out, the defense and offense will settle down, the goals will come, and the wins will follow.